If you are planning a party this Christmas and want to still make sure you look fit and fine for New Year's, then here is a complete list of healthy, easy, and super fun foods to whip up for your party! Bonus: even your kids are sure to be all over these treats!
1. Santa Claus Crackers: These are easy and kids can help as well. Use kitchen scissors to cut a pepperoni hat. Attach the hat to the cracker with a dab of ricotta. Spread on a ricotta beard. Add celery slices for mustache and capers for eyes and nose. Cover bottom of hat with more ricotta. Read more here.
2. Grinch Kababs: Fruit Grinch Kababs?! Healthy and yummy and super easy to put together! You will need grapes, strawberries, bananas, mini marshmallows, and toothpicks. Wash grapes and strawberries. Slice bananas and cut of the green end of the strawberries. Poke a toothpick into the top of the grape,  through the banana slice and the strawberry top, followed by the mini marshmallow. Read more here.
3. Strawberry Santas: The strawberry Santas are so cute! You will need 1 pint strawberries, Whipped Cream, chia or sesame seeds. Wash and dry strawberries. Cut the strawberries 3/4 of the way up. Use whipped cream for the buttons, then swirl the whipped cream, place the "hatâ€_x009d_ and pipe out a fluff for the hat on top. Place seeds for eyes. Read more here.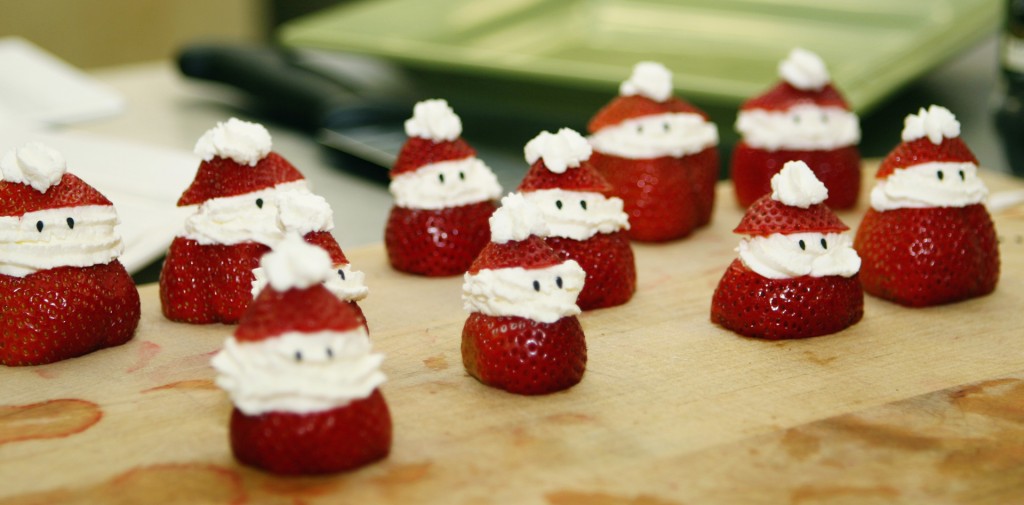 4. Santa Party Poppers: You will need 10 regular sized marshmallows (not minis), 2 additional regular sized marshmallows cut into eights (for puff on Santa's hat), 10 one inch tall banana chunks, 10 red mini M&Ms, 1/2 cup chocolate chips (for melting) and 10 strawberries cut to appropriate size for a hat. Slice each full-sized marshmallow in half lengthwise. Slide the small marshmallow bit (from those cut into eights) to the top of a decorative toothpick.  Then slide the strawberry (flat side down), one half marshmallow, the banana, and lastly the other half marshmallow. Make sure you slice your banana into chunks evenly and straight to ensure that they do not lean or tip over once assembled. Melt your half cup of chocolate chips in the microwave and  two eyes and dot for his nose on every Santa.  Place a red M&M on each chocolate dot and press to stick down for Santa's nose. You will need to refrigerate for 10 minutes and serve.  Read more here.
5. Rudolph Pancakes: Serve these for breakfast and your kids will definitely be all smiles! You will need Pancake batter, whipped cream, strawberry and chocolate chips. Make a big and a small pancake. Place the small pancake on the lower end of the big one. Place the strawberry on the small pancake. Put blobs of whipped cream and chocolate chips on the big pancake as eyes.  Read more here.Â
6. Santa & Snowman Sandwich: You will need 4 slices of bread, cheese, olive, tomato sauce and carrot. Cut the bread into circles. Two for each creation. Put butter or anything else the kids like on the circles. Make a sandwich. Read more here.
7. Olive Penguins: You will need Olives, Tomatoes, Carrot and Cream cheese. Follow instructions as per the image below. Read more here.
8. Christmas Themed Pizza: You will need Star or Tree shaped pizza bread. Add tomatoes and capsicum with cheese and set to bake. If you can't find the shaped bread, you could cut out the shapes from regular pizza bread. Read more here.
9. Cheesy Reindeer: Take triangular-shaped cheese. Cut tiny pieces of tomato and pickle/capsicum for the nose. Use tiny cut olive for eyes. Use pretzel sticks or anything else and stick them in the broader area of the cheese. Read more here.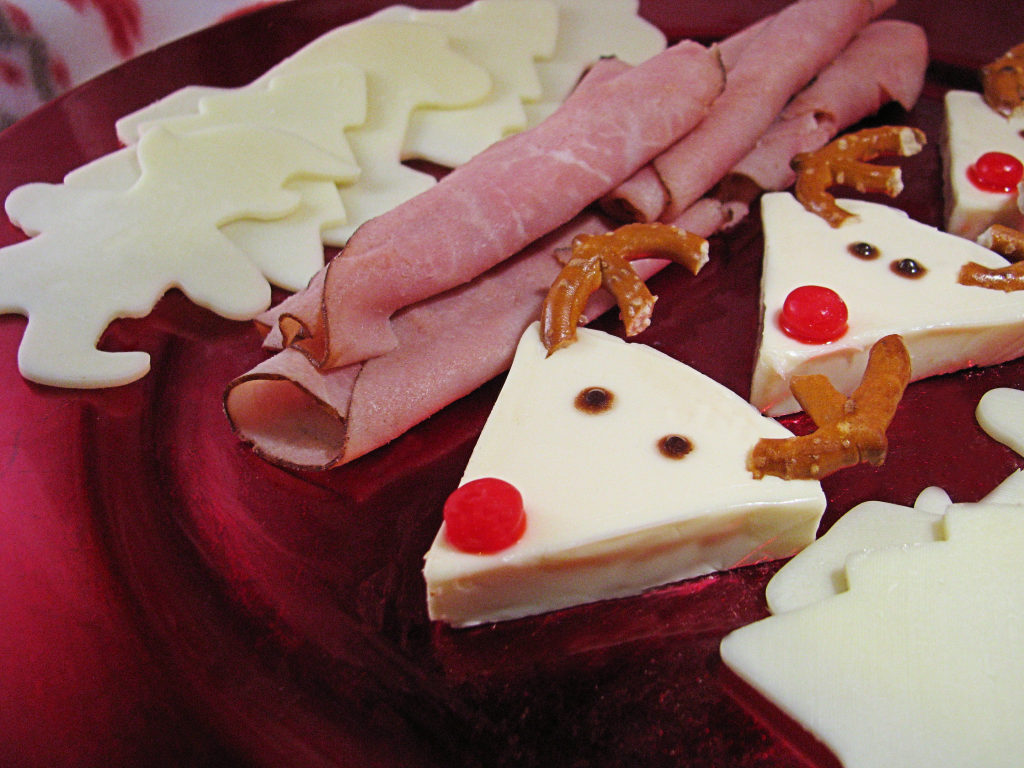 10. Oreo Santa Hats: You will need whipped cream , sugar, Oreo cookies and strawberries. Place the strawberries on the Oreos. Top the top of the strawberry with whipped cream and encircle the other end with whipped cream as well.  Read more here.