Soups are a quick and easy way to get your kids to eat their veggies. Whether its an afternoon meal or an early dinner meal, soups are healthy and light. Try these yummy soups and don't forget to add the breadsticks and buns! Like all moms, I love keeping it seasonal, fresh and cost-effective. So here are 10 soups you must try this winter.
Don't miss our post on 10 winter foods all kids must try. Share with us some of your soup recipes on Facebook, Twitter and Instagram
Broccoli Soup:
A yummy healthy soup! Try this recipe if your kids aren't huge broccoli fans. The creaminess with vegetables will be an absolute hit with the kids!
Image Source: https://www.weightlossresources.co.uk
Ingredients
1 Broccoli – florets only
1/2 small Onion, chopped
1-2 Cloves Garlic
1 Cup Milk
Salt & Pepper
1 Tbsp Butter
Water as per requirement
Optional – Oregano & Cheese
Method
Cut the broccoli and soak the florets in salt water for 10 minutes.
In a pan melt some butter. Add the chopped onions and the garlic cloves to it. Saute till they're translucent.
Add the drained broccoli florets and saute for a few minutes.
Add a little water, salt & pepper to cook the broccoli. Let it simmer for 8-10 minutes till the broccoli softens.
Take it off the heat and allow it to cool.
Put the broccoli mixture in the blender and whiz till its smooth.
Return the broccoli puree to the pan and add the milk.
Let it simmer for 8-10 minutes. If you think its too thick you can add some more water/ milk.
Stir it from time to time. Once you see its all come together you can stir in the oregano and cheese if you are using. Check the seasoning and your soup is ready.
Note: You can use almond milk/cashew milk if you are looking to a dairy-free option.
Pumpkin Almond Soup:
It's only at Halloween that kids actually love pumpkins! Try this easy pumpkin soup for the kids. Add the sour cream and your kids will like pumpkins more often. We love the Pumpkin Almond soup and make that quite often.
Ingredients
1 small Pumpkin
1 small Onion peeled, de-seeded and roughly chopped
2 Garlic cloves, roughly chopped
1 Tbsp Olive Oil
50g toasted flaked Almonds
50ml single Cream
100ml Milk
Salt and freshly ground black pepper
1 slice of Crusty Bread, to serve
Method:
Saute the pumpkin, onion, garlic, olive oil, half of the almonds in a large saucepan.
Add water to let it cook.
Using a hand blender, puree until smooth. Check the seasoning.
Add the cream and milk and simmer.
Roughly chop the remaining almonds.
Ladle the soup into serving bowls, top with almonds and some extra ground pepper & flaked almonds and serve immediately.
Serve with a slice of crusty bread.
3.
Creamy Carrot Soup
: If your kids like carrots, try this creamy soup! A new healthy yummy way to eat carrots and kids can help make it too.
Read more here.
Cauliflower Soup
4.
Lemon & Coriander Soup
: A healthy soup with a tangy taste! An easy and quick recipe for an afternoon meal.
Read more here.
5.
Drumstick Soup
: Drumstick is a great source of calcium. Make the bones stronger with this easy tasty soup recipe!
Read more here.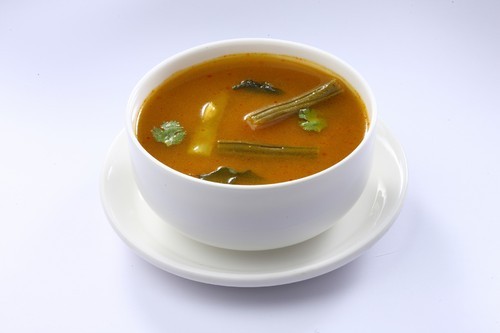 7.
Baked Sweet Potato Soup
: A delicious recipe easy recipe with a couple of vegetables to warm you in the winter.
Read more here.
8.
Leek & Potato Soup
: This healthy perfect soup will add warmth to those winter days. Oh and it also has a certain amount of whipping cream, yum yum!
Read more here.
9.
Vermont Cheddar Soup
: A bowl of whole lot of cheese with diced apples. Must try this one!
Read more here.
10. Parval & Coriander Soup: A recipe from the kitchen of an Indian home. A combination of steamed gourd and coriander with garlic. After which you may add salt and pepper for taste.