Don't ever be fooled. Every mom is guilty of sneaking veggies into their child's diet at one point or the other. Indian moms are guilty of it too and we have an amazing way to do it in the Indian diet! Parathas! Parathas are the best way to sneak in those much needed vegetables in your child's meal. Parathas work for any meal time – breakfast, lunch, or dinner. And can even be rolled up for the snack box. The best part is the accompaniments are so easy! Whether your child loves his tomato ketchup, curd (dahi), or just plain butter, they all work well with parathas. KSP brings you a list of parathas recipes for you to try. This way you can make sure to add more variety and excitement into your daily meals. Make sure to tell us what works and what didn't! 10 UNIQUE VEGETABLE PARATHA RECIPES FOR KIDS 1. Sweet Potato and Bean Paratha – This unusual paratha filling is a great way to get that bit of extra protein in along with vegetables into your child's diet. The beans will add a crunchy texture and your child is sure to love that! Here is the complete recipe.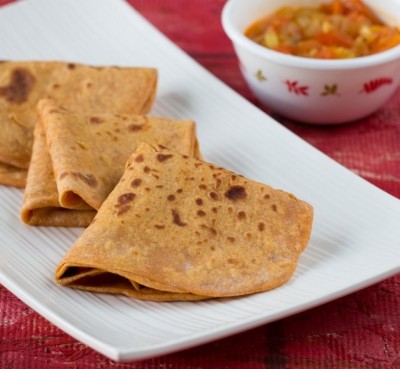 Image Source: www.cooksjoy.com 2. Soya Parathas – Parathas stuffed with spices and soya granules are not only delicious to eat but also are full of protein. Pack them in the snack box with just tomato ketchup or chutney and watch as the snack box comes back empty! https://www.youtube.com/watch?v=wob-3JW2YMo
3. Sweet Coconut and Oats Paratha – This is especially for those children that love their parathas sweet. The combo of coconut and oats fulfils their breakfast needs or serves as a quick evening healthy snack for kids.
https://www.youtube.com/watch?v=foHJysxFepI 4. Zucchini Peanut Parathas – Add a cup of grated zucchini with some roasted, powdered peanuts to the wheat flour with a pinch of salt, turmeric, kasuri methi (dry fenugreek leaves) to make this very different yet deliciously, scrumptious parathas.
Image Source: www.moversandmoves.blogspot.com 5. Olive Parathas – A quick and easy fix for those untimely hunger pangs. Loaded with the goodness of olives, munch on these parathas anytime of the day! https://www.youtube.com/watch?v=jgBpXFwm4pk 6. Raw Papaya Paratha – Mostly used in salads, using raw papaya as a paratha stuffing is a unique way of adding this nutritious fruit in your child's meals. What's more green papaya is easily available all year round in the market. https://www.youtube.com/watch?v=duazufEynJY 7. Oats and Spring Onion Paratha – In addition to being flavourful, spring onions offer many health benefits and making paratha with it is another great way to consume this leafy green which is rich in vitamins and nutrients. https://www.youtube.com/watch?v=ob6msUZpvy8 8. Sprouted Moong (Green Gram) Paratha – Want to get those sprouts into your child? Try this paratha! A wonderful recipe that will suddenly make green gram all the more interesting for your child! https://youtu.be/ayH11mZldAA 9. Schezwan paratha – This Chinese style, two layered paratha is made using lots of vegetable stuffing and very little oil. Keep the spice level to a minimum to make it more appealing for children. https://www.youtube.com/watch?v=rpSHHcX6AE0 10. Beetroot Radish Paratha– I find this recipe the easiest way to get my daughter to eat beetroots and radish which are rich in multiple vitamins and minerals. And given that pink is her favourite colour, this pink paratha recipe is always on a repeat in her lunch box menu. https://www.youtube.com/watch?v=_aMv_aoM3Pc 5 SIMPLE PARATHA RECIPES FOR KIDS USING DAILY VEGETABLES 1. Doodhi (Bottle Gourd) Paratha – Use bottle gourd and add in some grated carrots for additional texture and make a paratha that sings with vitamin A. https://www.youtube.com/watch?v=jYpis5Wy1Po 2.Potato, Cheese, and Palak Paratha – A delicious breakfast or snack box recipe for kids. Add in some cheese to the potato and palak mixture and your kids will eat it happily without any whining. https://www.youtube.com/watch?v=WoT-Wp4x-0E 3. Peas Paratha – Although widely used in Indian curries, paratha made with fresh peas along with a hot bowl of soup serves as a perfect dinner recipe especially on a cold winter evening. https://www.youtube.com/watch?v=eDQgCb0iPvo 4. Paneer and Pudina Paratha –The high protein content of paneer along with the fresh minty flavour of pudina makes it one of the most healthy snack time recipes for kids. https://www.youtube.com/watch?v=7t52GX-_B_c 5. Cauliflower Paratha – Mostly eaten for breakfast in a Punjabi household, Gobi parathas are perfect for days when you want to make something healthy for kids without doing any elaborate cooking. https://www.youtube.com/watch?v=X2rOW3Za1h8
Don't forget to follow us on Facebook, Twitter & Instagram or subscribe to our YoutubeChannel for more information. Image Source: www.archanaskitchen.com