Summer vacations are here!
We know how much the kids have been waiting for it, planning all the fun things they will do this summer when their friends and cousins come over! Are yours getting excited too?! Well, to add to all the fun, we have curated a special summer fun box filled with games that your kids will love to play and it is a part of our KSP's Favourites Box!
KSP's Summer Playdate Box is here!
What makes this box a must-have for your kids this summer?
We have handpicked 3 different games that your kids and their friends will love to play together. Each of these games is educational, encourages team play and promises hours of creative play. This box is all you need to throw the best play date at home this summer!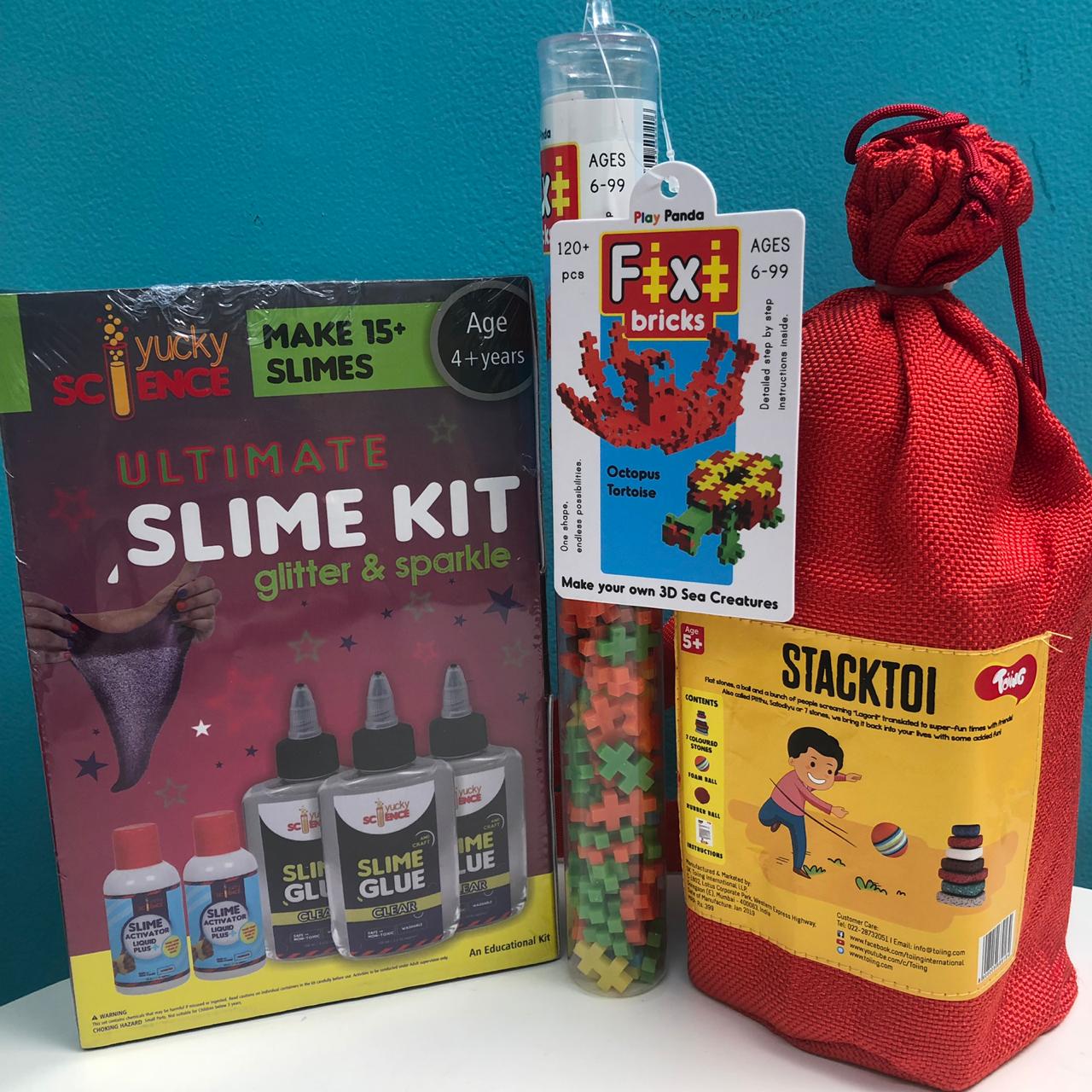 Each of these 3 games would cost you Rs 1250 if you were to shop for them individually.
But as a part of the KSP's Favourites Box, these games are available at a special price of just Rs 999 only! With zero shipping charges, this is the best deal ever!
At this amazing price, this box serves as a great gifting option and as that perfect last-minute-birthday party gift that you are looking for. So, what are you waiting for?
Scroll down to find out what this box contains and why you need to 'add to cart' right away!
What does this box contain?
Suitable for kids aged 4 years and above, this box contains :
1) Slime Kit By Zlife education (MRP Rs. 649)
The kit makes over 15+ slimes, so kids need not fight over who gets to make the slime first! Kids can perform fun science experiments together and learn some basic concepts in polymer or slime science. Indoor time put to good use? Certainly!
2) Lagori/ Pitthu/ Satodiyu by Toiing ( MRP Rs. 399)
A traditional Indian game played outdoors using seven stones and a ball, this is the best team game ever! Get your kids to enjoy childhood the way you did with this fun game! Kids get to compete in a healthy environment while learning important values of friendship and leadership.
3) Fixi bricks by Play panda ( MRP Rs.199)
Colourful bricks that teach vital STEM concepts in a fun way. Kids can spend hours making their favourite animal, shape, objects!
All these 3 games, neatly packed in a really cool cloth bag, that you will want to flaunt at the next playdate!
Loved this and looking for more?
Check out the other KSP Favourites Boxes- suitable for your kids to make learning fun and enjoyable! Click here to know more!
Don't forget to share this with your friends and family and help them choose the right birthday gift that they were hunting for!
Here's a sneak peek into this fun box! Watch Mansi Zaveri telling why your kids will love it!