Are you looking to ditch the store bought gift route and personalise your Diwali gifts this year? Then we have just the thing for you! Don't worry, these homemade recipes do not require you to slave away for long hours but they definitely will earn you tons of goodwill and cheer this Diwali!
These 5 homemade recipes are great for those who are health conscious too! All you need to complete the look is a nice gift wrapping idea and you are ready for the party!
1. Natural Honey
A sweet healthy gift has a lot of benefits. Natural Honey is a 100% organic and has heaps of health benefits. Honey contains a treasure chest of hidden nutritional and medicinal value. Honey is known to boost memory, work as a cough suppressant, sleep aid, treats dandruff, and much more.
For the complete recipe click here.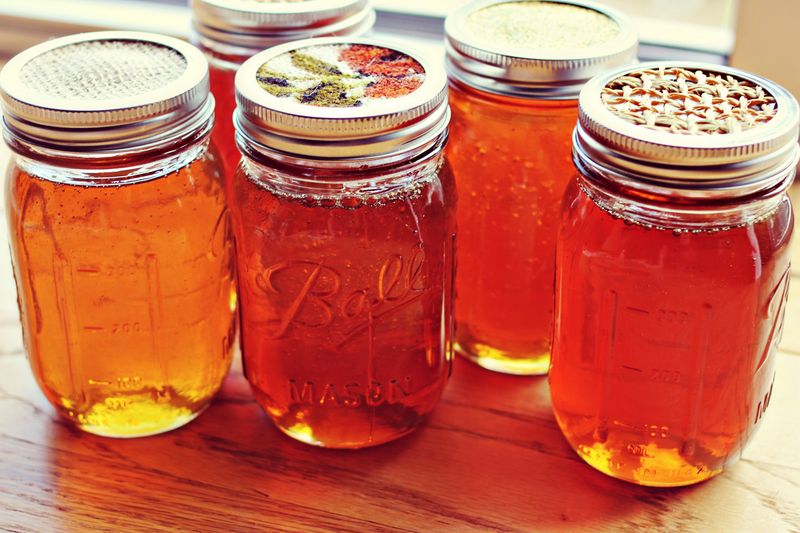 Image Source:Â www.abeautifulmess.com
2. Trail Mix
A rich snack idea which can be turned into an awesome gift idea in minutes. Super healthy, easy to make, and relies on your creativity! This protein packed stuff is good for energy, but it's also a delicious snack in its own right. Â Read the recipe here.
Image Source:Â www.tipjunkie.com
3. No Bake Granola Bar
Granola bars are a great snack to have on the go for just anyone! Why not whip up a big batch and put a bow on it? Here is our favourite recipe which is healthy, tasty, and super easy! Watch the video below to see how to make it.
Image Source:www.meganscookin.com
4. Eggless Oatmeal Chocolate Chip Cookies
Want to bake and add your own personal touch? Then here is a great idea! Why not try these easy to make oatmeal chocolate chip cookies? All you need to do is gather them up in a nice box or bunch them up and tie a nice ribbon around it.
For more healthy oatmeal recipes click here.
Image Source: designbakerun.blogspot.com
5. Eggless Banana Oat Muffin
Why not spare a thought for your host's breakfast, the morning after the party? Bake these banana oat muffins for their breakfast and they will thank you for days to come! These are healthy and really quick to make too! Get the recipe here.
Image Source:Â www.yummytummyaarthi.com
For more information follow us on Facebook, Twitter & Instagram and do subscribe to our Youtube Channel.
Image Source:Â www.youtube.com