Diwali is finally over. With that, now it's time for some healthy eating. We have overindulged ourselves and detox is in order. Don't start imagining terrible-tasting food and juices the moment the word detox is mentioned. But we have just the thing for you.
With all the food and drinks that we've been having we need to recharge our immunity and metabolism. The goal is to eliminate the toxins and to do it naturally is the best way I feel.
5 ways you can reset your body – naturally without further stressing it out. The great thing is that since they are all-natural, so you can get the kids to give them a try too.
If you want recipes, meal ideas, a seasonal grocery list, time-saving tips and hacks then you should sign up below
Get Your Family To Enjoy the Meals You Cook For Them - Sign up to get access to a FREE Meal Plan, a Seasonal Grocery List & a Recipe
Green Apple Detox Smoothie
Ingredients
1 Green Apple peeled and cored

1/2 Cup Green Tea freshly brewed and cooled (1 bag in 1/2 cup hot water)

1 Handful of Spinach

1/2 Lemon, squeezed

1 Tbsp Chia Seeds (or replace with 1 scoop of your favourite protein powder)

1/2 Inch Ginger chopped

2 Tbsp Yoghurt

Big pinch of Cardamom Powder

1/2 Cup Almond Milk chilled

1 Tsp vanilla extract
Method
Add all of these ingredients into your blender and whizz until completely smooth. Enjoy!
Turmeric Tonic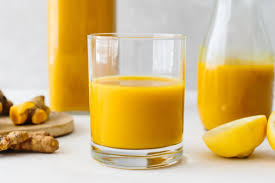 This drink provides your body with micronutrients which help to reduce inflammation.
Ingredients
3 Tsp Ground Turmeric (haldi)

1 Carrot – Peeled

Juice of 2 Lemons

1-Inch Ginger Piece, Peeled (Or 1 Tsp Ground Ginger)

½ Cup Coconut Water (nariyal pan)

½ Tsp Cayenne /Paprika (we can substitute with organic Kashmir Lal Mirch Powder)

Pinch of Freshly Ground Black Pepper (kali mirch)
Method
Juice/ blend the carrots, lemon juice and ginger.

Transfer the liquid into a jug.

Mix in coconut water, cayenne, turmeric and black pepper.

Drink immediately.
Carrot & Beetroot Detox Juice
Blended together this juice is a powerhouse of antioxidants, calcium, potassium and beta-carotene. Breakfast is a good time to drink this juice.
Ingredients
1 Medium Beetroot (rinsed, peeled & chopped)

1 Medium Apple (peeled, cored and quartered)

1 in Fresh Ginger (skin removed)

1 Carrot –peeled

Squeeze of lemon
Method
Place all ingredients in a blender and blend until smooth with a dash of lemon juice.

Add some water if you don't have a juicer and need your blender to start moving.

Take a fine-mesh strainer over a large bowl and pour the juice over it. Using a spoon o press the pulp down and squeeze all of the juice out.

Discard pulp and pour your juice into a serving glass. Drink immediately or chill for a bit. Will keep in the fridge for about 24 hours.
Antioxidant Booster With Apple & Strawberries
Rich in vitamin C, antioxidants and fibre, this detox drink will be perfect to remove all the toxins from your body post your party.
Ingredients
1 Glass Tender Coconut Water (nariyal pani)

½ Apple (peeled)

2 Strawberries

2 Tbsp Lemon Juice
Method
Add apple, strawberries, coconut water and lemon juice to a blender. Blend it well until you obtain a liquid.

Strain and collect the liquid in a glass.

Do not add sugar or salt to the drink.

Consume it in the morning, before breakfast.
Gut Detox Smoothie
Ingredients
Handful of Mint Leaves

1/4 Avocado

3-4 Drops Lemon Juice

1 Cup Almond Milk

1 Glass Water

1 Tsp Chia Seeds soaked

1 Tsp Basil/Sabja Seeds soaked
Method
Put the banana, spinach leaves, mint leaves, avocado, almond milk, lemon juice & water.

Give it a good whiz in the blender.

Pour into a mason jar.

Add the soaked chia seeds & basil seeds.
Loved these. Sign up below for the KSP Meal Plans TODAY!
Get Your Family To Enjoy the Meals You Cook For Them - Sign up to get access to a FREE Meal Plan, a Seasonal Grocery List & a Recipe