Sign up here to receive a FREE Guide on how to kickstart your baby's food journey.
For the first six months of a baby's life, she/he is normally exclusively on breast milk. And that is exactly what the doctors recommend. After the age of 6 months, you can start introducing some solid food into their diet and will be searching for recipes for babies that are healthy and easy to make.
I fed my kids store-bought porridge when they started eating solids. It was convenient to make and easy to carry around. This was till I figured that I could make grain powder mixes at home which was as easy to carry around and way more healthy! I was also mentally at peace because I knew exactly what was going into making my baby's food as opposed to store-bought brands. These baby-friendly recipes are healthy, and wholesome and you know exactly how nutritious they are!
If you are a parent to a little one then you are probably racing against time to get everything sorted. Why not let us help you out with your mealtimes as well! The KSP Meal Plans are a compilation of 30 meal ideas that hit your inbox every Saturday, along with hacks, recipes, a seasonal grocery list and much more.
You can get a sneak peek at a KSP Meal Plan for ONE WEEK at Rs 99 or you can simplify your life for the entire year and get 52 meal plans @ Rs 499 for a year.
So who's in!
Now back to your baby's meals – after some research involving mums on the KSP team, we have put together a list of grain powder mixes that you should keep handy to make sure your baby has tasty, healthy food that really doesn't take long to prepare!
Moong Dal & Almond Mix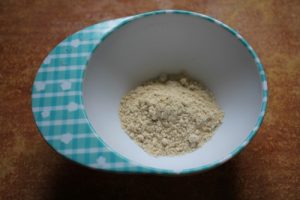 Ingredients
1 Cup Whole Wheat Flour
1/2 Cup Yellow Moong Dal
1/4 Cup Almonds or Cashews
Method
Wash and drain the moong dal well.
Roast the dal in a kadhai till it turns golden brown. Remove and let it cool.
Roast the almonds also in the kadhai for about 5 minutes. Remove and allow it to cool.
The wheat flour also needs to be roasted on low flame till it turns colour.
Mix all three ingredients together and powder in a blender. You can also sieve this powder if you want a finer texture.
Store it in an airtight container in the fridge.
You can add water or warm milk to it to make a porridge. It's very easy to make and is extremely healthy too.
Rice & Dal Powder
Ingredients
1 cup White/Brown Rice
1 cup Dalia
1 cup Wheat
1 cup Green Gram
1 cup Peanuts
1 cup Chickpeas
1/2 cup Corn
8-10 Cardamom/elaichi
Method
Soak all the ingredients in water in separate bowls for about 10 minutes. Drain and let it all dry.
Dry roast all the ingredients separately.
The rice should resemble little puffed rice when roasted.
The dals should be golden brown.
The almond and elaichi should be dry roasted only till they start giving off an aroma.
Let it all cool down.
The roasted ingredients need to be powdered in a blender and put through a sieve to get a finer powder
Store it in an airtight container and it will keep for 4-6 months.
2 Tbsp of the powder with a cup of milk or water is a good ratio. Cook it on the gas for 10 minutes. To sweeten it, you can add fruit purees to the mix as well.
Poha Mix Powder
Ingredients
2 cups Poha (flattened rice)
1/4 cup Bengal Gram (Chana Dal)
2-3 Tbsp Peanuts
Method
Roast the poha in a kadai till it's golden brown.
Roast the bengal gram and peanuts separately. Make sure the nuts don't have any skin on them.
Blend into a smooth powder.
Store in an airtight container.
The ratio to make the porridge will be 2 Tbsp of the powder to a cup of warm milk or water. Let it sit for 2 minutes. Adjust the water as per the consistency you want.
Multi-grain Powder
Ingredients
1/4 cup Ragi Seeds
1/2 cup Brown Rice
1/2 cup Oatmeal
1/4 cup Barley Seeds
Method
Roast and grind it to a fine powder. Ragi is gluten-free and is rich in fibre making it a very healthy grain to add to the menu.
Store it in the fridge in an airtight container to make it stay fresh longer.
Start with 2 Tbsp of the powder in 1/2 cup of water. Let it cook till it becomes thick. Keep stirring to avoid lumps from forming. You can add some milk if it's thick for your baby.
Oats & Dates Mix
Ingredients
1/2 cup Oats
A handful of Dates
A handful of Almonds
Method
Put all the ingredients in a blender and blitz it to a fine powder. Dates are super healthy and act as a sweetener.
Start with 2 Tbsp of the powder in 1/2 cup of water. Keep stirring to avoid lumps from forming. You can add some milk if you feel it's thick.
Image Source:Â https://eatdrinkbetter.com