Tis' the season of lights! One that brings about happiness and joy to everyone around us. As a child, I often used to wonder, why this stress on cleaning the house and decorating it, when you can just sit down in a corner and gulp down all the treats?! (Fair ask, though?!)
But now, as an adult, when you grow up reading about Hygge and other KonMari methods that help in sparking joy by decluttering and being tidy, it all makes a lot of sense. Plus, to speak for the fraternity, as strenuous as decluttering and cleaning is, it definitely makes you feel so good at the end of it all!
While We Are Occupied, What Will The Kids Do?
While we adults keep ourselves super busy with all the chores, and making the yummy treats- how are the kids going to enjoy the process? They need to be creatively occupied so you hear fewer pleas of "But I am feeling bored!"
In this article, I list down 5 ways you can engage your kids with what's around at home and ideas so simple yet creative (so zero spending!) so they don't feel bored at the end of the festive week!
Here Are 5 Creative Ideas To Make Diwali Fun For Kids:
Bond With Rangoli
There's some serious focus and dedication kids learn when they design colourful Rangoli or simpler alternative- Kolam in South India. Hand them over a pack of colours, and some Rangoli stencils and give them a dedicated space. If they are too young, a corner of their room would do. For the older ones, trust them with the space near the entrance of your house. They will feel happy! P.S- remember not to deck them with the most prettiest or newest clothes when doing Rangoli!
Decorate Your House With LEGO Sets
Those boxes of LEGO toys and other building boxes add more value to your Diwali decor. And gives your kids the feeling they contributed their bit to it! Come up with innovative ideas to deisplay their work of art with the LEGO sets– and display them proudly around the house.
Don't Discard Those Pista Shells!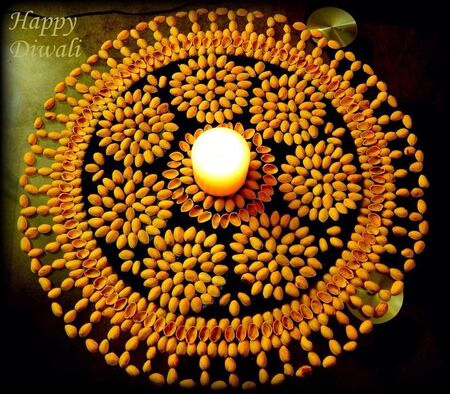 How about creating the best from waste? Be it art with pencil shavings or pista shells that we throw away without a second thought! Give a handful to your kids and ask them to build what they like with it, and you will be surprised by what they come up with!
Chart Out A Movie Nights Schedule
It's been a tough week, both at school and at work for all of us am sure. Relax in the best way possible, after running behind deadlines and decluttering all day. We have shared our favourite family-friendly movie reccos with you. Go through the list and create your list with the kids for the coming week. There's nothing better than cosy cuddles with your kids and a bowl of nachos or popcorn- try it!
Answer Their Whys
Kids need answers. All the time. Every time. When they see you making those laddoos, or the Laxmi Pooja or lighting so many lamps- they are going to be asking you all the questions about why we do what we do. Why not answer it in a language they understand? The I Am Not Bored Podcast series by Kidsstoppress is aimed at dispelling info for the kids in a language they will understand, Check us out on Apple Podcasts, Spotify and Google Podcasts!