December is the month of fun, celebration and lights! With Christmas just around the corner, I was wondering about the different ways I could make this season more exciting for my little one. Well, Christmas workshops and carnivals are all over the city, but I was cracking my brains on what I could do to bring in that excitement factor this holiday season. Here's what I discovered!
We all give in to the temptation when it comes to chocolates and kids love it too! Bengaluru has an amazing lineup of chocolate cafes for you to experience. So, ditch the regular plum cakes this Christmas and go cafe hopping with your little ones and satiate your chocolate craving. Here's a list of Bengaluru's Chocolate Cafes you must not miss.
1. Chocolate Junction
Located in the scenic lanes of Ulsoor, Chocolate junction is every chocolate lover's dream-come-true cafe. The store houses some of the finest hand-crafted chocolates like Fudge club, Brown gold, sugar-free treats etc, which are totally irresistible. Apart from this, Chocolate junction also takes bulk orders, so the next time you are planning your little one's birthday party or have a week-long celebration for which you need chocolates, you know where to go! Apart from this, the cafe also has special somethings for Christmas. So take your little one now and have fun watching him bite into his little chocolate Santa!
Kids Will Like: Dark chocolate fudge
Address:Â 117, Jaladarshini, Annaswamy Mudaliar Road, Ulsoor |Â 15, Dr Omer Sherif Rd, Basavanagudi
Facebook:Â Chocolate Junction
Contact:Â 098866 56985
Image source: Zomato.com
You May Also Like: 10 Places In Mumbai That Will Satiate Your Waffle Craving
2. The Chocolate Room
One of the most famous hide-outs for chocolate lovers, The Chocolate Room is seated in Brigade Road, Bengaluru's ever-busy area. The interior of the store preps you for the experience ahead. With sink-in cushions and couches all painted in chocolate brown, this cafe is a must go if you enjoy chocolate milkshakes. Their choco shake and the hot chocolate which comes in various flavours are to die for! That aside, the cafe also serves some yummy sandwiches, pasta and coolers to balance out that sugar rush.
Kids Will Like:Â Chocolate pizza
Address: 45/1, 45/2, Bangalore Central, 45th Cross, 9th Block, JP Nagar, Bangalore
Website: The Chocolate Room
Facebook: TheChocolateRoomIndia
Contact:Â 080 6597 0425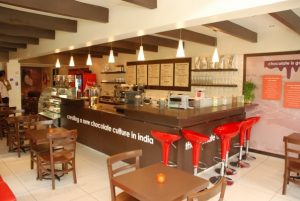 Image source: facebook.com/TheChocolateRoomIndia/photos/
3. Zoroy Luxury Chocolate
Promising to leave a 'chocolaty signature' in your heart, Zoroy specialises in making chocolates as a token of love and affection for special occasions like birthdays, weddings and parties. The store houses a zillion varieties ranging from plain rich chocolates to nutty centres, flavoured delicacies, rich truffles, soft caramels and more to satiate the chocoholics. The chocolates are all hand wrapped with style and passion keeping in mind your taste and occasion. They also have a signature collection for Christmas and New Year, which comes in a pretty box, wrapped with an edible Santa. So, gear yourself for a luxurious treat if you are planning a trip to this delicious chocolate cafe.
Kids Will Like:Â Photo chocolate bars
Address:Â 44, Church St, Shanthala Nagar, Ashok Nagar
Facebook:Â Zoroy
Contact: 088800 66000
Image source: Zomato.com
4. Bliss Chocolate Lounge
With over three branches in Bengaluru, the Bliss Chocolate Lounge is sure to satiate every chocolate lover's craving. Chilli chocolate is a must-try if you visit this place, as it gives a nice spice spike to your palate. They also have cute boxes in which they pack the chocolates, so if you are planning a Christmas gift, this is just the right place.
Address:Â Forum Mall, Hosur Road, Koramangala (other branches in Indrangar, Malleshwaram, UB City mall and Whitefield)
Facebook:Â Bliss Chocolate Lounge
Contact:Â 080 4121 4925
Image source:Â www.facebook.com/search/
5. Chocolat Boulangerie Patisserie
The Chocolat Boulangerie Patisserie houses some lip smacking treats for chocoholics. Their cakes and pastries beat every grandmother's secret recipe hands down.
Kids Will Like: Choco lava blast, Tiramisu cake
Address: 552, 8th Main, 4th Block, Koramangala, Bangalore, India
Facebook:Â Chocolat Boulangerie Patisserie
Contact:Â +91-80-49653519
Image source:Â facebook.com/chocolatblr/photos/
6. BelgYum, Whitefield
Looking for a chocolaty place for a Sunday brunch? Head to BelgYum! The tiny outlet serves the city's best waffles, topped with rich Belgium chocolate sauce and of course loads of bananas. Now, that's a scrumptious meal!
Kids Will Like:Â Chocolate Belge, Banana republic
Address: 2nd Floor, Phoenix Market City, Whitefield, Bangalore
Website:Â BelgYum
Facebook:Â BelgYum Cafe
Contact:Â +91-80-67266614
Image source: Zomato.com
7. Cafe Choco Craze
The name says it all! A perfect coffee shop for CadBÂ lovers, Cafe Choco Craze serves the city's best CadB shake, coffee frolics and choco shots.
Kids Will Like:Â Hazelnut Cad bee
Address:Â 721, 16th A Main Road, A Sector, New Town, Yelahanka
Website:Â Cafechococraze
Facebook:Â Cafechococraze
Contact:Â 090083 69091
Image source: facebook.com/pg/cafechococrazeyelahanka/
Don't forget to follow us on Facebook, Twitter, Instagram & Pinterest or subscribe to our YouTube Channel for more information.