Mumbai is finally bidding goodbye to the scorching summer (at least, we hope so!) and the monsoon is making its way in. What's better than Mumbai monsoons?! So get ready to pack your bags and set off on a wonderful trekking experience with the family to these places that are only 200 kms from the maddening Mumbai streets. Get set go!
1. Ajoba

Image source: treksandtrails.org
Altitude: 4511 feet
Don't miss: Cradle of Sitamai, Luv-Khush Palna, Valmiki Ashram
What's special: One of the highest peaks in the Sahyadri ranges, Ajoba Hill is a favourite among Mumbaikars in the monsoon season. This is the place where Sita is believed to have stayed during her exile from Lord Rama, according to the Ramayana. The trek, especially if you are travelling with kids, should be split into two parts. The first part- to reach the Valmiki Ashram takes about an hour and a half and the second part of the trekking to reach the Luv-Khush Palna takes about 2 hours. Plan the trip accordingly with kids, with intermittent gaps and proper refreshment.
2. Lohagad Fort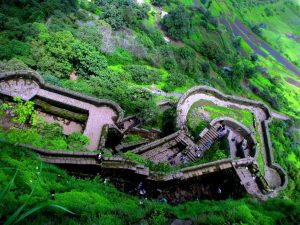 Image source: trekkerpedia.com
Altitude: 3390 feet
Don't miss: If you are travelling with a group and have the energy, don't miss the nearby Visapur fort; Bhaja and Karla caves.
What's special: In what translates as Iron Fort, this place is a must-visit to those who are planning a quick respite from the boring city life. As you enter the fort, the four main entrances- Ganesh, Narayan, Hanuman and Maha Darwaja give you an idea of how strong the fort was built and the sense of protection and security it had provided to the then rulers. 
3. Rajmachi Fort 

Image source: wikipedia
Altitude: 2710 feet
Don't miss: Shrivardhan fort and Manaranjan fort
What's special: In what is considered as one of the easiest trekking destinations for beginners, Rajmanchi, that is easily accessible from Pune and Mumbai is a sight to behold. Also, if you are heading to Rajmachi with the kids and have some time to spare, don't miss Della Adventure that is only 4-5 kms from the fort.
4. Mahuli Fort

Image source: shahapurkar-wordpress.com
Altitude: 2815 feet
Don't miss: Shiva temple, Sanctuary near the fort
What's special: This highest fort in Thane district is the ultimate choice for rock climbers. With lush green forests and meadows around, this picturesque location is an option you must consider for your monsoon treks. The forest area near the fort has now been declared as a sanctuary. You will need to be an expert and trekking and rock climbing to go atop the various pinnacles in Mahuli.
5. Karnala Fort
Altitude: 1440 feet
Don't miss: Karnala Bird Sanctuary
What's special: An ideal trekking experience for beginners and for children. Situated along the Mumbai-Goa highway, Karnala fort is a beginner's paradise. Also, this is one of the nearest trekking experiences from Mumbai you can have with your family, so don't miss it.
6. Korigad Fort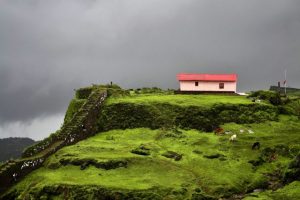 Image source: pune99
Altitude: 3049 feet
Don't miss: Koraidevi temple, Amby Valley Township
What's special: Something you shouldn't miss if you are planning a trip near Lonavala with family. The Korigad fort overlooks the famous Amby Valley township and is famous for its intact wall that runs for a distance of more than 2kms. The fort is also famous for its six canons- the largest being Laxmi Toph, near the Koraidevi temple.
7. Sinhagad Fort
Altitude: 4320 feet
Don't miss: Tanaji Malusares Samadhi, Tanaji Kada, Lokmanya Tilak Bungalow
What's special: The Sinhgad Fort is said to have been built around 2000 years ago.  With a breathtaking landscape that offers one of the best views during monsoon, come visit this place for a fun trekking experience with the kids, as well as some authentic Maharashtrian delicacies.
8. Peth Kothaligad Trek
Altitude: 3100 feet
Don't miss: A small temple and a large cave at the base and a chimney like tunnel to the top of the fort.
What's special: Thrilling stair climb towards the peak, Mesmerizing landscapes