Celebrities do it all in style, be it birthdays or weddings! And if it's about the Bachchans it ought to be a tad grander! Aaradhya Bachchan, Bollywood's most favourite little super star recently rang in her fifth birthday on November 16th. The little angel will celebrate her birthday party this weekend, along with her grandfather, Krishnaraj Rai- Aishwarya Rai's father- who is celebrating his birthday on November 20th. And this time the proud nana will celebrate it with his lovely granddaughter.
Amitabh Bachchan shared two pictures of the birthday girl on his blog  yesterday and we cannot stop staring at those twinkling eyes! Clad in a pretty red dress with a red hairband, Aaradhya turned a little Red Riding Hood on her birthday, making everyone go aww over her cute expressions.
You may also like: Big B shares a poignant letter with his grand-daughters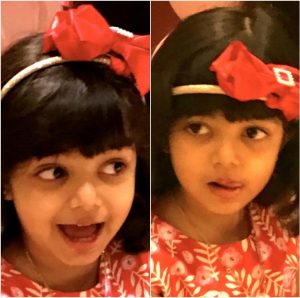 You May Also Like: Recap: Aaradhya's 4th Birthday Party
The little girl loves everything pink- and momma Aishwarya Rai and the entire family are working hard for the pink-themed birthday party for their little princess. Well, considering all the previous birthday bashes the proud parents had thrown for Aaradhya, and how grand an event they turned out to be, we can't wait for this party!
Image Source: www.taza-khobor.com, bollywoodlife.com
Don't forget to follow us on Facebook, Twitter, Instagram & Pinterest or subscribe to our Youtube Channel for more information.