Is your child all excited about the marvels of science? You now know what you should do with the kids this week in Mumbai! The pan-India famous Science Express that was flagged off from Delhi earlier in February this year, is all set to grace Mumbai this week. With a special focus on climate change this year, the Science Express Climate Action Special (SECAS) train will be on display at the Chhatrapati Shivaji Maharaj Terminus (CSMT), Mumbai from July 19th to 22nd.
The Science Express will be open for public between 10AM and 5 PM and will be stationed at platform number 10.
Focus on climate change: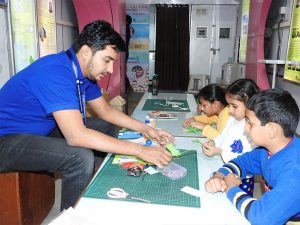 Of the 16 coaches of SECAS, around 8 coaches will host exclusive exhibitions and case studies and materials related to various aspect of Climate change, the underlying science and impacts in a manner that is easy to understand not just for school kids but for parents as well.
What's special for kids?
The highlight of the science express that kids will love is surely going to be the one in Coach 12- Kids Zone that promises fun-filled activities and games for kids upto 10 years of age.
Kids will be exposed to concepts of sound, light, optical illusions, static electricity, air pressure, centre of gravity, laws of motion, balanced diet, environment conservation, numbers, etc. through activities like Hovercraft, Trumpet, Balancing Butterfly, Magic Coin Box, Toy Car, Stroboscope, Balanced Diet Pyramid, Tap-tap and lots more.
Here's what you can find at each of the coaches:
Coach 1:Â Understanding Climate Change
Coach 2:Â Impact of Climate Change
Coach 3 & 4:Â Adaptation – Concepts of adaptation and examples from day to day life
Coach 5 & 6:Â Mitigation – Concept and definition with examples
Coach 7:Â International Negotiations for Climate Change
Coach 8: Positive Actions with the key message 'Increase your Handprint. Decrease your Footprint'.
Coach 9 & 10:Â Exhibition put up by the Department of Biotechnology (DBT), Govt of India
Coach 11:Â Exhibition put up by the National Innovation Foundation (NIF)
Coach 12:Â Exclusive Kids Zone is set up for children from Std. 5 and below
Coach 13:Â The Joy of Science (JOS) Hands-on Lab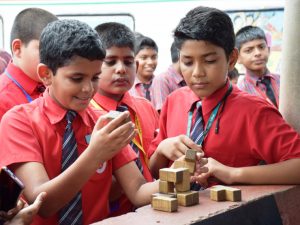 Contact: 9428405407, 94284 05408
Website: Science Express
E-mail: vascsc.jos@gmail.com, sciencexpress@gmail.com
Don't forget to follow us on Facebook, Twitter, Pinterest, Soundcloud & Instagram or subscribe to our YoutubeChannel for more information.