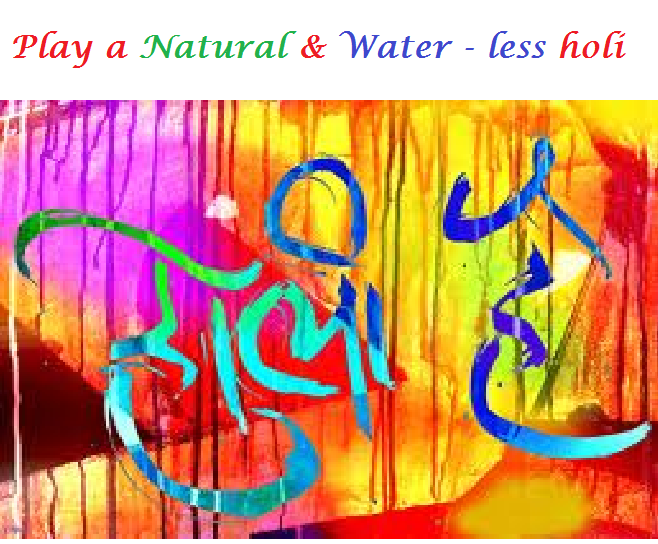 With Holi being just around the corner a lot of parents are apprehensive about making their kids enjoy the festival only because they are not sure about the colour or its whereabouts. We would like to join hands with DNA & Mid Day in playing a water-less Holi due to the severe drought in the state.
To enjoy this Holi – day make sure you have a fine balance of colour and care. Also explain the relevance of the festival to your kids. Read our post here We've made it easy for you. If you are looking at buying holi colours for your kids then try the New Rang De Colours: Made from natural plant and spice extracts their colours are safe and allergy tested.
The colours are unique as they do not have any synthetic ingredients, and are totally eco-friendly. What makes this proposition beliveable is that the parent company Troical Colours who is  a major producer of Natural Food Colours.
Rang de! has been made especially for children, hence it is the only colour in the country that has been clinically test and proven as a 'SAFE' product.
Rang de! comes in two variants – powder and liquid colours.
The powders are subtly fragrant and come in sunshine yellow, lush Green and summer orange. The yellow is derived from Turmeric, Purple from Beetroot, Red from Paprika and Green from Chlorophyll.
Each Powder pack contains 300g of colour (100g of each colour) Â Retails Price: Rs.275/-
The liquids come in sunshine yellow, summer orange and purple-red.
Each liquid pack contains 225g of colour (75g of each colour) – each liquid pack produces 30 Litres of colour when mixed in water. Retail Price:390/-
What we love:
1. Rang de! colours do not stain clothes permanently, and can be washed off easily
2. Rangdecolours.com is also associated with CRY-Child Rights and You, as the philosophies behind the brands aligned well. Every pack of Rang de! contributes to a child welfare program by CRY.
Availability: Shop online at http://rangdecolours.com/shop.html or at a leading department store near you in Mumbai & Pune only. All other cities can email them at orders@randecolours.com . Express delivery is what they promise.
So make sure you enjoy a water- less holi and play with Safe colours only.
P.S. Kids Stop Press is in no way associated with the manufacturers of Rang de. Please do conduct an allergy test before useÂ