Struggling to keep your kids happy indoors? Kids are restless fidgeting on the couch, and the clock ticking slower than usual just doesn't help. We are sure you are running out of fresh ideas that will help you pass through the day with your kids. How about going back to good old board games?
Scroll down for an extensive list of board games that you could play with your children! You must add them to their schedule because it helps kids develop skills like decision making, social interaction, critical thinking and of course family bonding!
1. Anger Slayer includes fun techniques like breathing exercises, creative tasks, social and physical activities – making it both fun and effective for kids to manage and think through the process of anger and address it at its roots rather than reacting to it irrationally. Buy here
2. Enchanted Forestland by Story Merchants is an adventure-based story game for kids from 18 months to 8 years that will get the kids super interested and engaged for a while. With the book and storyboard in the box, watch your kids fall in love with Lua Lua as they help him get back home! Buy here
3. Kadoo Mowgli Run Inspired by children's favourite story The Jungle Book, this board game makes the players think smart and play their cards to escape a trap or even better- lay one for their co-players! Buy here
4. Kaadoo Dino Kingdom Get into the world of of the dinosaurs and catch a glimpse of them all, one by one. An eye-popping collection of Dinosaurs that lived several million years ago, from our hugely popular Animal Buddy – Play & Learn series. A game like no other. Buy here
5. Taboo Board Game The taboo game is the game of unspeakable fun! Who can get their teammates to say 'brain freeze' without being able to say ice cream, headache, eating, cold or fast? Not so easy now, is it? When playing the taboo game, the obvious clues are strictly forbidden. Players race against the timer as they try to give creative and carefully-worded clues to get team players to guess words fast. But don't mention unmentionables, or it's time for the squeaker, which means losing the point. Players can also play using the game-changer die to mix things up. If it lands on one guesser, only one teammate can guess on their turn. With 4 other possibilities on the die, players better be shrewd, quick-thinking, and willing to take some risks – but don't get shut down by the squeaker! Buy here
6. Risk – Strategy Board Game Take over the world in this exciting game of military strategy, now with a refreshed look that includes updated figures, compelling board art, and improved mission cards. In the risk game players set out to conquer their enemies' territories by building an army, moving in troops, and engaging in battle. Buy here
7. Scrabble is one of the premier board games and is fun for not only kids but also adults. This Scrabble board game is extremely useful for developing vocabulary and to build strong spelling ability. It is a wonderful mental exercise to keep your brain active and working. It is thus preferred by people around the world because it educates in an entertaining and interactive way. Buy here
8. Monopoly is considered to be one of the most popular board games in the world. Monopoly Original and have a fun Saturday night with your family. Adults and kids alike can play this engaging game that ensures fun for hours at a stretch. This kids board game is utmost fun and helps your child learn maths, profit calculation and shrewdness. Buy here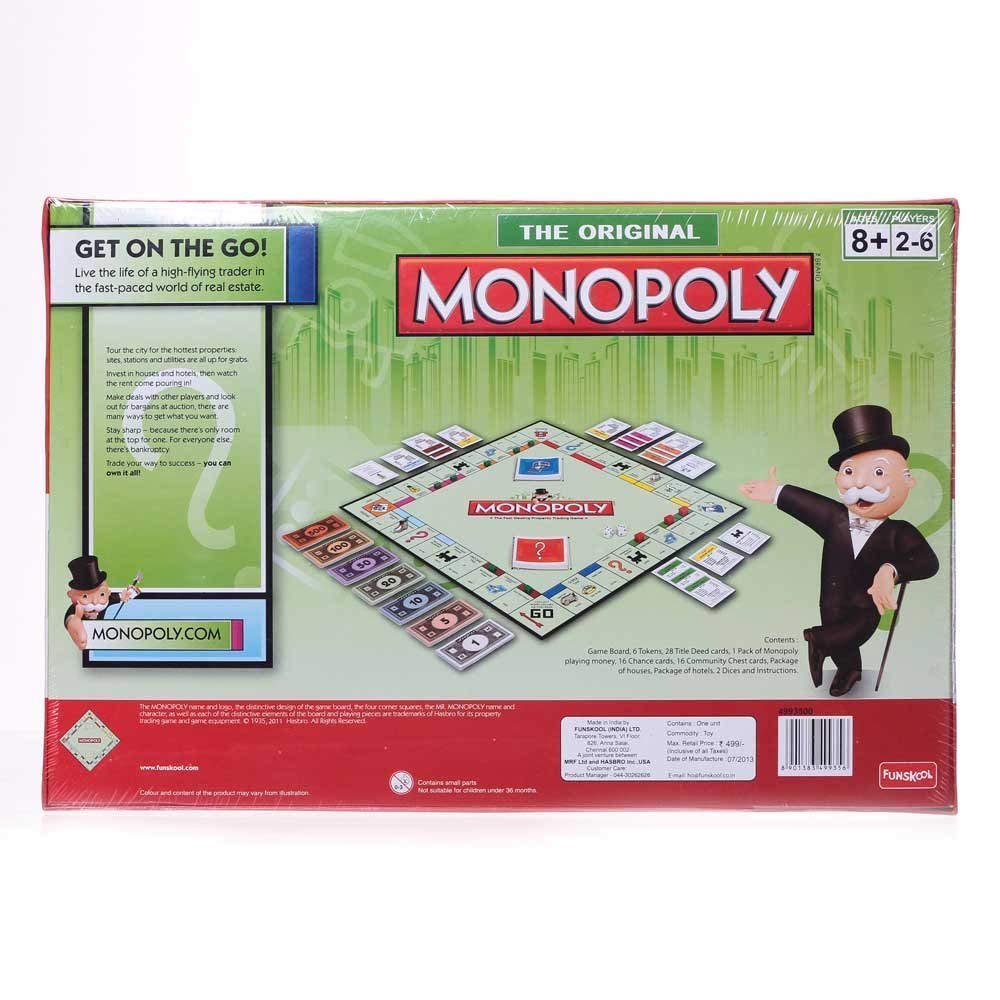 9. Cluedo Little kids love enacting abstract roles like that of spies, actors, policemen and detectives. Watch your little one put on his/her thinking cap while playing the awesome Funskool Cluedo game. A game of wits, intelligence and mystery, Cluedo is a must-have addition to your child's board game collection. The Cluedo board game comprises a game board, a murder envelope, 13 black Cluedo cards, six red bonus cards, detective notepad, six character tokens, two dice, two weapon tokens and a game guide. Gather your family for a fun afternoon of solving intriguing murder mysteries in the Funskool Cluedo board game. Buy here
10. Sequenze, an abstract strategy board-and-card game, was invented by Douglas Reuter in Owatonna, Minnesota, over a two-year period in the 1970. This set covers all the bases which are necessary to entertain your night with a card game. Fancy playing chips and stylish cards pull everything together to create the ultimate game experience. Buy here
11. Scotland Yard is the police force responsible in keeping the streets of London free from crime and violence. Engage in a game of wits and shrewdness with the Funskool Scotland Yard. A highly compelling game, Scotland Yard will keep your family engaged for hours at a stretch as they quietly engage in a high profile chase in London. Designed for children aged 10 and above, this game is a must-have addition to your family's board games collection. It includes a game board that is designed as London's map, 125 fare tickets, start and special move cards, a log book and pad and six plastic pawns. Buy here
12. Rolling Tales Rolling Tales is is all about using your imagination. Write and tell stories to win! Guaranteed to ignite the creative spark in your child. Buy here
13. Flippin Out Another game that is as addictive as it is fun! Channel your inner creativity and come up with answers that are hilarious! Buy here
14. Name 5 Name 5 of the category you pick or else you lose! This is a game for the entire family and questions can get really outrageous. Imagine having to name 5 purple foods. Can you really? Buy here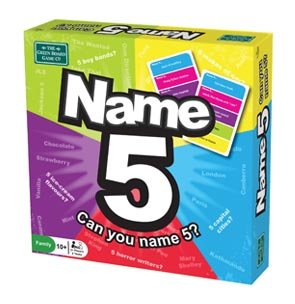 15. Caring Cats Kindness Around Town board game Plot In the City of Charms, live the 5 most awesome, caring, sharing cats. Meet CHATTYCHOO, HELPFILLI, LOTOTHOT, AKERMAX & GOODYGUM! They spread kindness with their love and unique care style. How do they do it? Through simple acts of kindness every day—need a hug, you got it; shopping bags too heavy, they'll pick it; really really want a cookie, they'll bake it!!! They are always on a different kindness mission, bringing happiness to all. See table below for fun facts! Join the Caring Cats in a race to beat the mean mouse as you spread happiness and cheer in the town with your kind acts!Caring Cats Kindness around town is a SOCIAL EMOTIONAL board game that develops empathy and compassion and makes kindjhness easy for the whole family! Buy here
16. Operation Escape E.V.I.L.: The Magical World of Chemistry Get a chemistry lesson through a board game! Fun, fascinating and endlessly challenging, children will be able to understand all about chemical reactions through the twists and turns in this game. Buy here
17. Snakes And Ladders Roll the die and move those number of spaces up on the board. If you land at the base of the ladder, you get to climb up. But if you stop at the top of the ladder, you slide back down. And beware of the snakes! Buy here
18. Mattel Junior Scrabble Crossword Game
Players take turns placing the tiles on letters and win points when they complete words. Kids learn spelling, reading and following rules. The Junior Scrabble is quite simple for 5 year olds so you could probably get the adult one and make simple words instead. Buy here
19. Checkers An intelligent game for kids requiring concentration and strategy, checkers teaches kids to anticipate the opponent's next move and play accordingly. Buy here
20. Othello Another intelligent game that involves converting the opponent's game pieces into your team's colour. This game involves thinking and strategic thinking. Buy here
21. Life Another amazing kids' board game that involves spinning the wheel and as a result determining the decisions. This game illustrated the importance decisions we make throughout our lives. Buy here
22. Chess Classic One of the classic board games on strategy and thinking, Chess is a great board game to get your child thinking! Buy here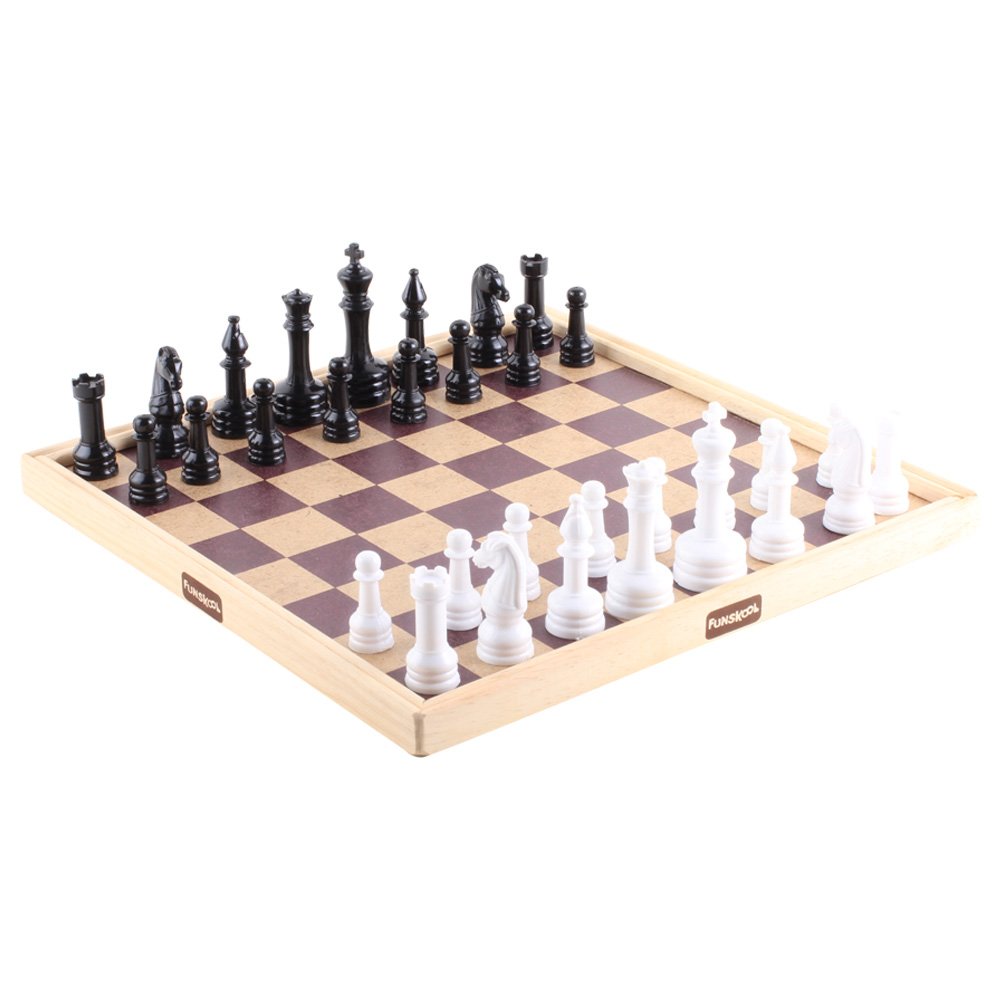 23. Twister A fun game for kids involving spinning to get a colour and body part that you need to put on the coloured spots. Buy here
24. Guess Who A fun guessing game teaching kids how to organize their thoughts and ask appropriate questions. Buy here
25. Brainvita A single player game that requires you to come down to the least amount of marbles. The games requires logical thinking and making the right moves. Buy here
26. Scattergories This is a creative thinking based game where players have to write words and score points by uniquely naming objects within a set of categories, given an initial letter, within a time limit. Buy here
29. Codenames
In Codenames, two teams compete to see who can make contact with all of their agents first. Spymasters give one-word clues that can point to multiple words on the board. Their teammates try to guess words of the right colour while avoiding those that belong to the opposing team. And everyone wants to avoid the assassin.
30. Catan
Catan is a multiplayer board game where you build roads, settlements and hotels by collecting and spending resources. Whoever collects 10 points first is the winner of the game!
31. Pictureka
Pictureka is an exciting visual game of hide and seek. If you get 6 wins then you are the Pictureka champ!
32. Pictionary
Pictionary is a classic game of drawing and guessing pictures. This game works great with large groups!