Kids' fascination towards vehicles starts early as a baby. The broom broom sound that babies try to imitate and a toddler saying names of vehicles are some of the precious memories that parents love to cherish!
From toys to books, there are plenty of things that could fuel their imagination. Today, I have made a list of the most popular books on vehicles that I loved reading with my child. Go ahead and see if your favourites made it to the list. They are classified age-wise, so there is something for every child!
1. Baby Touch Vehicles By Ladybird Books
An interactive touch-and-feel tab book which has almost all vehicles from cars and trains to helicopters and diggers. This book gives your baby a sensory experience that helps in early recognition.
2. Let's Go By Anthara Mohan Published By Tulika
A book about 10 different Indian vehicles. The versatility of this book is- learn numbers, counting and importantly about Indian vehicles. Apt for age 1.5 years and above. Also their illustrations are simply gorgeous.
3. Little Blue Truck By Alice Schertle
A rhyming book with construction vehicles and farm animals. With a text full of truck sounds and animals noises a perfect book to read aloud. Also, kids learn about the power of friendship and the rewards of helping others. A good read for 1 year and above.
4. The Amazing Machines – Truck Load Of Fun By Tony Mitton
A set of 10 books written in a clever simplistic way. Each book describes the vehicle used in realistic rhyming text. A perfect book for all vehicle lovers 2 years and above.
5. Read And Ride Cars And Trucks By Troy Cummings
The ultimate book and playset for vehicle-loving toddlers. Police car, fire truck, taxi, and recycling truck board books vroom and zoom in and out of three play scenes. It can be read as a book and used as a vehicle toy. One of the best books to take during a travel.
6. Big Digger Abc By Margaret Mayo
This bright and busy picture book is packed with all the vehicles little ones love, from diggers and fire engines to spaceships and underwater robots. Also, a perfect way to introduce alphabet for vehicle lovers. A good read for kids aged 2 and above.
7. Convertible Book By Clarie Philip
A convertible book is a fun storybook that can also be used as a play mat and sit-in vehicle for toddlers. Once unfolded, parent and child can read the text, which describes everything about a vehicle. The book is packed with colourful illustrations. Books in this series: bulldozer, train, space ship, police car, Tractor, Fire engine. This book can be introduced for kids aged 4 and above.
8. Car, Car, Truck, Jeep By Katrina Charman
This book is bursting with cars, buses, planes, trains, trucks, diggers and many more Things That Go. And read the text to the tune of Baa, Baa, Black Sheep, vehicle obsessed kids will never want to put this book down. Perfect rhyming book for kids aged 2.5 and above.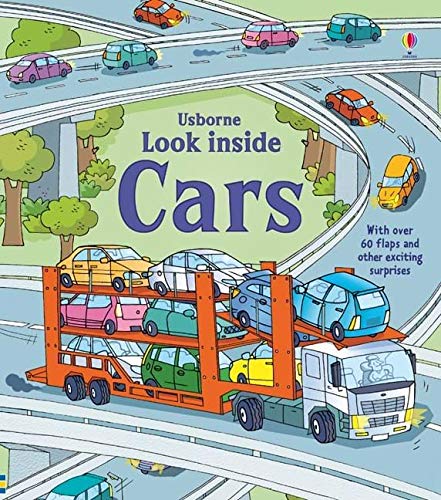 A series of lift the flap books for curious vehicle lovers. Detailed and realistic information is given in each series along with rich illustrations. Books in this series are: Look inside building site, cars, Airport, Trains, Trucks, and Things that go. Perfect for ages 3 and above.
10. Toot Toot Beep Beep by Emma Garcia
Stuck in a traffic jam and your child is eyeing the different cars in the road? That's how this book is! You got to see lots of different cars and their different horn sounds. Perfect for age 1+. Another book in this series is Tip Tip Dig Dig.
A non- fiction book about different types of boats. The rich text tells all about boats, how they move, and where we use them. Perfect for age 2.5 +