When we were kids, our backyards, porches, and society playgrounds were our play areas mostly. But today, there are so many vibrant and fun options available for kids to enjoy their freedom and creativity. Pune is a city where many childhoods are being built with love and wonder!
I'm a mom to a high energy toddler and I'm always on the lookout for places where she can spend her energy constructively. Play grounds and safe play areas are on every parent's radar today. Spending time in the company of nature or in an open surrounding where children can play freely, run, jump, and unleash their energy is so important for their development! You know they're looked after and you can get all your work done without them clinging to you. Sounds like a good deal we say!
Here are a number of indoor play areas with amazing options for some kid-fun!
Kids Ahoy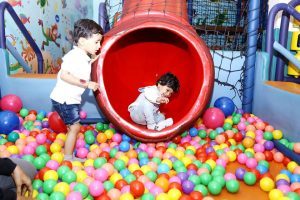 A simple space with some indoor fun, this place is complete with an aqua center, cafe, varied activities, and a play gym. Their Playdecks are clean, safe and most importantly fun! They have created indoor soft play zones for children from the age group 6 months to 10 years. There are loads of activities to choose from. While you meet-up with friends at E-Square your kids can channelize their energy here. It's safe and hygienic so mums can be worry-free!
Address: Kids Ahoy, E-Square Multiplex, University Road, Pune
Contact: 7722003090 / 66044185
Email: info@kidsahoy.in
Open Hours: Everyday 11 am to 8 pm (Tuesday closed)
Website: Kids Ahoy
Facebook: Kids Ahoy
Fun City Entertainment

Fun City is an ideal play center for kids between 1-12 years of age. They have a soft play 'PlayZone' area for children aged between 0-4 years where kids can slide, run, climb, jump around and enjoy themselves in safe surroundings. for the older kids, there are rides, video games and loads of prizes to be won at the end of the day. They have a separate area where you can have a birthday party for your little one.
Address: S No. 207, Viman Nagar Road, Marketcity, Pune
Contact:  020  66890580
Opening Hours: 11 AM – 9:30 PM
Website: Fun City Entertainment
Facebook: Fun City Entertainment
Bumble Jumble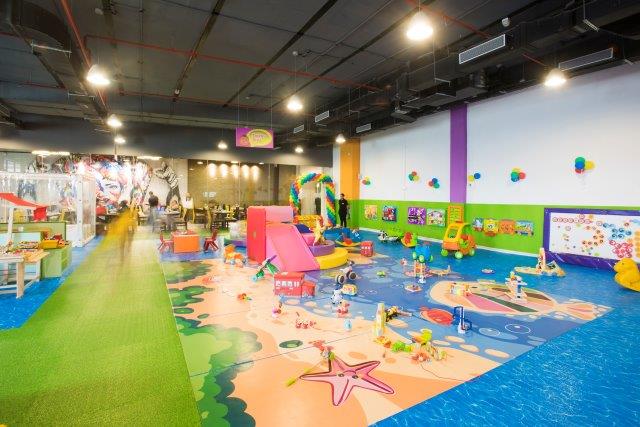 Bumble Jumble, an activity center where playing doesn't just bring unlimited fun, but meaningful learning too! With numerous innovative, thoughtful and fun-filled play zones spread across 10,000+ sq.ft., this entertainment destination is all set to make playing at Bumble Jumble, a  routine you'd love your kid to follow. It's time to get used to unlimited smiles and not-stop family enjoyment!
Address: 5th and 6th floor, Dorabjee  Royal Heritage Mall, Nr. Vibgyor School, Mohammedwadi, NIBM Road, Pune
Contact: 96088 08808
Email: vrajventurespune@gmail.com
Opening Hours: 11 AM – 10 PM (for weekends), 1 PM – 10 PM (for weekdays)
Website: Bumble Jumble
Facebook: Bumble Jumble
Happy Planet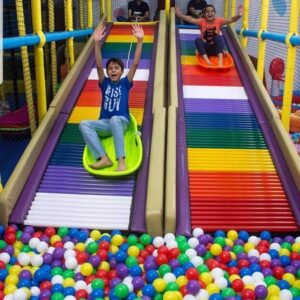 HappyPlanet Active PlayPark in Pune is a one of a kind physical play focussed center wherein kids can really be kids and grown ups can be kids again. The 10 zones on offer in the playpark namely Trampoline, Aerial Adventure, Skate Carting, Thrill Slides, Football In The Air, Indoor Zipline, Net Maze, Ninja Challenge, Crazy Crossover engage the child and the adult alike and offers an absolutley unique and unparalleled experience.
Address: Happy Planet, Phoenix Market City Mall , Level 3, Above Food Court, Vimaan Nagar, Pune
Contact: 020 66890834
Email: infopune@happyplanet.in
Open Hours: 11 AM to 9 PM
Website: Happy Planet
Facebook: Happy Planet
Kaboom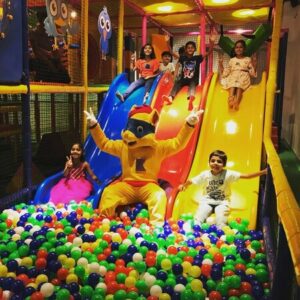 Kaboom is a unique, interactive and action-packed Children's Play Area where Fun meets Learning. It's a place that encourages social and cognitive development through self-discovery. We endorse a childhood that is happy and open and our space is dedicated to that becoming of your child.
Address: 2nd Floor, Seasons Mall, Magarpatta, Hadapsar, Pune
Contact: 020 67230557, 7887881475
Email: kaboomhome@gmail.com
Open Hours: 11 AM to 10 PM
Website: Kaboom
Facebook: Kaboom
Amazeum Children's Museum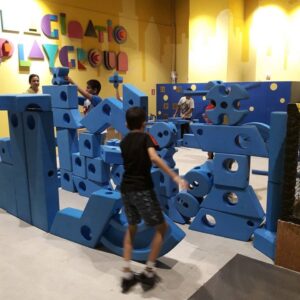 Amazeum is the coolest place for children in Pune! At Amazeum, children can play with a variety of exhibits that provide a holistic learning experience. Little ones can play with science-based exhibits (air and water flow), explore a fascinating fort, build cool stuff with huge blocks, create art masterpieces or make some groovy music!
Address: The Pavillion, S B Road, Next to JW Marriott, Pune
Contact: 9168880225, 091752 95627
Email: praveena@amazeum.in
Open Hours: 11 am – 8 pm
Website: Amazeum Children's Museum
Facebook: Amazeum Children's Museum
Hands On – A Child's Discovery Center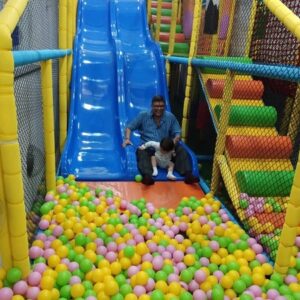 Hands On Discovery Centre is Pune's only children's space to have been thoughtfully designed by a team of early childhood development professionals and parents. Designed specifically for young children aged seven and below, of all physical and developmental abilities. Our discovery zones provide an unforgettable educational experience where children can play, build, dress up, make music, read and explore, all under one roof.
Address: Chashm-E-Shahi, F.P.NO 340,T.P.S, Lane Number 6, Meera Nagar Garden Society, Meera Nagar, Koregaon Park, Pune
Contact: 020 26151500, 9011035204
Email: handsoncentre@gmail.com
Open Hours: 10 AM to 7 PM (Tuesday, Wednesday Thursday), 10 AM to 8 PM (Friday, Saturday, Sunday), CLOSED ON MONDAY
Facebook: Hands On – A Child's Discovery Centre
If we have left out one of your favourite play areas off our list, please send us the name and details in the comments below and we'll definitely add it to our list.