Every Janmashtami I make sure I take the kids to the various mandirs to see the jhankis (tableaus) that are decorated and put up in each temple here. My kids know the story of Lord Krishna now, but they still enjoy the experience of dressing up, eating all the food he loved and getting to rock the swing on which baby Krishna sits. Are you planning to take the kids to watch the Janmashtami celebrations happening in the city?
My kids favourite story while growing up was
When Krishanji lifted Govardhan Parvat with his left hand, and held it up like an umbrella. How everyone in the village took shelter under Govardhan Hill. For seven days they stayed under the hill, safe from the terrible rains and surprisingly undisturbed by hunger or thirst. They were also astounded to see the huge Govardhan Hill resting perfectly balanced on Krishna's little finger.
It fascinated them and they would keep asking me to tell them the story and look at pictures in the book and come up with their questions and as they grew older the plots and mysteries surrounding this story grew as per their imagination. Just a little memory of when they were little – brings a smile to my face still. If your kids like to listen to stories about Ladoo Gopal, then you should listen to the podcast on the Nakhat Kanhaiya here.
By the way, I just bought my nieces this really cool Krishna's stories based game. you can check it out here.
Here's wishing everyone a Happy Janmashtami!
Now there are days when no one in the house wants to have roti for dinner. Our lunch meals are always Indian food – dal, roti and sabzi. For dinner, they like to eat a variety. So this week's dinner menu has wholesome healthy food but sans roti.
I love this quote by Julia Child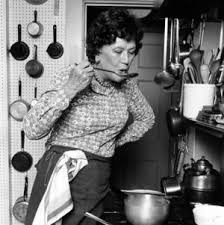 You don't have to cook fancy or complicated masterpieces – just good food from fresh ingredients.
Julia Child was an American who became popular when she wrote her first cookbook 'Mastering the Art of French Cooking' and made French cuisine accessible to American audiences. She was one of the first women to host her own cooking show on television, providing tips and lessons on how to prepare French food simply and easily. In that day and age, it was a feat. Her recipes are still considered some of the best!
I totally agree with her about the good food and fresh ingredients. When I cook whether it is for the family or for company, I don't have the patience to work on culinary masterpieces. I cook based on my tastes, what I can find in my fridge and what catches my fancy that week. Is that how you cook too?
Does anyone have a week like that at home? What does your family like eating and what do you cook?
However, if you need inspiration you know you can always rely on us. The weekly meal plan and recipes can be an excellent guide for you if you are stuck. Also, we would love to know your meal plan and recipes. Share them with us at contri[email protected] and we will feature you and your recipes.
Your Recipe Picks For This Week Are
Crunchy Thai Peanut Salad
Mushroom Risotto