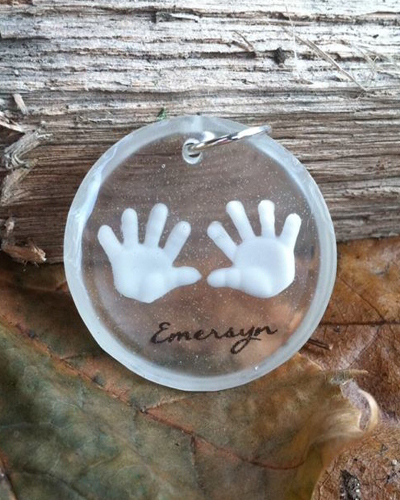 Do some of you moms want to remember those days of breast-feeding? Does it bring you closer to your child? Does it connect you to them? I'm sure the answer to all these questions is yes, but would you want to wear it?
Breast milk jewelry has become a new trend among mommies this season! While for some it might be cute, others have mixed responses. The jewelry is made by taking a sample of your breast milk, plasticizing it, and then moulding it into miniature shapes such as hearts, hands, feet, moons, flowers and more. Then these milk beads can be set into a pendant for you to show off.
You can either wear it as an accomplishment and making it through pregnancy and embracing your journey of motherhood, or when your kids are old enough gift it to them as a present. Although I have to be honest, that might weird me out a bit. Yet, the shapes are really cute and the jewelry itself is pretty and well made. The designs show how much effort is put into it.
Allicia Mogavero makes this breast milk jewelry in the US and she sells it online on Mommy Milk Creations on Etsy.com which has become a complete hit among mothers. Her products sell from 64 to 125 dollars and it's become such a popular fad, that the waiting period for orders goes above 2 whole months!
Other than this there are websites such as Hollyday Designs and Milk Mom Baby which makes keepsakes and offers kits to preserve your own breast milk respectively. On Etsy.com there is Tin Roof Soap Co shop which is run by Sara James of Houston handcrafts soap bars make of olive, coconut, lavender and a touch of breast milk
All you have to do to get your keepsakes, is place your order and send two tablespoons of your breast milk in a zip lock bag and wait for your jewelry to be delivered! So mommies, what do you think? Cute or….?
To see if you like it, and want to go buy it…
Go visit www.Etsy.com & like them on Facebook!
Mommy Milk Creations at http://breastmilkpendants.blogspot.in/p/breast-milk-pendants.html  & Visit them on Facebook!
Hollyday Designs at http://www.etsy.com/shop/hollyday27 & Visit them on Facebook!
Milk Mom Baby at http://www.milkmombaby.com/p/hello.html & Visit them on Facebook!
Tin Roof Soap Co at http://www.tinroofsoapco.com/ & Visit them on Facebook!