Are you looking for a chance to get away from the monotony of your week and just kick back and relax? Somewhere out of the city but close enough so that you don't need to drive for long? That's exactly how my family and I felt last weekend. Winter is on it's way out and we just wanted some time out in the sun. So we rounded up a few friends and off to Damdama we went. We left on Saturday and were back on Sunday -no need to apply for leave and a great way to come back energised to face the week ahead.
Located about an hour out of Delhi, Damdama Lake is on the Gurugram-Sohna Road. Ok! So we didn't go to Damdama Lake – The lake is all dried up now and there's nothing to see. Instead, we went to Bull's Camp near Damdama.
About The Camp
Bull's Camp Pahadi is a part of the Mercury Himalayan Explorations group. Not everyone is cut out to conquer the Himalayas, which is why they decided to open an adventure campsite near Sohna.
The Fun Begins
The moment we arrived at the campsite, the 10 kids just flew out of the cars and were racing around exploring the place and choosing their tents. Yes! We got to stay in tents and it has an attached washroom with hot water on request. I don't know about you, but for me, as a mom, the bathroom is a huge factor when ever I travel. So these are not state of the art types – you are going to a camp after all. But they are basic and clean.
So while the adults settled under the canopy for a drink, the kids were jumping away on the trampoline. The food was really tasty – basic good Indian fare. There was a constant supply of snacks, tea and coffee. Our package covered lunch, dinner and breakfast the next day.
Activities That You Can Do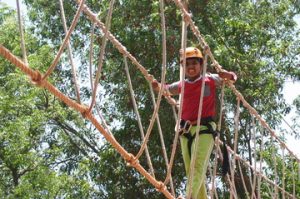 Image Source: http://photos2.meetupstatic.com
They have camp activities like Burma Bridge, Zip Wire, Spider Web, Rock Climbing, Rappelling. You can play Football, Cricket, Badminton, Volleyball, and practise some Archery and Air gun shooting too. All activities are supervised by trained instructors. So off we all went to have some sporty fun. The kids made it look so easy as they zip-lined across the field. I had to be pushed off the perch because I refused to let go. The kids obviously had a good laugh at my expense!
The Bonfire In The Evening
Image Source: http://media.clickondetroit.com
The day wound down with a bonfire that the camp had set up for us. Just when we thought that chilly winter days are behind us in Delhi, we noticed the sudden dip in temperature. For those who hadn't carried a decently warm jacket, it wasn't very pleasant. They sat huddled up next to the bonfire for most of the evening.
You may also like: Don't Miss These Two Kid-Friendly Places In Delhi
Some fun songs, some tambola and a lot of crazy jokes made for a nice evening around the bonfire. Â The kids thought the parents were a little crazy since they hadn't heard a lot of the oldies we insisted on singing. Soon the kids started their own little round table on the trampoline to get away from our singing. We weren't that bad!
You may also like: Kid-Friendly Weekend Getaways From Delhi
What The Kids Loved the Most
Image Source: https://s-media-cache-ak0.pinimg.com
The zip wire and the obstacle course are what my kids enjoyed the most. I have to say the zip wire was my favourite too after the initial fear wore off. It's not a long one so you have nothing to worry about.
At one point during the bonfire evening, the lights went off and everything was completely dark and when we looked up, the sky was full of twinkling stars. It was absolutely gorgeous. It's such a rare sight in the city. The pollution and the lights never give us a chance to see the stars.
You may also like: The Ultimate Cosmic Companion For Your Star-Struck Kids
On Sunday morning we woke up to fresh air and birds twittering. We left after breakfast and were home in under an hour. The break did us a world of wonder.  The kids were happy and we were refreshed. A great way to end the weekend I say!
You may also like: 8 Stores In Delhi For All Your School Costume Needs
Don't forget to follow us on Facebook, Twitter, Pinterest, Soundcloud & Instagram or subscribe to our YoutubeChannel for more information.