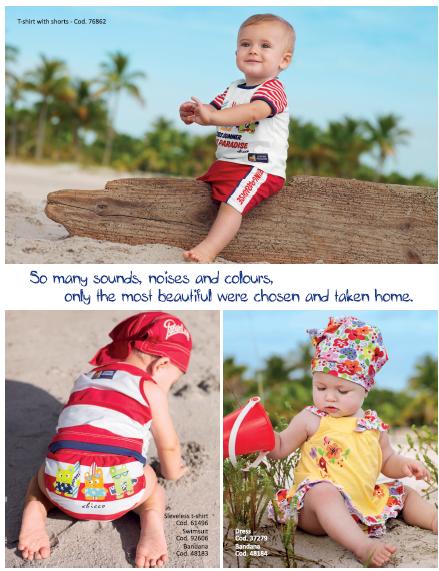 After a really good winter now its time to switch the wardrobe and get our little tots to dorn some summer fashion. So lets get going with some great Italian fashion for newborns to toddlers. What all moms love is comfortable, practical & hard- wearing, fashion. So get ready for some semi-formal wear in soft pastel tones with natural fabrics including linen, flex and cotton meshed with vintage prints.
They have something for everything beginning from 0 – 7 years. If you thought Italian fashion will not be so pleasing to the wallet. Think again! Prices on the summer collection start at Rs 449/- up to Rs 2499/-
0 – 24 mth old tots can choose from  precious fabrics, floral patterns and opulent details such as laminated printing & sequin effects. A bon ton look for a 'little Lordâ€_x009d_, updated by style and avant- grade fabric choice. Clean in line but rich in detail with badges, printed text, laminated prints, personalized buttons, trouser braces & belts. When its summer it does call for some  Sand & Sea with a complete range of swimsuit thats UV protected and functional clothing with a fresh and fashionable look.
Boy (Age: 1 to 7 years)
Boys can choose from some adventure into the African Savannah with the tones and nuances from films such as 'Out of Africa' can be found in the graphics, fabrics and colours like natural, sahariana's green, sand, optical white. If optical graphics and modern art is more his style then try slashes decorating T-Shirts with horizontal and vertical cuts that look like they've come straight from a Lucio Fontana's canvas. Fluo- green mixed with navy blue and optical white… colour coordination that makes this group dynamic & vibrant. Greys, blues,whites await you. If Nautical is more him then try some fun & functional wear with the theme of Sailing, Beach, Aqua Bike, Pacific Cruise
Girl (Age: 1 to 7 years): Those soft curls and sun kissed skin needs some fresh, elegant & refined look with blue and white play with stripes, ribbons, enhanced by appliqué bows and flowers in powder blues, pinks & whites or some blossoms in creams,  whites or neutrals with dandelion puffs, butterflies, the soft touch and transparency of the lightest of fabrics then this is just the place to shop. If she prefers the perfect Garden Party setting just like Alice then be ready for some "hand stitchedâ€_x009d_ floral embroideries in white, fuchsia, orange, bubblegum pink.  If she is your little adult who needs her complete beachwear with a swimsuit or a bikini, a beach robe, a poncho or a stunning matching beach towel made of the softest, most comfortable terry then you know where to head.
Available:Â
Kolkata- SOUTH CITY MALL,
Bangalore- 618, 12th main, 100 feet road,
Delhi- Select CityWalk mall, Saket,
Ambience Mall Vasant Kunj,
Mumbai- High Street Phoenix Mall.
Mumbai – 400013