Every time we discussed travel, Singapore would be one of the destinations that would crop up. I have just heard enough about the place, that I was sure I wanted to take my li'l girl along so that she can enjoy it as much as us. So off we were on a 4-day trip to the Lion City! And at the outset, let me assure you, Singapore is indeed a haven for parents travelling with kids and here's a first-hand account of why we loved going there with our 4-year-old daughter. The travel from Delhi took a good 6 hours, but thanks to good ghar ka khana, in-flight entertainment and the never-ending tirade of questions my daughter throws at us- the journey wasn't boring (tiring, it was ;))
Sentosa Island
We stayed at Sentosa- that's considered a separate island from the city of Singapore- but if you are used to the busy traffic and long-distance travelling in India, you will realise that it is hardly "outside the city". It was Christmas when we reached Singapore, so we were treated to a million wonderfully decorated and well- lit Xmas trees that gave us some great photo-op moments! And the best part- every tree, small or big had its own theme and the most famous among them all was the Pokemon Xmas Tree! Singapore was crazy over Pikachu and how! Perfect to get kids into the Christmas spirit!
Don't Forget to Shop @ VivoCity Mall!
On a day when we had travelled enough, we realised a visit to the nearby mall would suffice and we chose the city's biggest mall- Vivo in Sentosa as our destination. Mom to a 4year old girl, I couldn't stop myself from buying the wide range of accessories and dresses that were available for kids at VivoCity! We shopped for adorable hair bands and clips and whatnot for the little girls in the family, I also got a Santa Claus frock for the newborn in our family.
Mommy Tip: Don't forget to shop for some adorable socks for your little ones at Vivo! Trust me, you have never seen these designs before!
Sentosa Resorts World
We spend the evenings city hopping and that's when you catch the city in all its glory. I must warn you if you plan to take a cab that it would eat a lot into your travel budget. Plan wisely and use the bus/metro or cable car services that are remarkably efficient. We took a cable car from our hotel and reached Resorts World in less than 20 minutes. The entire place is huge and to cover them all in one visit would be impossible. Right at the entrance, people had gathered for a special laser light and sound show of Singapore's iconic Merlion. A wonderful sight to behold, we must say! Don't miss the shopping experience at the Resorts World- we went there without any specific agenda, and came back with our hands full of shopping bags! Take your kids to Candylicious- where the world of candies and chocolates just seems to have descended on Earth! Also, get your friends back home a box of Strawberry Snow cookies from Singapore's iconic "The Cookie Museum"!
Mommy Tip: Be prepared to walk and explore the place. (Suggest you keep some energy bites and water handy for the kids).
S.E.A Aquarium
In what is the world's largest aquarium, you can find around 800 species of marine life! We gave some of the famous old places in the city a miss but this place in Resorts World was a must-visit! From jellyfish to octopus, to dolphins- the range of aquatic life you can show your kids is amazing! Mine just stood there transfixed at the beauty of the underwater world. Do not miss this!
Mommy Tip: If you are travelling as a group, you can take turns to see the place, while some of you can watch the kids indulge in some colouring sheets you get inside the aquarium. That will surely get the kids excited and give them a break!
The Singapore Zoo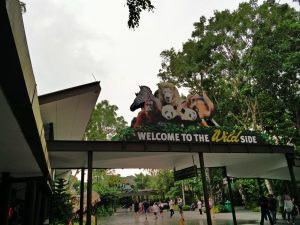 You can't just go to Singapore with your child and not go to the Singapore Zoo! This is one kid-friendly sightseeing destination you can't afford to miss. You could also plan a visit to the Jurong Bird Park. There is a lot to see at the zoo and it is pretty difficult to see the entire place in one trip. So grab a map at the entrance and plan a route that covers the animals your child absolutely wants to see.
My daughter loved seeing the white tigers, the huge group of orangutans, a family of zebras, rhinos, and what not? We spaced our time at the zoo well by halting at each site and taking the time to understand what's there. There are enough spots for refreshments at the zoo and that helped. We were lucky to be there in time to watch the polar bear have his lunch and enjoy a swim at the Frozen Tundra!
Mommy Tip: Though my daughter is definitely outgrown the stroller, we made a wise decision by hiring one at the zoo counter. You wouldn't want your child to get tired of walking around the vast expanse of the zoo and I certainly had no plans of chugging along with her in my arms!
Gardens By The Bay
This is one garden, you surely shouldn't miss, when in Singapore. Spread over a sprawling 101-hectare area, kids will love the open spaces. The giant Singapore Flyer is visible from here and you can see the entire city from an aerial view. If you have time, make sure you halt by the conservatory complex and the Flower Dome inside the Garden. The Children's Garden for kids up to age 12 years old, sure knows how to entertain its little visitors with a range of trampolines, balancing beams, hanging bridges and lots more.
Mommy Tip: Again be sure, to halt for photos and selfies, as your child can well use the little breaks in between the long and tiring walks.
Fretting Over Food? Don't!
I confess- I am fussy when it comes to my child's diet. I was wondering if I had to pack anything special as I was not sure if I would get a vegetarian menu for my child at all places. And I was so wrong! My cousin who stays in Singapore was of great help in suggesting places and options for the child. The one thing that struck me most about this country was how every tourist was at ease travelling around their kid to every place. That's primarily because of the wonderful amenities and options extended to parents in every nook and corner.
Be it choosing your breakfast menu at our hotel (Shangri La) where there was an entire room dedicated to children for ensuring a healthy and happy morning or the numerous stores in the malls that made sure no kid goes home empty-handed! Kid-friendly menu options are everywhere and if you like non-spicy Mexican food, head straight to Orchard Road- a place that never sleeps literally! With performers, magicians and lots more through the evening, my little one was star-struck, quite literally! And guarantee- you won't miss Indian food- as it is available in every place across Singapore!
We sure agreed that 4 days wasn't just enough to soak in the wonders of Singapore and we can't wait to come back again! Till then, Selammat Tinggal!