The mighty elephants are all set to take the streets of Mumbai by storm all of this month. In the first phase of the parade in South Mumbai, people had gathered in large groups to witness the majestic Elephant Parade- in its first year of launch in India.
What is the Elephant Parade?
Elephant Parade is the world's largest public art event that has travelled to more than 24 countries across the world. Created by artists and celebrities, each Elephant Parade statue is a unique art piece that is exhibited in cities across the world to raise awareness for the need of elephant conservation.
Sounds interesting, tell me more:
Top creatives across India have transformed 101 white elephant sculptures into powerful pieces of art to raise awareness for the endangered Asian elephant. Elephant Parade India is curated by Farah Siddiqui and Aqdas Tatli and features works by fashion designers, architects, fine artists, tribal, folk and street artists who are working together to bring this incredible exhibition to India for the first time. Limited edition, handcrafted replicas and a select range of products are created from the exhibition elephants.
Inaugurated earlier last week by the Chief Minister of Maharashtra, Devendra Fadnavis, the mighty elephants stood majestically with the Gateway of India as the background and are all set to conquer Andheri, Bandra, Kurla, Ghatkopar and other parts of the city all through this March. The campaign aims to draw attention to the plight of the endangered Asian elephant. The funds raised from the parade will help secure 101 elephant corridors across India and support projects to address human-elephant conflicts across the country and especially elephant hubs where they are under threat due to lack of corridors.

Schedule:
Here's the complete schedule of the Elephant Parade in Mumbai this March. Find out when the mighty elephants come marching into your area and make sure you head there with the kids! Bookmark this and take your kids along to witness this grand spectacle for a good cause.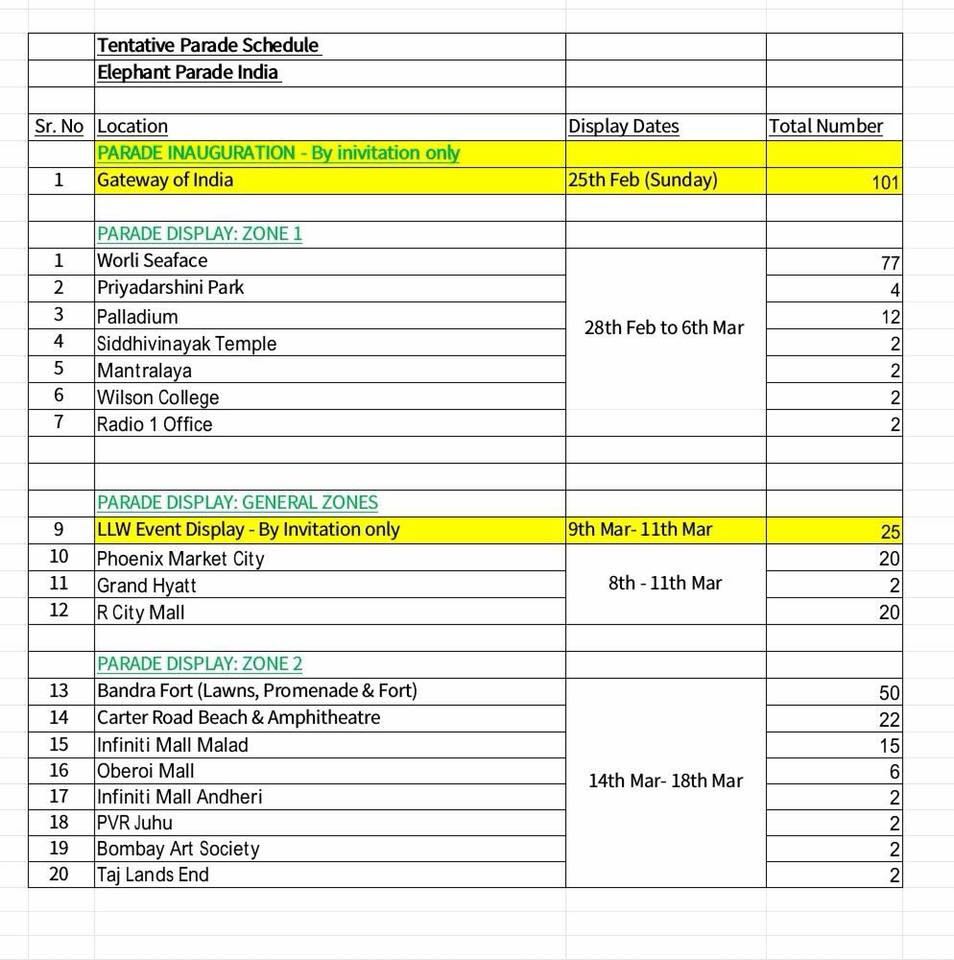 Details:
Facebook: ElepahantParadeIndia
Website: ElephantParadeIndia
You may also like – Events and activities for kids in Mumbai
Don't forget to follow us on Facebook, Twitter, Instagram & Pinterest or subscribe to our Youtube Channel for more information.