Fruit purees are an excellent way to introduce new fruits to your toddler and also sneak in some much needed nutrition. We have rounded up some unusual fruit purees that are guaranteed to make your toddlers love fruit and clamour for more!
Fruit purees can be made with seasonal fruits and form a basic starting point for when you are thinking of introducing solids to your child and wean them off breastmilk. It is quick to make, and can be frozen in batches for later use. It also makes a great grab-and-go snack on busy mornings when packed in squeezable fruit pouches.
All you need to do is wash, peel, chop and steam the fruits  (apples, pears, beetroot, avocado, plums, carrots, apricots) to soften them. Then blend them in a baby food processor. There are many fruits that have a natural soft flesh like banana, papaya, chickoo, mango, etc. These can be mashed with a fork if your baby is learning to bite and chew. Remember to de-seed fruits like oranges, melons, cherries to avoid choking and it is best to avoid adding any salt or sugar to fruit purees.
1.Plum and Banana Puree (9 months+)
In season plums, juicy and rich in Vitamin A help promote healthy vision. Just toss some peeled plums in the food processor. Add a banana to tone down the strong plum flavor and to make it more palatable for babies.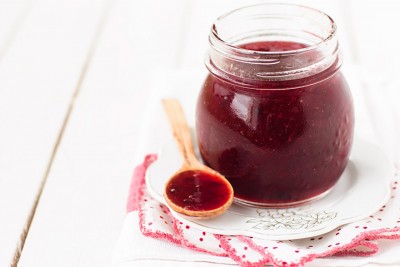 Image Source:Â momjunction.com
2. Peachy Pineapple Puree (10 months +)
This fruit  combination is a perfect stage 2 food for babies, and we think fruit popsicles is more interesting than the pureed version. If your baby is teething, these ice-cold fruit pops will have a soothing effect on his gums.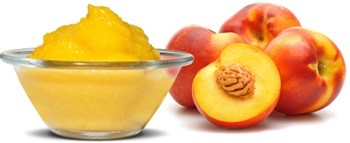 Image Source:Â fruitjuiceconcentrate.org
3. Kiwi, Banana, Avocado Puree (12 months +)
A great way to introduce exotic fruits at an early age! If your child has learnt to chew, combine this puree to your baby's breakfast cereals to give it a grainy texture or simply prepare the puree and store in airtight containers and serve on demand.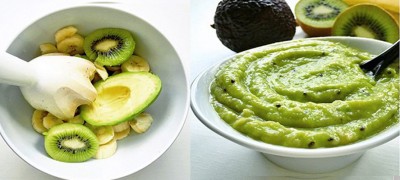 Image Source:Â yummymummysworld.com
4.Pear and Apricot Puree( 6 months +)
Both Pear and dried Apricots contain fibre and are natural sources of antioxidants that help in treating indigestion or constipation in babies. Serve this puree as soon as you make it or freeze the puree in ziplock bags and add them to your child's porridge to make a nutritious breakfast. You can also add apples in place of pears.
Image Source:Â annabelkarmel.com
5.Peach, Plum and Apricot Puree (10 months +)
We love this recipe for the variety of ways kids can relish this fruit concoction- use it as topping on their favorite crackers, whip it up with yogurt or turn it into a delicious dessert by adding to plain vanilla ice cream.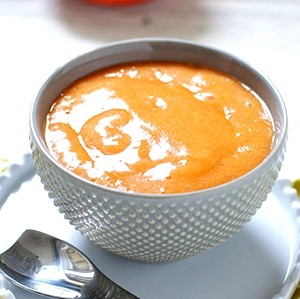 Image Source:Â babyfoode.com
6. Cherry with Carrots Puree (8 months+)
Cherries are monsoon fruits too and we love how this small stone fruit which is rich in calcium can produce a chunky puree when combined with carrots and  protein packed bajra flour for your toddler.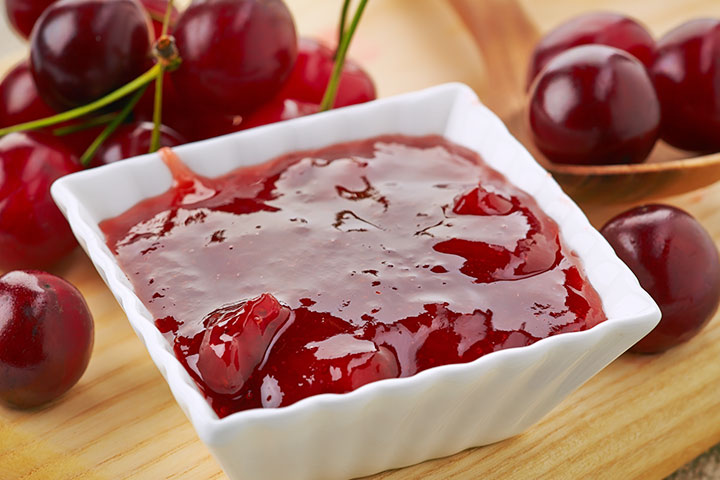 Image Source:Â momjunction.com
7. Avocado, Strawberry and Mango Puree(10 months +)
Surprised to see Avocado listed here? Yes Avocado is a fruit, although it doesn't look like it.  Avocados are one of nature's super foods for babies. The addition of  strawberries and bananas to this puree enhances its nutritional value. Bananas also helps to make this puree more thicker and sweeter in taste.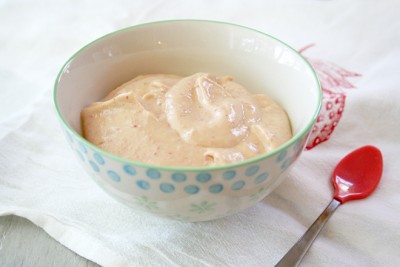 Image Source:Â myhumblekitchen.com
8.Apple Cinnamon and Yogurt Puree ( 12 months +)
Best recipe to sneak some fruits into a picky eaters diet, as this fruit puree appears no less than a yummy creamy dessert to kids. A dash of cinnamon lends a distinct flavour to this recipe. You can also make small yogurt bites by freezing this fruit concentrate using ice trays, to enjoy this dish as an on-the go snack.
Image Source:Â babyfoode.com
9.Carrot and Orange Puree ( 8 months +)
This orange colored puree is packed with vitamin A. Adding orange to it gives it a sweet tangy flavor.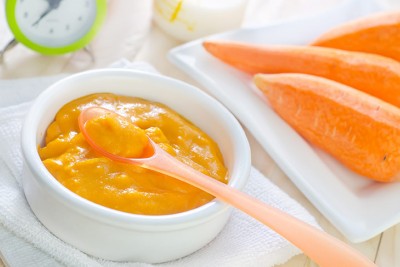 Image Source:Â momjunction.com
 10. Beetroot and Plum Puree ( 6 months +)
For moms looking for healthy beginner baby food options, this recipe is a must try. Beetroot lends a deep maroon colour to this puree, keeping your little toddler intrigued all along.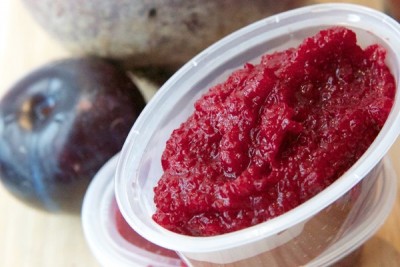 Image Source:Â mummycooks.ie
For more information follow us on Facebook, Twitter & Instagram and do subscribe to our Youtube Channel.
Image Source:Â palmbeachillustrated.com