When winter and festive season come together, the appetite does a happy dance! And that's why Pongal remains one of my favourite festivals! Call it how you will – Lohri, Sankranti, Pongal they all spell harvest festival. And unlike other festivals that are mostly wrapped up in a day, Pongal, as it is celebrated in Tamil Nadu, spans over a good three days, with different traditions and recipes packed for all three days!
Coming from the heartland of Pongal- Chennai, Pongal was always special to me as a child. Hands down, mom made the best versions of those ghee dripping and jaggery soaked treats, that lingered on to the taste buds, long after mealtime! And now, as a mother when I search for recipes that are easily digestible, healthy, and packed to the gills with nutrition and flavour, I naturally turn to Pongal!
So whether you are planning to make these recipes for the festival or are planning to introduce them as first foods for your baby – you can be guaranteed a tasty treat!
Iniya Pongal Nalvazhthukkal!
Day 1: Bhogi
Marks the end of the Margazhi month, traditionally celebrated by burning old clothes, rugs, mats. Signifies the end of old things and the new beginning of hope and life (also marking the end of the winter cycle and the onset of the warm weather). Here's what's cooking in our kitchen for Bhogi.
Poli 
Image source: apeekintomykitchen.com
Known as Puran Poli in the North, Poli is often the go-to delicacy for bigger and happier occasions. A variety of Poli recipes are available like Parupu Poli, Thengai Poli, Pal Poli and some newer entrants like Carrot Poli have also got into the list.
Here's the recipe for Paruppu Poli.
Soak channa dal for a short while and cook well (to a mashed consistency).

Add equal amounts of coconut and pulse it in the mixie along with cardamom powder.

Add 

2/3rd

amount of powdered jaggery to this ground mixture.

Once the filling (known as

poornam

) is ready, make them into equal sized balls.

Prepare the outer dough using maida (all purpose flour), turmeric and salt using water.

Place the

poornam

inside the maida dough and make the polis in disc-shaped similar to parathas.

Serve hot with a generous topping of ghee!
Day 2: Pongal 
The first day of the "Thai" month that marks the onset of the harvest season. A day of thanksgiving and seeking the blessings of the Sun God. The mainstays of Pongal recipes are Sarkarai Pongal, Ven Pongal and the Vegetable Kootu. Any additions like Vadai, Payasam are only gladly welcomed by the family!
Sarkarai Pongal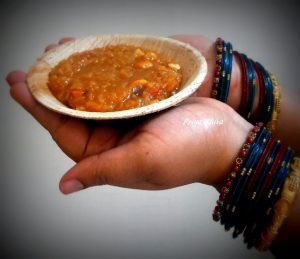 Image source: priyaskitchenette.com
One of the simplest and nutrient-filled Pongal recipes. Rice, moong dal and jaggery is all you need to make this favourite dish of the masses!
Dry roast 3/4 cup of rice and 1/4 cup of moong dal together.

Pressure cook the rice dal mixture to ensure the dal and rice are cooked very well.

In the meanwhile, melt 2 cups of jaggery on a kadhai to avoid any lumps.

Add the cooked rice-dal mixture to the jaggery syrup and stir well.

Add in cardamom powder and garnish with ghee roasted cashews and raisins.

Add in 2-3 extra spoons of ghee to give the perfect finish!
Ven Pongal
Image source: foodaurmood.com
Another much simpler version of Pongal, is often considered one of the safest and best first foods for your baby. It is easy on the stomach and provides the right dose of carbohydrates and proteins to your fast growing toddler.
Dry roast 3/4 cup of rice and 1/4 cup of moong dal together.

Pressure cook the rice dal mixture to around 5-6 whistles to ensure the dal and rice are cooked very well.

In a kadhai, add some oil and toss in jeera, peppercorns, curry leaves, sliced ginger and green chilly.

Add the cooked dal rice mixture to the kadhai and add 2-3 spoons of ghee as you stir well.

Add the required amount of salt and garnish well with ghee roasted cashews.
You may also like: Here's why you should add ghee in your diet
Day 3: Kanu/Kanum Pongal
The 2nd day of Thai season is celebrated for two reasons. It's a day when the cow- a farmer's best friend is worshipped and the famous Jallikattu (bullfight) is organised in the smaller towns. Also in some cultures, it is the Tamilian version of Rakshabandhan. The delicacies of the previous day are offered as small balls in a ginger/turmeric leaf to crows early in the morning and a prayer is offered for the everlasting sibling bond. The menu for the day is simple and tasty with a variety of mixed rice recipes! My favourites include lemon rice, coconut rice, and curd rice – again perfect for kids!
Lemon Rice
Image source: digitalcutlet
In a kadhai, add some oil and after the mustard seeds splutter, add the urad dal, channa dal and a handful of peanuts.

Add in curry leaves,

hing

and toss well.

Add

haldi

and a few drops of lemon juice to the mixture. Mix the cooked rice to this and add the required salt.
Coconut Rice
Image source: healthyliving.natureloc.com
In a kadhai, add some oil and after the mustard seeds splutter, add urad dal,

hing

, curry leaves, red chilly,

ghee

roasted cashews and add scrapped coconut before turning off the stove.

Add the cooked rice, salt and mix well with ghee.
Image source: Tamil Guardian