As moms we are always on the go so it is necessary to ensure that we start our morning in a healthy manner. Breakfast being the most important meal in the day should not be missed. Here is a great breakfast recipe for all the moms who are always in a rush. A delicious Banana Oat Smoothie might just be what you are looking for. This Banana Oat Smoothie protein packed smoothie is filled with flavor and is simply lip smacking!
With that don't forget to view the awesome Banana Oatmeal Pancake and  The No Bake Gluten Free Granola Bar. It is healthy, tasty and extremely convenient to carry. For more healthy and must try recipes, follow us on Facebook, Twitter & Instagram and do subscribe to our  Youtube Channel.
Here is what you will need. Watch the video below on step by step instructions on how to make it.
For more flavors and tips watch our video.
Ingredients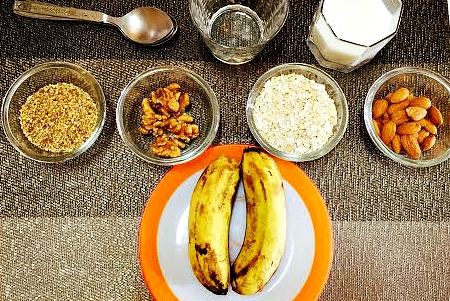 Directions
In a blender add the rolled oats. Process until almost powder like.
Add the remainder of the ingredients and blend until smooth. At this point you should taste it and add whatever flavour you think it needs to suit your tastes.
Pour into glasses and serve.