I have 2 kids, a girl who is 8 years and a boy who just turned 11 years old. It gets overwhelming hearing news around us about the virus and explaining the whole pandemic to our kids becomes a bit tricky. However, I have kept my children fully alert and aware of the Covid-19 virus. The phase where schools are shut, no outings to malls or eating joints, no outdoor activities, no playdates instead it's all about being 'HOME' and keeping ourselves safe and healthy.
Parents get tempted to let our kids watch television or play with their gadgets or give them our mobiles to download games as we tend to get busy; working from home and our household chores are never-ending. However, we as parents need to be conscious as this is the dangerous phase for our kids. We need to be fully aware of what they are involved with and where are they spending their time.
We need to let our children occupy themselves and get involved in activities; physical, mental and social. Children possess a lot of energy which they need to utilise, hence we need to set a routine for them which is playful yet educational and which they enjoy. Their body needs to function, their brain is required to think and they also need to illustrate their work in which they obtain utmost joy.
Our children need to do some activities and for this 'PARENTS' play an important role in their well-being. "We" need to take out time as they need our attention. We need to engage our children with fun activities so that life or rather day to day functions don't become monotonous.
I have tried a few activities during this phase of life. A bit messy with paints, water and colour but I am sure our kids would love them. I have listed a few below where we could keep our children engrossed and surely educationally busy.
1. Activity with Nature
How to grow your own plant?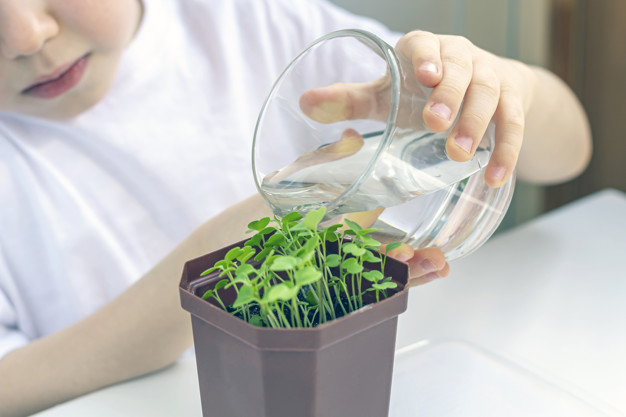 Take a pot or any container.

Fill the pot with soil mixture.

Then put watermelon seeds into the pot and cover it with additional soil.

Water it a bit(sprinkle).

Put the pot in an open area (balcony/portico) so that it gets sunlight.

Monitor the plant every day/ water your plant and see how it grows.
2. DIY (Do It Yourself)
Make decorations be creative.

Make your own board game.

Try a new cookie or cake recipe.

Play with blocks / Lego.

Go camping in one of your rooms at home.

Play board games.

Design and go on an indoor treasure hunt.

Play indoor hide and seek.

Record a song or a dance video or a science activity.
3. Exercise and Yoga
Whether you're a newbie or have been carefully mastering the art of yoga for years, now is the perfect time to teach them to your kids. Being home for a good few months now can sometimes mean that we forget to take time to focus on ourselves and de-stress. Through practising yoga daily, not only is it a great way to spend quality time with your kids but it also gives grown-ups and youngsters the opportunity to take some time out of the day to relax and engage in the basics of mindfulness.
4. Helping with home chores
These life skills are important as children grow from them to feel confident especially in this young age. Many parents feel guilty of making their children do household chores but never realize they learn so much via these basic skills. Not only do they feel important, helpful but also responsible. So, start with the basic:
a) Fill Water bottles
b) Water the plants
c) Putting away your activity tools and study material once completed
d) Helping with laundry
e) Tidying your own room
f) Simple Dusting
5. Art and Drawing
For a child of any group Art and Drawing is a sign of expression where they use their imagination for creativity. And most importantly this inculcates their self-esteem. Kids experiment art with different techniques and material. Let them explore, trust in them; they can manage as we do.
Try these skills and you will definitely see wonders happening with your kids. "Being patient is the essence".
As I come to the end of my post, just wanted to make a statement; "we adults always have our treat cheat days and of course, children too need that little teeny-weeny time to themselves". So, let's balance this phase with our kids.
Stay safe, Stay Healthy and Mindful.