Healthy eating is a habit and has to be inculcated by parents right from the beginning of the child's growing years. It is definitely not just the mother's responsibility but the entire family's duty to encourage kids to eat well and eat right.
When the effort of eating right is coming from all corners then the child understands that there is nothing special about it but something that is done anyway. This also reduces the mother's job of setting another rule in the list of other disciplinary rules. At the same time, it's not advisable to deprive the child of the small pleasures of life like panipuri, gola, ice cream, cakes and pastries. It is important for children to experience all kinds of food to ensure variety in their eating which leads to adaptability as well. A varied palate is always a good thing.
The KSP Meal Plans are your gateway to traditional. modern, indulgent and healthy food every single week. 30 meal ideas per week along with recipes, tried and tested tips and hacks, a seasonal grocery list and so much more! Subscribe to KSP Meal Plans today!
Being a mother of a growing child and also being a home-baker, I am extremely conscious of what is being offered to me as a customer in all the food that I eat outside. Now, it could be because I am in the business of making food for not only my family but also my clients. Quality above all else.
Today I'm sharing a very interesting recipe that you can give your children in their tiffin boxes which will fuel them with energy in a way they would like it to:
Date & Walnut Muffins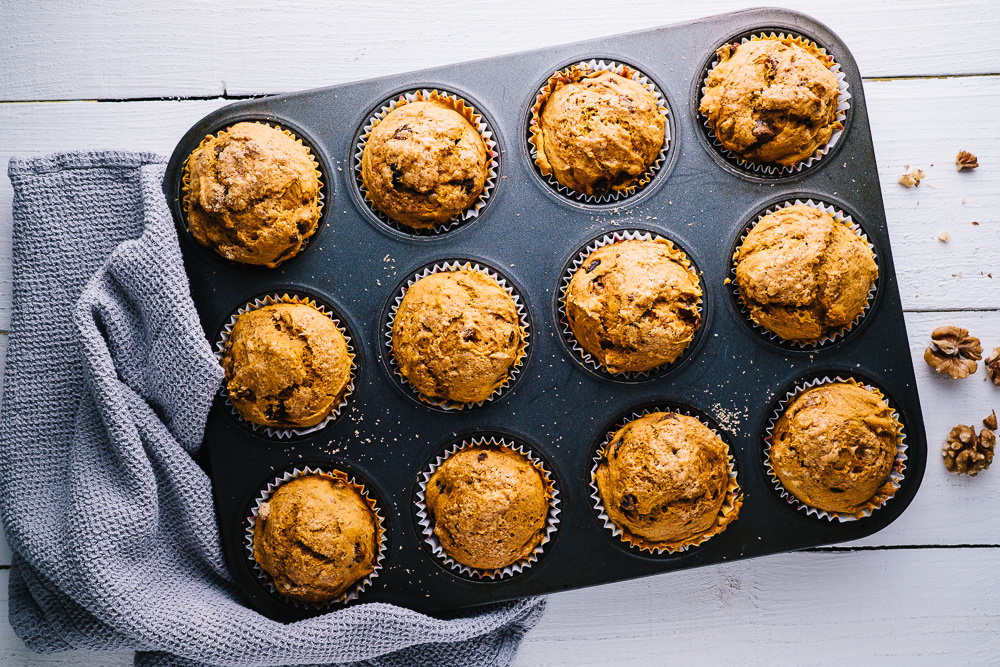 Ingredients
1 Cup Seedless Dates soaked in 1⁄2 cup hot water

1⁄2 Cup Rolled Oats soaked in 1 cup hot water

1⁄2 Cup Walnuts either crushed or in large pieces

1 Cup Flour

1⁄2 Cup Condensed Milk

4 Tbsp Sunflower Oil

3⁄4 Cup Butter Milk (Yoghurt + Milk)

1 Tsp Baking Powder + 1⁄2 Tsp Baking Soda + Pinch Of Salt

1 Tsp Vanilla Extract

1 1⁄2 Tsp Cinnamon Powder
Method:
Sieve the flour along with baking powder, baking soda, and cinnamon powder into a bowl.

Mix the condensed milk and oil together to form a smooth paste

Add in the squashed dates and the cooked oats

Blend it well with a hand blender till everything is incorporated well together

To mix in the flour, alternate between the flour mix and buttermilk so that the folding in is perfect and you have a smooth batter

Add in the walnuts

Pour the batter into the baking dish.

Put it into the pre-heated oven at 180° C for 20-25 minutes.
Note: The flour can be replaced with whole wheat to make it healthier but I would suggest not to that or else the taste gets hampered resulting in the child rejecting the recipe and the other nutritious elements all together.
Image Source: https://www.realfamilyjourney.com
Get Your Family To Enjoy the Meals You Cook For Them – Sign up to get access to a FREE Meal Plan, a Seasonal Grocery List & a Recipe