I happened to land on the I and my story website when I got their email in my inbox and on recommendation from a friend. I must also compliment a lot of young entrepreneurs today who have great informative websites and understand that the customers need to see their offerings online.
So what is I and My story all about? Great stories with your kids as the lead characters. With 8 titles presently and these have been all created with local Authors and illustrators. All the books are A4 size, hardbound, wipe able cove, fully illustrated, 36 pages including cover, printed on imported art paper. I have read a couple of their stories which are easy to read and can be exciting for the kids to see the characters being addressed with their names. At the beginning of the book you can also have a picture of your child along with a personalized message. I thought that was nice, as it could always be memories of who gave you the book, which year on what occasion.
How will a personalized book help?
Encourage & impart life skill messages in a simple way for children to easily absorb
Make kids read which is so important
Inculcate a culture of collecting books
Bring a sense of belonging that this is my book and I must take care of it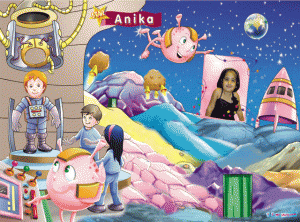 They are a Delhi based company and you can order the books online and have them couriered to you in no time. They will soon have a presence in Bombay so that will make it even quicker. They also have personalized puzzles which could be an interesting giveaway too.
I have really enjoyed reading these stories and think it be great gifts to give away or just to get your children to reading a book or doing puzzles.
Range:
Puzzles: Rs 590
Books: Rs 480 onwards
To order: Click here
Age: Below 7 years