If you are either working, contemplating quitting, wish to get back to back or a husband of an ambitious woman you got to watch this.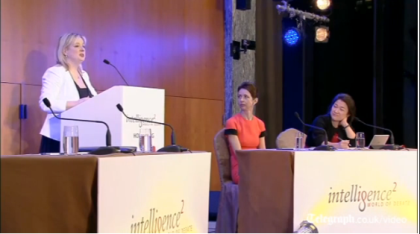 When I caught this debate on BBC World this weekend I went nod, clap, laugh, nod ,clap, laugh in that order. There was nothing I could not relate to in Allison Pearsons speech when she proposed that motion that said "A hand that rocks the cradle cannot rock the boardroom". What Allison really meant was it's not impossible but it's just tough. I agree completely. There is just no way that you can balance it all. You will have your good days, bad days and horrible horrible bad days when just nothing seems right and you have run out of everything at the same time. I am in no way saying that you can't do both, I am just saying you cant do both at the same pace. Neither is wrong it's a matter of priorities, interests and support systems. You must read about our take on the most overrated conversation on Stay at home vs. Working mom here
So sit back, watch this and have fun….

Allisons partner at the debate was Debora L. Spar, president of Barnard, the most powerful all-women's college in the States. Debora, who has a brain honed at Harvard Business School, is also the author of Wonder Women.  A whopping 60 per cent of the audience was against the motion, 21 percent on her side and 19 undecided.
In the opposition was Helena Morrissey is CEO of Newton Management and founder of the 30 per cent Club, and a mother of nine with a Buddhist husband who handily stays home to take care of them. Helena's team-mate, Zhang Xin, is a self-made property developer. Estimated net worth: $3.8 billion, that makes her the richest woman in China.
I will try and dig out the rest of the debate for you in the meantime. Do share your feedback with us in the comments below or on Facebook or Twitter.
Image Courtesy: Intelligence Squared