With the exam season starting off in a lot of places, moms & kids are both stressed. Moms, this meal plan is exactly what you need to give you more time to concentrate on your child exams and not on 'aaj khane mein kya banaoo'. 
For the last 700 days, kids have been studying online and their attention span has literally come down to seconds. They get distracted so easily. While I keep yo-yo-ing between calmly telling them to study and yelling, I know there has to be a better way to help them bring their attention and focus levels up again. We have started practising these yoga asanas for the last few weeks and I can see a difference in my son's attention levels. While the Discord tab is still a huge distraction, things have started getting aligned.
In my house, the moment exam preps start, the kids start feeling extra hungry and eating regular dal-sabzi just doesn't appeal to them. The constant refrain heard at home is we want to eat something "nice". How can you expect us to study and do well when you are making us eat kathal ki sabzi (substitute with whatever your kids don't like).
Lunch at my house is always good wholesome Indian food. That's the way things were when I was growing up. A dal/legume, a sabzi, dahi with some roti/rice. Dinner, on the other hand, is where I indulge the kids. I get it, I was once their age!
We shared 5 yummy dinner recipes recently that weren't dal-sabzi-roti. We were flooded with parents who are dealing with conversations like this every day.
This week's meal plan is going to be a fun one so the kids can enjoy their meals while burning the midnight oil.
My kids need an excuse to leave their textbooks and pick up a storybook. For them, if I need to punish them or withhold something then I cut down their reading time. I love that they actually are such avid readers, but it can be annoying when you actually want them to pick up that Geography book instead of some part of the Percy Jackson trilogy.
For those whose kids aren't really readers but you want to encourage the habit of reading, you should check out the KSP Book Club. They have amazing recommendations and tips that can help push them in that direction.
Recipe of the Week
Crying Tiger Smashed Potatoes
This is actually an adaptation of a Thai inspired dish that uses beef. But I am using potatoes to make it. If you are wondering about the name, there are different stories doing the rounds. One story is that the dish is so tasty that it can bring a tiger to tears. Another is that it is so spicy that it will make you yowl like a tiger. This dish has a wonderful balance of spicy, sweet, and sour. It will quickly become a family favourite!
You can serve it with cabbage leaves & cucumbers to balance the heat or sticky rice or eat it just like that as we do.
Ingredients
500g Baby Potatoes
1 Tsp Baking Soda
2 Tbsp Salt
1 ½ Tbsp Olive Oil
1 Tbsp Roasted Rice
Dressing
2-3 Dried Red Chillies chopped
2 Garlic Cloves finely chopped
1 Spring Onion – green part finely chopped
1 Tbsp Coriander Leaves finely chopped
2 Tbsp Lemon Juice freshly squeezed
1 Tbsp Tamarind Paste _ 1 Tbsp Hot Water
1 Tbsp Rice Vinegar
1 Tsp Soya Sauce
1 Tsp Chilli Flakes
1 ½ Tsp Sugar
½ Tsp Salt
Method
In a pot, put the potatoes and pour cold water along with baking soda and salt.
Boil them for 10-15 mins – till a fork pierces easily.
Drain and keep. You can peel the potatoes or leave the skin on as per your choice.
Preheat the oven to 220 C and line a baking tray.
Using a fork, gently mash the potatoes (not completely) and place them on the baking sheet.
Drizzle with olive oil and bake for 25 mins till they crisp up.
While the potatoes are baking, mix all the ingredients for the dressing in a bowl.
Remove the potatoes from the oven and pour the dressing & the roasted rice over them.
Mix well & serve warm.
Garnish with spring onions & coriander leaves and dig in!
Tip:
Roasted rice recipe: 3 Tbsp Jasmine rice, 2-3 Kaffir leaves chopped, 1 tsp Chilli flakes & 1/2 Tsp salt. Roast the rice on low heat for 405 min till golden brown. Once it cools, grind and store in an airtight bottle for up to 2 weeks. If you don't want to use that works just as well by the way.
If you don't have baby potatoes, use regular potatoes. Once they are boiled, cut them into chunks and smash them with a fork
If you want to use chicken as a protein you can marinate the chicken pieces in soya sauce, black pepper, white pepper, garlic, lime juice, and oil and bake it or grill it and then toss in the dressing.
Your Grocery List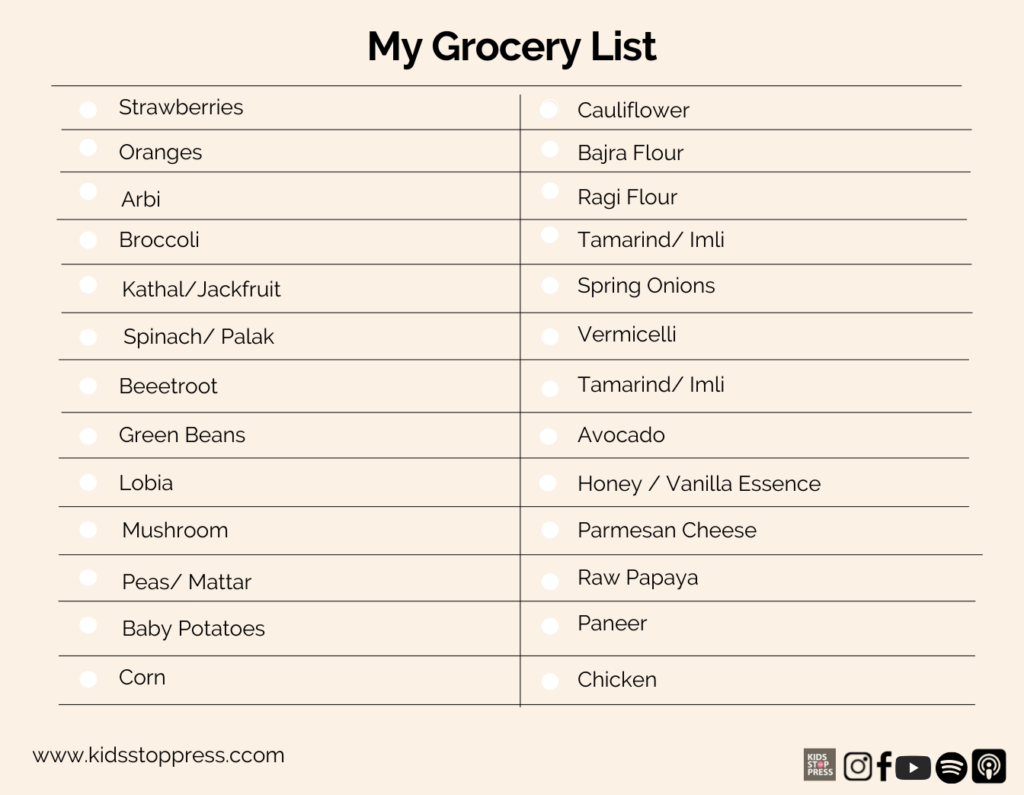 Did You Know
You already know, dahi or yoghurt is rich in probiotics. However, homemade dahi can be the best bet for kids. Allowing it to ferment for a good 10-12 hours will ensure that the majority of the lactose (milk sugar) is used up and the strength of the probiotic culture has been established.
Store-bought yoghurts are often fermented with chemicals. You can give it to them plain with a little rock salt, add to popsicles or make this yummy nutty chia yoghurt & banana bowl for them to lap up.
But did you know that eating curd at night is not recommended? We chatted with Ayurveda expert Dr Manisha Mishra about this. Watch the video to know more.
Hack Of The Week
This is a tip I learnt from Chef Gordon Ramsay.
To cleanly grate a block of mozzarella, he suggests sticking it in the freezer for ten minutes to get it nice and firm. But it's about more than just a clean mise en place. When you expose the cheese to the icy air of your freezer pre-grating also leads to a greater yield, meaning more of that yummy cheese is ending up where it belongs.
It's a dead simple trick, but Ramsay also helpfully notes that it's important to remember to use the entire surface area of the grater and to flip the cheese periodically as you grate.
Meal Plan This Week
What's Trending
The Diet People Are Quitting in 2022—And What They're Doing Instead
Keto has been the hot diet for several years now, but search engines report a downward trend in keto diet popularity—something we predict will continue to decline in 2022. Did you know that the keto diet was created almost 100 years ago as a treatment for epilepsy, but most know it for weight loss.
The diet's restrictive nature is one reason we think interest is fading. Another reason is that consumers are realizing they can achieve desirable outcomes without eliminating carbs.
What people are opting for instead are
Intermittent Fasting: People are finally realizing that intermittent fasting (IF) isn't about going without or deprivation. Rather, IF focuses on eating within a specified time window.
Virtual Nutrition & Wellness: The pandemic forced doctors, therapists, dietitians, and other healthcare providers to offer more virtual and telehealth options than ever.
2 Wellness Trend That Is Here To Stay In 2022
Ashwagandha everything: Ashwagandha grew slowly in popularity in 2020 and 2021, but it's going to be bigger than ever in 2022 so get ready to see this adaptogen everywhere. Used in ayurvedic medicine for over 3,000 years, adaptogens improve the body's physiological ability to cope with stress and include ashwagandha, turmeric, holy basil, goji berries, and others—but ashwagandha is one of the most studied.
Research suggests consuming it consistently can significantly reduce stress and may ease anxiety, depression, and insomnia. What's even better is there appear to be few, if any, side effects or risks.
Conscious drinking: "Sober-curious" refers to the interest that alcohol-drinking consumers have in incorporating alcohol-free or lower-alcohol drink options. According to the Bacardi Cocktail Trends Report released earlier this month, 58% say they're already drinking less than they did a year ago because of their availability, and 79% of consumers are interested in trying more of these options.
We would love to know your thoughts on them!
Recipe To Help You Through The Week
Almond Drink/Badam ka Harira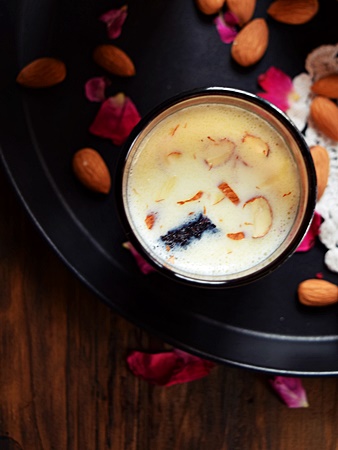 Ingredients
3 Tbsp Raw Rice, (I used Basmati)
15 Almonds
1 Tbsp. Dry Coconut Powder
1 Tbsp. Ghee
2 Cloves
1 1' Inch Piece Cinnamon
1 Cardamom
3 Tbsp. Sugar
200ml Milk
Method
Boil the milk to boil and let it cool down to room temperature.
Thoroughly wash and soak raw rice for ½ an hour.
Soak almonds for 2-3 hours. Peel the skin and set aside.
Drain the water from rice. Put the rice, almonds and coconut in the mixer jar and grind to a smooth paste by adding little water.
Now place a clean kitchen or muslin cloth over a big bowl and empty contents of the jar. Bring the ends of the cloth together and squeeze the liquid. Repeat the process for 2-3 times by adding little water to the contents of the cloth. Set the liquid aside.
In a pan, heat the ghee and add the cloves, cardamom and cinnamon stick. Fry for a second and reduce the flame. Now slowly add the collected liquid. Stir continuously to avoid lumps until the liquid thickens and turn into a smooth paste.
Stirring continuously, add in milk and then the sugar. Bring this to boil and turn off the flame.
Our badam ka harira is ready. Serve warm or chilled by garnishing with chopped almonds.
Note: You can either use a fine sieve instead of a cloth to extract the liquid from the above-ground ingredients.
Besan-Oats Ladoo
Ingredients:
1 Cup Besan/Chickpea Flour/Senaga Pindi
½ Cup Oats
¾ Cup Powdered Sugar
¼ Tbsp. Cardamom Powder
¼ Cup Ghee
1-2 Tbsp. Pistachio, coarsely powdered
Method
In a heavy bottom cooking vessel, dry roast the oats for 2-3 minutes on medium flame. Remove and let it cool on a plate. Once cool grind to a fine powder of it.
Use the same pan, dry roast the besan on medium flame until the raw smell disappears. It will take 10-12 minutes for the colour of besan to start changing. You will get a nice roasted aroma of besan.
Turn off the flame and add powdered sugar and cardamom powder. Mix gently using a wooden spoon and set aside.
Now add the melted hot ghee spoon by spoon.
Gently fold roasted oats powder also.
When the mixture is slightly cool to handle, grease your hands with ghee and shape them into ladoos.
Sprinkle coarsely powdered pistachio or any nut of your choice and serve.
Fruit & Yoghurt Parfait
Ingredients:
2 Oranges, peeled and white pith removed
½ Cup Pomegranate Seeds
1 Cup Yoghurt
1 Tbsp. Honey
2-3 Drops Vanilla Essence
2-3 Tbsp. Ragi/Finger Millet cereal
1 Tbsp Almonds, chopped
1 Tbsp Raisins
Method
Whip the yoghurt with honey and vanilla essence.
In a glass, start the layers with sliced oranges, pomegranate seeds, yoghurt mix, ragi cereals, almonds and raisins. Repeat the layers if necessary.
Cool in the fridge for a bit or you can serve immediately.
Instant Ragi Dosa
Ingredients
1 Cup Ragi/finger millet flour
½ Cup Rice Flour (Brown rice flour works just as well)
1 Green Chilli, chopped fine
12-15 Curry leaves
1 pinch Hing/ Asafoetida
1 Tsp Salt
½ Cup Yoghurt
2 Cups Water (I added a little more)
Oil for making dosa
Method
Combine the flours, green chillies, curry leaves, hing and salt in a large bowl.
Whisk in the yoghurt and one cup of water. Let this rest for 15 minutes. Add in another cup of water to make the batter very thin. I needed to add about 1/4 cup more.
Heat your griddle till hot. Lightly grease it and pour a ladle of the batter all over the pan, as evenly as you can. Don't spread the batter with a spatula.
Let it cook for 30-40 seconds. Carefully flip it over and cook on the other side for another 30-40 seconds. Continue with the rest of the batter.
Serve hot!
Baked Arbi Tuk
While the elephant ear leaves are very nutritious and used all over India in different ways, the roots (arbi) are much more nutritious than potato and contain fibre, manganese, potassium, Vitamins B, C and E. Here's a baked version of the Sindhi classic that is easy, chatpata-tasty and guilt-free.
Ingredients
500g Arbi/ Colocasia
1 1/2 Tsp Kashmiri chilli powder
1 Tsp Coriander Powder
1 Tsp Amchoor Powder
1 Tsp Chaat Masala
1/4 Tsp Haldi
1/2 Tsp Salt or to taste
2 -3 Tbsp Rice Flour
2-3 Tbsp mix of Ghee & Oil
Method:
Pressure cook the arbi for 2 whistles or 10 mins. Peel. Let cool completely and then smash each one pressing down on it to flatten or as needed. Cut the few big ones in half. They are sticky, so oil your hands.
Make a dry mix of the masalas above along with the rice flour. Mix in 2 tablespoons of oil-ghee. Sprinkle this coating over the arbi and press the coating to stick to the pieces.
Preheat your oven to 200° C.
Grease an oven roasting pan really well with one tablespoon of the oil ghee mix. Spread the arbi on the pan.
Bake for 30 mins till golden brown. Scrape the bottoms to loosen them and bake for another few minutes if needed. Serve warm, straight out of the oven.
Choco Avocado Milkshake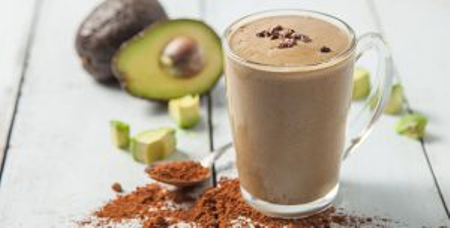 Image Source: https://d2mb60lq9qxdiq.cloudfront.net/
Ingredients
1/4 large Avocado (or 1/2 a small one)
1 Ripe Banana
1/3 Cup Greek Yoghurt
1/4 Tsp Vanilla Essence
3/4 Tsp Cocoa Powder
1 Cup Milk
Method
Put all the contents into a blender and blitz it.
Sieve into a glass and serve chilled.
Your child will not even realize there is anything besides chocolate in his/her milkshake. If your child doesn't like banana, you could substitute with mango or frozen blueberries instead.
Cauliflower Crust PIzza
Image Source: https://www.greengiant.com/
Now, who doesn't enjoy pizza? We have a pizza crust recipe that is nutrition packed and you will be asking your kids to eat. Your kids will probably be 'Mom is telling us to eat pizza? Wow!' This low carb pizza crust is really good. Normally egg is used to bind this dough together. But if you don't eat egg that's ok, I have added an egg substitute in the notes.
Ingredients
1 large cauliflower – riced
1egg/ 1 ½ Tsp flax eggs (see note)
1/4 tsp sea salt
3 Tbsp Parmesan Cheese
1 tsp dried oregano
1 tsp dried basil
½ Tsp garlic powder
1 Tbsp cornstarch
Method
Preheat oven to 190° C.
Use the cauliflower rice recipe mentioned above. Once it is cooked drain in a fine mesh strainer & let it cool 5 minutes.
Transfer cauliflower rice to a clean dish towel and wring out as much of the excess liquid as possible. This is extremely important since we need to remove all the moisture for the dough to hold together. You could alternately stir fry the cauliflower rice in a pan for4-5 minutes. That will help dry it further.
In a large mixing bowl, prepare the flax egg and let rest 5 minutes if using the substitute.
Then add cauliflower rice, sea salt, parmesan cheese, oregano, basil, garlic powder, egg/egg substitute and corn starch.
Stir to combine all the ingredients. Adjust the seasoning as per your taste.
Line a baking sheet or pizza pan with parchment paper. Sprinkle with a little flour to help prevent the pizza from sticking when slicing.
Use your hands to spread the dough in your pan. Keep the crust slightly less than a 1/2-inch thick.
Bake the crust for 20-25 minutes until the top is dry and firm. The edges will be a little golden.
Remove from the oven and let it cool for 5 minutes to firm up a bit. Add your desired topping and sauce and return to the oven for another 5-10 minutes.
You healthy cauliflower crust pizza is ready to be served.
Notes
1 1/2 flax eggs is equivalent to 1 1/2 Tbsp (10 g) flaxseed + 4 Tbsp (60 ml) water.
Use a fine-mesh sieve when straining the cauliflower rice otherwise, it will fall through.
If you are using vegetables like onions and bell peppers as a topping, we recommend you sauté them separately before putting them on the pizza. They take time to cook.
Since this is not a conventional pizza go light on the sauce or your crust may turn soggy.
Cauliflower Tater Tots
Traditionally tater tots are made with potatoes. But these cauliflower tater tots are just another way of getting your kids to eat a vegetable they may not enjoy otherwise. It's a great tiffin box/evening snack option.
Image Source:https://www.justataste.com
Ingredients
2 Medium Cauliflower heads, cut into florets
1/4 Cup Onion very finely chopped
1/4 Cup Grated Parmesan /Cheddar Cheese
1/4 Cup Finely Ground Breadcrumbs
1 Large Egg/ 1 ½ Tsp Flax Egg
1 Tsp Salt
1/4 Tsp Pepper
Method
Preheat the oven to 180°C. Grease a non-stick baking sheet liberally..
Use the cauliflower rice recipe above.
Measure out 3 packed cups of the cauliflower and add it to a large bowl.
Stir in the onion, cheese, breadcrumbs, egg/ egg substitute, salt and pepper. Mix until thoroughly combined. (The mixture should be roughly the consistency of mashed potatoes.)
Using your hands, scoop up 1 – 2 tbsp of the mixture and shape It like a tater tot – long cutlet type.
Place it on the prepared baking sheet and repeat the shaping process with the remainder of the mixture, spacing the tots about 1 inch apart.
Bake the tots for about 20 minutes then flip them and bake an additional 10 to 15 minutes until crisp.
Remove and serve with ketchup, pesto, hummus or your preferred dipping sauce.
Note: 1 1/2 flax egg is equivalent to 1 1/2 Tbsp flaxseed + 4 Tbsp water
I hope you have an awesome week ahead!
Parul Gupta
Food Editor-Kidsstoppress