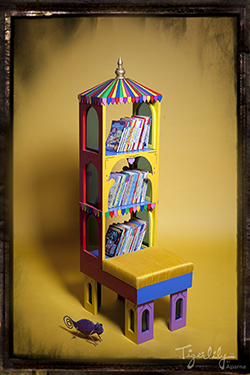 This one screams taste and bespoke. We absolutely love these designs and its great to see someone taking kids furniture ideas and themes beyond butterflies and characters.
Impressive to see how beautifully she has integrated functionality with design, the chair doubles as a cupboard with 3 shelves lined with colorful bunting, in which the young reader keeps his books. The brand is based on the concepts of being whimsical, unique and luxurious. Each piece from the Tigerlily line is designed to be the focal point of the room with pops of colours and distinctive forms along with salvaged antique pieces that are transformed into modern-esque avatars.
Tigerlily Spaces is all about the drama.
We also are in awe of the Bangle Box chairs. Hmmm wondering what that is
If you are looking for bespoke kids multi functional forniture well, this may just be your calling!
Shop: On their website here
Contact:Â aparna@tigerlilymail.com; Â +91Â 9823295999
Image Source: Tiger Lily by Aparna