Educational experts cannot stress enough about the importance of picture books and what role they play in shaping your little one's vocabulary and imagination. Here is why your child needs picture books in his/her collection:
Exposes them to great illustrations and varied forms of art.
Helps in the comprehension and analysis of the story.
Helps the little ones connect to the characters and plot in a simpler and creative way.
Help in the multi-sensory development of the child- read, see, touch and smell the books.
Here is a list of our pick of the top 5 picture books for kids (3 and above) of 2017. Tell us which is your favourite in the comments below.
You may also like:Â The book every mom of twins needs to read! Click here!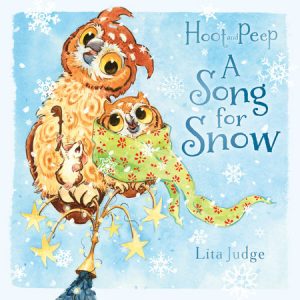 Publisher: Penguin Random House
This book, released recently makes it to this list, because of it's simple storytelling nature and wonderful illustrations. We have all bombarded our siblings with questions about everything in life, as we grow up, and that's what little Peep, the owlet does to her elder brother Hoot, as she wants to know all about snow and how magical it really is. Suitable for kids aged 3 and above. Buy the book here.
You may also like: Best books of 2017 for grandparents to read to their grandchildren
Publisher: Harper Collins
Picture books are all about getting your kids hooked on to a simple story and keeping them engaged with creative illustrations. If the above book dealt with two owlets discussing snowfall, this one is about the queer wish of a piranha to eat in a fancy restaurant. Doesn't settle for a NO, is different from the rest of the herd and will not just give up. How does little Samson achieve his dream? Suitable for kids aged 3 and above. Buy the book here.
You may also like: Curated List Of Books Your Child Should Read 
Publisher: Little Brown Books
If your kids loved the "Goodnight stories for rebel girls" book here is a book on the similar lines. While the former narrated why the achievers reached great levels, this one explains to children in a language they understand and with delightful illustrations all about how one little girl in a war-ridden zone stood up for her rights and gave it her all. This book marks the foray of Malala Yousufzai into the world of picture books. Suitable for kids 4 and above. Buy the book here.
You may also like: 5 storybooks on Kindle to read aloud to your toddler 
Publisher: Toon Books
So which is your child's favourite doll? The one that he/she takes along to bed and wakes up to see its face? The little girl in this story does the same, but just that the stuffed animal here comes to life at night. With great illustrations and a simple narrative, this book teaches kids all about teamwork and friendship in a delightful manner. Suitable for kids 3 and above. Buy the book here.
You may also like: The Girl Who Chose: A New Way Of Narrating The Ramayana
Publisher:Â Pajama Press
Not all picture books teach kids about happy, sugar-coated things in life. This one opens up the topic of the refugee crisis and how a displaced life can be difficult for a child, in a manner that kids will understand. For kids aged 6 and above, this book deals with the affection and bonding between a little boy and his favourite birds. Having made to the New York Times Notable Children's Book Selection list of 2017, this book used children and animals to discuss a much larger issue. Buy the book here.
You may also like: 2017's 5 Best Cookbooks For Kids
Don't forget to follow us on Facebook, Twitter, Pinterest, Soundcloud & Instagram or subscribe to our YoutubeChannel for more information.