Struggling to curate your maternity wardrobe for stylish yet comfortable dressing while not burning that hole in the wallet?
Follow these tips to get you started shopping those must-have Bump pieces which will see you through all pregnancy trimesters and well beyond into post-pregnancy days! Sounds unbelievable? Well, read on and let us know what you think?
1ï¸_x008f_. Formal Wear Must Have: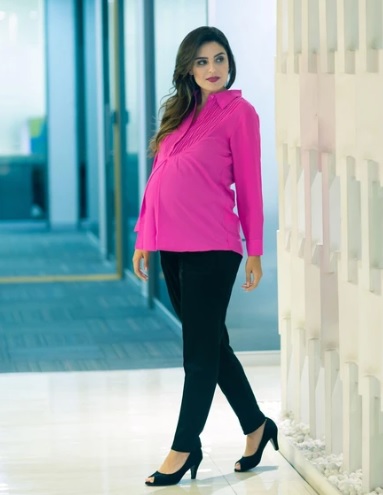 Strike gold with a pair of black maternity trousers/ pants. A well-tailored comfortable pair to last through pregnancy. We suggest Mamcouture's Formal Black Trousers. Extremely comfortable for the growing belly phase and is the perfect choice for office or any other formal wear occasion. Pair them with a crisp formal shirt and throw on a blazer for Monday to Friday power looks. It can just as easily be worn to a lunch outing or movie date teamed with a casual top or even a glam dinner by pairing with a fancy blingy top from your pre-pregnancy wardrobe.
2. Must-Have Comfort Essentials:
We have a combination of 3 which work for all occasions.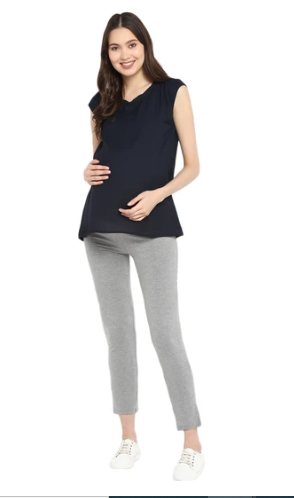 THE MUST-HAVE every mom-to-be seeks is maternity leggings. Maternity leggings have proved themselves time and again to be an extremely versatile piece of garment. Dress it up for a work occasion or style it for a casual relaxed look too. Pick an underbelly or over the belly fit to suit your comfort style. Buy them in multiple basic colours and make sure you are stylishly and comfortably 9 to 9 throughout your pregnancy. These are definitely pieces all preggy mamas should own.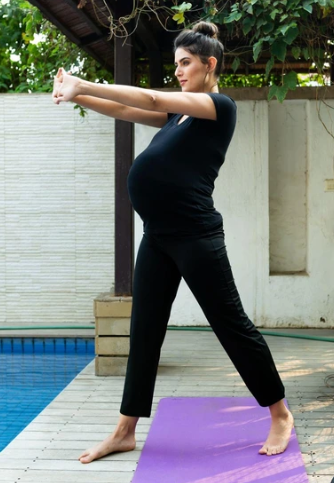 Next would undoubtedly be a pair of Mamacouture maternity track pants! Supremely comfortable while sporting "just another day" casual playful look. These maternity track pants make for a cute pregnant mamma guise for sure. Great for workouts at the gym or home, these track pants sit snug on the belly and can easily be carried through till after pregnancy thanks to the foldable fabpouch. For additional style looks, simply pair with a T-shirt for lazy Sunday lounging, quick kids school run, airport bump style or any other comfort look you so desire.
A favourite MUST HAVE COMFORT ESSENTIAL has got to be a lounge set/ sleepwear set.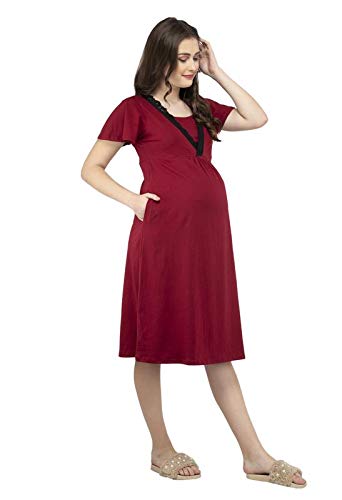 Own a PJ set or a comfortable nightdress which can be lived in through the day through pregnancy. If these come with a nursing option then even better as these comfort essentials can be worn into the early days of post-pregnancy, when home time increases & requirement for comfort is key.
Smartly achieve this with a well-cut silhouette maternity dress, be it knee-length or a maxi. Make sure that the maternity dress gracefully drapes the bump but does not ride up the legs whenever one sits or gets entangled in between the legs causing an awkward pregnancy gait!! Some maternity styles come with nursing options making the outfit useful for much longer (sweetly allowing you to style those "feeding the baby" days!)
If investing in one such dress, we ought to say it has to be the classy & timeless LBD! Nothing is more flattering, versatile and everlasting than a smartly tailored Black Bump Dress taking one through fashionably through pregnancy. If black is not your colour, then definitely go for deep solids which allow for a varied day to night styling with accessories, jackets, different footwear etc depending upon the occasion. A well-chosen maternity dress will always nail the style quotient for any expecting mom!!
The perfect piece here would be one which can be styled both for formal and casual occasions, pairs easily with any maternity bottoms from the wardrobe, lasts through maternity and doubles up in nursing days too. The Color-Block Blue Black Maternity cum Nursing top has much style potential. It can be paired with maternity trousers for a smart work look or maternity leggings/ maternity jeans for a chic casual style statement. To add in a bit of style drama, one can easily accessorize the look with footwear & jewellery. The fabulously designed concealed nursing opening styles mama-bears well into post-pregnancy nursing days too, upping the versatility and usage of the top.
5. Blaze(r) It Up:
The struggle to wear comfortable clothes with a simple style element for a casual outing can get daunting especially when already overwhelmed with the pregnancy. It is for these times, a nice denim jacket or shrug or a classic jacket/ blazer can do wonders to any style struggle. From offering semi-formal to semi-casual chic looks, a throw on can be a total style-saver wardrobe piece.
Thinking of such moments, Mamacouture introduced maternity jackets in its collection. These maternity jackets are sure to swank up every look from office wear to the party dress or over a pair of denims & tee to carry a fuss-free spunky look. Try them!
Stay stylish for your motherhood journey!