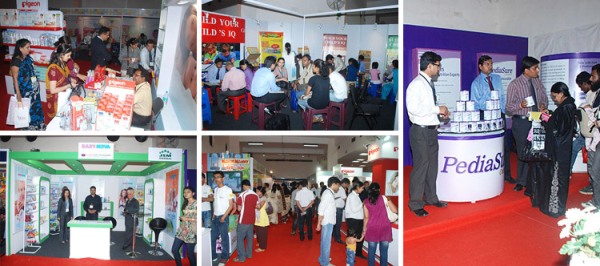 Are all the moms who make products for kids and those who shop as well happy! Ofcourse we love it! Mother, Baby & Child Expo(MBC Expo), is the only international exhibition focusing on the complete Maternity & Baby care industry of India. After conducting three successful exhibitions over the past three years, where more than 100 brands were displayed, the 4th MBC Expo is scheduled to open its door of opportunities once again from 7-9 June 2013 at Nehru Trade Cetre, Worli, Mumbai, India.
MBC Expo is a great platform for all the manufacturers and marketers to explore exciting business opportunities in India's growing baby care market. It's a one stop sourcing platform for baby products, kids' items, toys, and maternity products.
Also, it's a great networking point for Indian as well as International manufacturers, traders, suppliers & service providers to interact directly with wholesalers, distributors, Brand Marketers, retailers of Maternity & Baby care Industry.
It's a well known fact that maternity industry in India is expanding its consumer base day by day through stand alone stores, small retail outlets, special department stores, gift shops and on e-commerce websites. The aim of MBC Expo is to up-lift this maternity segment to a complete existence as the  fastest growing industry in Indian Economy.
There are three major categories for exhibitors i.e Mum's Products, Newborn Products and Kid's Products.So hurry up and book your places as you surely don't want to miss this golden opportunity. If you are looking at participating in other expos then do visit Kid Town Fair & the CBME Expo here to know details.
Contact Ganpat Shelar at +91-9930544517 to book a stand.
Or you can email them at info@motherbabyexpo.com
Visit their website www.motherbabyexpo.com