Even a non-Mumbaikar is aware of the landmark Asiatic library and the fact that it houses some of the best books that every book lover can dream of! Â In a one-of-its-kind initiative, Mumbai First, an NGO, is planning to help digitise the rare collections of books (some even from the 15th century!) at the Asiatic Library during the Daan Utsav (Adopt-a-book campaign) and Kidsstoppress is proud to be associated with this wonderful initiative.
Daan Utsav:
This campaign gives the avid readers of Mumbai an opportunity to support the conservation and digitisation of library books in need of repair. Every contribution helps to keep these books available for current and future faculty, scholars and students. Of the 100 books identified to be restored through crowdfunding include a 22- volume compilation of Maratha history by V.K.Rajwade and The Mahabharata of Krishna-Dwaipayana Vyasa Translated into English Prose between 1883 and 1896 by Pratap Chandra Roy, India Past and Present by Lilly William Samuel Published 1902 amongst others.
You may also like:Â 10 ways to squeeze in reading time with your kids
Am all for it! How should I make my donations?
You can make your donations to save and preserve the books through this link- Click here.
What's in store for kids?
Also, this Daan Utsav is the perfect hangout for your little bookworms. We tell you why!
The Asiatic Library is all ready to welcome its young readers for a fun-filled week, loaded with activities for kids like Musical Play, Storytelling, Doodling, Nature Walk, Library Tour, Selfie Booths and Book Launches.
You may also like:Â Why I prefer borrowing than buying books for kids in India?
Here is the complete schedule of the events planned for your kids during this campaign: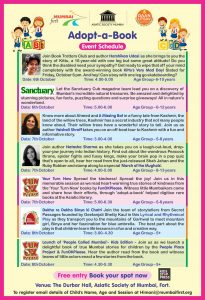 Sounds great! What's the age criteria to attend these events?
The events are exclusive for children between 6-13 years of age and adults who accompany these children.
How much should I pay for my child to attend these events?
The best part- all these events are absolutely FREE! Mumbai First and the Asiatic Library realise how much kids love books and stories and why it is so important to help inculcate this habit amongst our children. Just make sure you register your child for the events ahead of schedule. Reach out to himani@mumbaifirst.org / 7021559104 on the session that your child is interested in.
Date: 3rd- 8th October 2017
Time: 3:00 PM – 6:00 PM
Venue: The Durbar Hall, Asiatic Society Of Mumbai, Fort
Don't forget to follow us on Facebook, Twitter & Instagram or subscribe to our Youtube Channel for more information.