If you are always in the go just like me then you will love this. Wipes can do a lot more than just clean. Kara has a launched a whole new range if wipes that are so easy to carry. (Available in packs of 10) .
While you are always tempted to pick up your favourite and most trusted brand, Kara is a Birla Health Company. These dermatogically tested wipes are skin friendly and are made up of Birka Cellulose, a 100% natural fibre. One if my favourites from their range are the  hand sanitizing  wipes that ensure you completely clean and sanitized hand.
These dermatogically tested wipes are skin friendly and are made up of Birla Cellulose, a 100% natural fibre.
Works for every season:
These handy wipes are suitable for every season. Be it summer, monsoon or winter they provide the much needed care and moisture to your skin leaving behind a fresh fragrance.
A lso, not only adults but also kids can use it.
Varied range: Skin care wipes
These wipes come in a varied range that is suitable for all skin types.  They come in over 6 variants giving you a lot of options to choose from. Deep pore cleansing wipes, Toning wipes, sunscreen wipes, moisturizing wipes, make up removal wipes, these are the options you can fill up your bags with. Also, these wipes come in flavours like jojoba and avocado, rose and thyme, plum and aloe vera, honey and almond and more.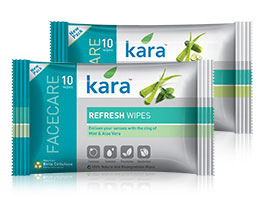 Hand Sanitizing wipes:
Whats interesting is that they have in the box a hand sanitizing wipes. As they do understand that both hand and skin need the important care and love. So, now with the introduction of these wipes you don't need to carry those hand sanitizing bottles.
What we love:
The soothing touch that the wipes provides to the skin.
They come in a varied range
The hand sanitizing wipes that ensures you cleanliness
They are  made up of 100% natural fibre.
They are reasonabally priced.
Shop at leading chemists, general stores and online stores
Website: Kara Skin Care wipes