If you want to read Part 1 of these lockdown series, you will find it here.
Lockdown Day 8
It was lockdown day eight
And Reyaansh woke up really late.
He wondered what a boring day it would be
There was nothing to do actually
While the lockdown made everyone crazy
Reyaansh was just getting lazy.
But as he stretched his arms and managed to open one eye
He didn't see his Captain America and let out a loud cry.
Reyaansh jumped up in bed
And then he heard a recorded voice that said
'I have your Captain America with me,
Come and get him, and prove a hero you can be'
'But before you get down
Have a look around'.
Then Reyaansh saw obstacles on the floor
Starting from the bed all the way to the door
He couldn't step on the cars that were spread
And slowly he began to tread,
He reached the door and opened it.
And then he saw, hurdles, that he jumped over not ready to quit,
He climbed onto the sofa feeling very proud
But couldn't get off as dad yelled 'Lava , Lava' aloud
Reyaansh put one leg on the cushion being careful and slow
When in a corner he saw something red and blue glow.
He jumped off and ran towards it
A false alarm, and then he got hit
A water balloon came right at him
Making him feel grim.
'Don't give up just yet,
So what if you got wet'
'Haste makes waste' said Dad
Keep looking for it, it's going to be the best time you've ever had'.
'Life is an obstacle race you see
Tread slowly and carefully,
And you will always find the prize waiting for you,
Then nothing will make you feel down or so blue'
So he kept going and refused to give up
And then he saw his Captain America hidden behind a cup.
Reyaansh saved his hero today
He was happy and knew this was the only way,
He kept going and completed each and every task
The obstacle race was the best thing one could have ever asked.

Lockdown Day 9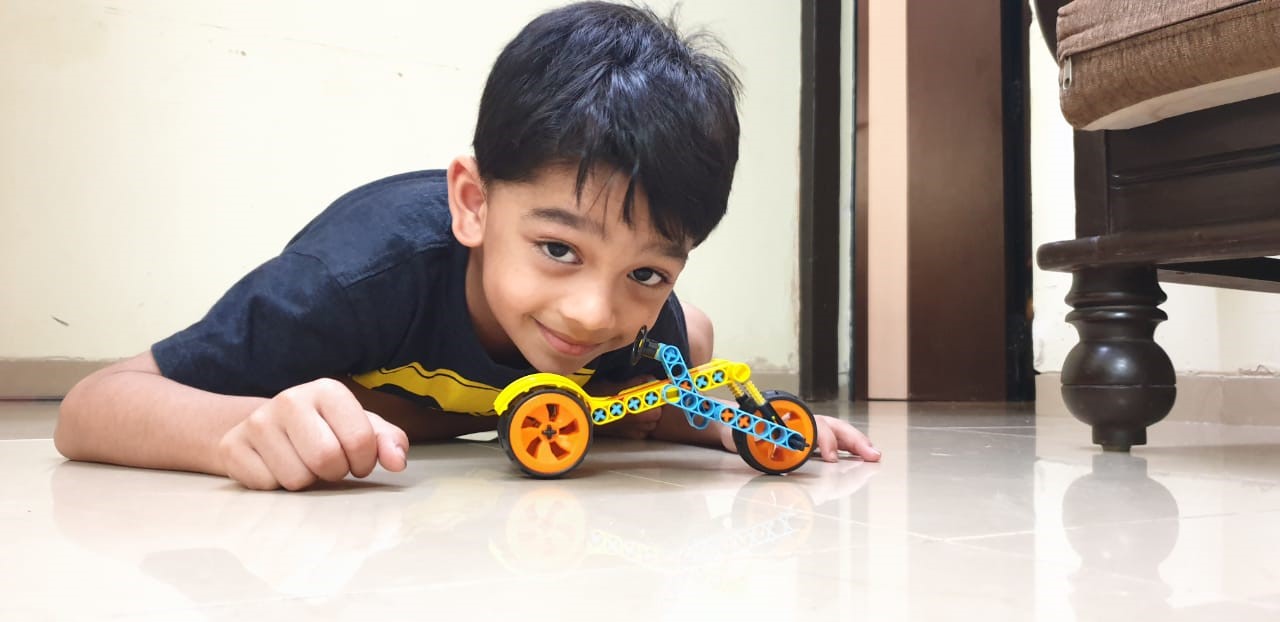 It was lockdown day nine
And everything seemed to be just fine.
When Mom took out the number book
Little Sudhi ran away giving her a naughty look.
All he did was just play and play
Enjoying his extended holiday.
So Mom had an idea and drew hopscotch on the floor
Told little Sudhi to choose a number as she kept score.
He had to start with number one
Then hop along on the others, oh what fun.
He managed to learn from one to ten
And he kept doing it again and again.
Then Mom moved to another game
Hid some number tiles in blue slime, next to a frame.
The frame had numbers till twenty written on it
Little Sudhi would have to match the number from the slime to the frame, making them fit.
It was too messy and so much fun
Little Sudhi was ecstatic, as he won.
Now he knew his numbers from one to twenty
And Mom had activities like these, planned for him in plenty.
Little Sudhi wanted to learn more and more
And then he was sure
Learning could be fun too
It's just not writing in a book, but so much more to do.
Then Mom took out all her colourful Bindis small and big
Little Sudhi had to count and put dots on the pig.
There were many different animals from rabbits to apes
And so many Bindis of different shapes.
Lockdown day nine
Was really sublime
Mom got so creative today
And Little Sudhi learned his numbers having fun all the way.

Lockdown Day 10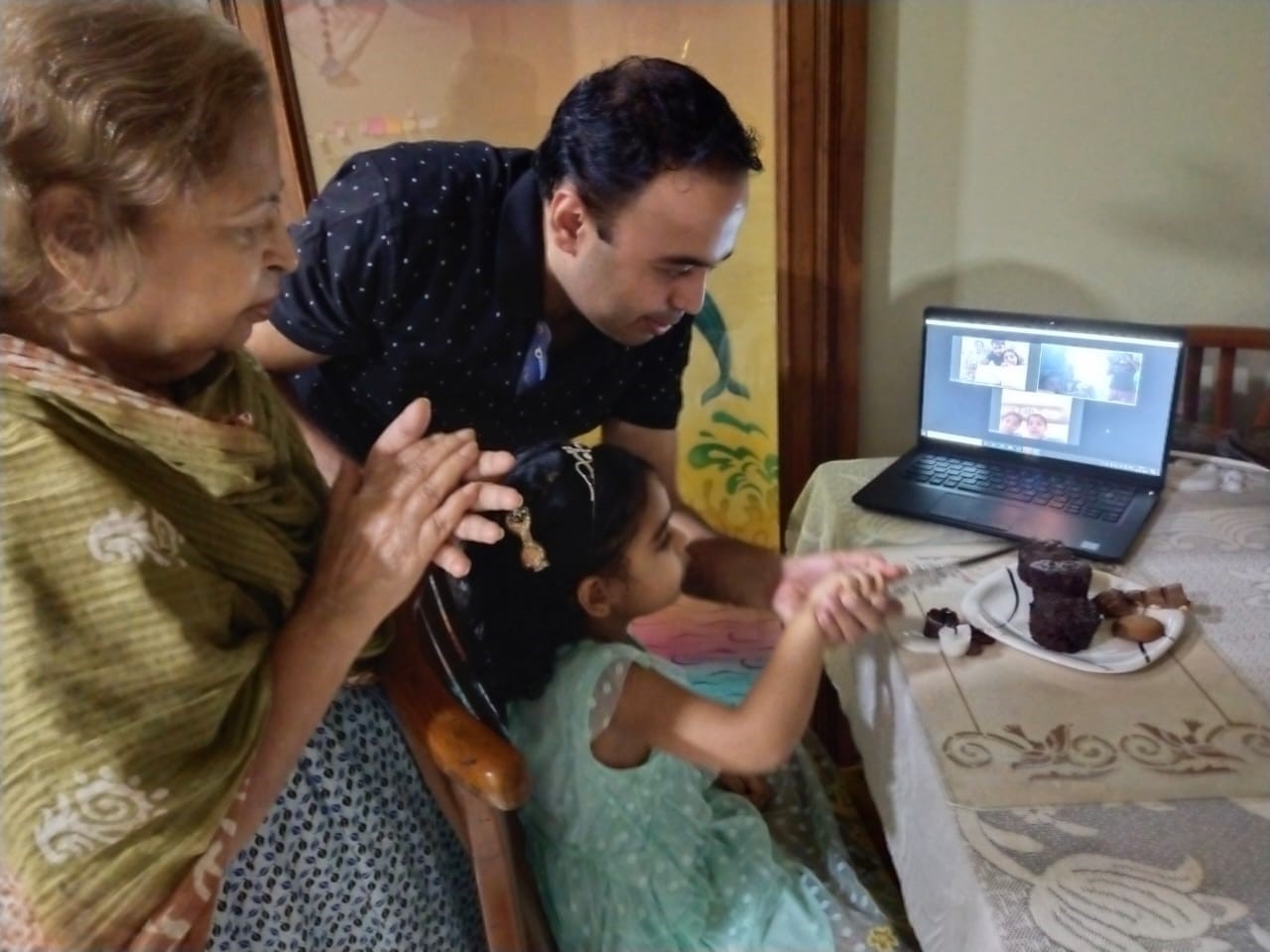 It was lockdown day ten
And everyone was still quarantined in their den.
But Mishka's mother wasn't at home even today
Though it was her little daughter's 5th birthday.
Mishka lay in bed, fiddling with her hair so unruly and curled.
When Dad said, 'don't be sad. Your mom's a doctor saving the world'
'Get out of bed I have a surprise for you'
And Grandma yelled, 'there's so much to do'.
She had stitched funny face masks at home for all of us
We all wore them without making a fuss,
Some had big smiles and teeth protruding out
Some with frills and laces, beautiful without a doubt.
Dad had baked a cake for Mishka, with goodies in it
Filling it with gems, sprinkles and candies bit by bit.
But what was the point of all this
Her friends were the ones she missed.
Then Dad and Grandma decorated the hall
He set the laptop in front of her, saying, 'Get ready to have a ball'
Her friends from all over the world had called.
Mishka couldn't believe her eyes
What a beautiful surprise,
All the attention was on her
And everyone on the call sang for her loud and clear.
They even played a game of Housie
The so-called empty house was now bustling with voices and was so noisy.
All her friends danced and played and sang a song
Everyone had fun all along.
Then Mom called from the hospital when she got a little free
And Mishka told her about the virtual party.
Being quarantined at home wasn't so bad
You don't have to be alone, so don't get mad
Connect with people and friends online
And everything in the world will get better, you will be fine.
Lockdown day 11
Lockdown day eleven was here
And we all were actually living in fear
The virus has started spreading fast
No one knew how long this quarantine would last.
In our building, it was always exciting before
We used to have fun galore.
Many events were planned and always organized mostly by the children, for all of us
And we all attended them without making a fuss.
Right from Ganpati puja, to the Garba night
Every festival would be celebrated with all delight.
But these days were getting longer and sad
When Sia came up with the best idea she could've ever had.
The neighbours who were once so close
Had to be kept apart by force
But Sia knew, music was always the key
It makes you happy and breaks you free.
She stood at the window and sang a song starting with the letter 'B'
Then told Sharma uncle from the opposite wing to sing along as they played Antakshari
After the song was done
Rishu from C-wing had to sing another one,
Then aunty Shaila joined in and sang in her beautiful voice
A song of her son's choice.
Now it was uncle Mishra's turn to sing with 'S'
And his tunes were all over the place, making a mess,
Because you see, uncle was a famous bathroom singer
So when he sang, we had to cover our ear with our finger.
The game went on and all we could hear were loud whistles and claps
Our neighbours were together again, bridging the gaps
Music can heal
How happy it can make you feel.
So what if lockdown day eleven had come
We were apart, still being one, and we will never succumb.
Lockdown day 12
It was lockdown day twelve
And everyone was at home, taking care of themselves.
No one dared to venture out
No morning jogs, or even walking about.
Going out to buy groceries had become such a task
Something that no one could have ever asked
Then the Prime Minister on TV said, it's time to fight the darkness of the virus with all our might
Turn off the lights for 9 minutes and light a lamp, or a diya at 9 pm tonight.
Umar wondered if it was Diwali and he would burst some crackers too
When mom explained, no crackers, but what they should do.
Like every Sunday how mom would prepare a special treat
With some sweet orange rice and biryani full of meat.
Usually, they would eat and take a nap in the afternoon
While Umar would stay awake watching his favourite cartoon.
But this Sunday mom wanted to do something for others
So she made a plan with some mothers
This time there was no biryani but a lot of sweet orange rice
She put them in packets which she hoped would suffice
Umar helped her make small bags.
And dad would go out at 9 pm giving it to people dressed in rags
This is how they helped light a house in the dark
With some food, with blessings and a good remark.
Umar then lit a few diyas on his window sill.
Praying that it would kill
All the negativity and darkness the virus was causing in the world
Hoping a beautiful new day unfurled.
Lockdown Day 13
School was supposed to re-open soon
But because of lockdown day thirteen, children sat enjoying their cartoon.
No school, no homework they thought
Enjoying the extended holidays they got.
But how much ever they would play, sometimes they got bored too
They missed their friends in school and the activities they used to do.
But to their surprise schools had figured out a way
They would learn at home, while they play
They came up with an online class