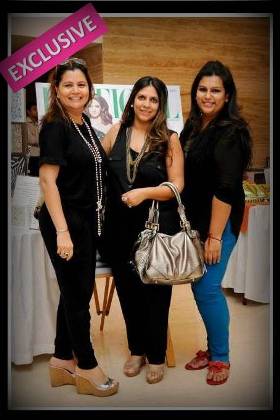 We caught up with the ladies behind Magic Rainbow and why it is the coolest exhibition for kids in the city. Magic Rainbow the exhibition was started by Superna Motwane, Nisha Aggarwal and Shaan Khanna in order to create a market for mums to shop for their kids as they found a lack of concentration in that sector. What started of as a passion has worked for them as a business venture!
Questions:Â
1. Why Magic Rainbow and how did you conceptualize it?Â
Shaan : Magic Rainbow is the name we came up with while we were having coffee discussing our exhibition! It's a fun,light name and the logo helps people relate that it's a kiddy event. Magic Rainbow also has a fun feel to it.Â
Nisha: We wanted a name that is catchy as well as fun. Kids can relate to Magic and a rainbow is full of colours…. something we wanted our event to stand for. Â
2. With so many kids exhibitions across the country what is that one differentiator for Magic Rainbow?

Shaan: Magic Rainbow has exhibitors who are women who work from home or have stores or boutiques but enjoy doing that one exhibition a year! We've encouraged these women to step out and take things on a bigger scale. We look at a very different profile of shoppers who want nothing but the best for their tiny tots.
Nisha: Our exhibition has a large variety of products that are unique to Magic Rainbow. We also have many people doing desserts are cakes for birthday parties and clothing for kids for every occasion.Â
Superna: We are very selective about whom we invite to exhibit. As a mum myself I know that if I'm taking time out To go to an exhibition to look at stuff for kids, I definitely want great quality stuff. I don't want mad crowds and average products. I want a nice, pleasant atmosphere and really good finds. That's what we strive to do with magic rainbow. Â
3. How do you manage to keep it fresh each season?Â
Nisha, Superna and Shaan: This is our second edition of Magic Rainbow. The first one was earlier this year on the 5th of March we haven't repeated many exhibitors and have also done more research and definitely created some new things at the event. Our location has also changed and we are at Palladium, High Street Phoenix this time which is the place most exhibitors would love to showcase at thereby hoping to create a new trend.
Also this time our show has a Christmas theme.. We decided to kick off the Christmas season with the kids at palladium. Our stalls inside are mainly stalls involving desserts,cakes,cupcakes,puddings etc therefore it's like a Christmas market of great shopping!Â
4. Highlights this November at the exhibit?Â
Nisha: We have Smaaash as our Sponsor and have lots of fun activities for mums and gifts for kids who do attend. Smaaash will also be giving out special vouchers for families i.e. mums, dads and kids to enjoy a day at Smaaash.Â
Shaan: We also have many new participants and a whole range of home bakers who are selling yummy treats!Â
5. What brought the 3 of you'll together ?Â
Shaan: Superna is someone I've always looked up to ! I've worked with her in the past I did an internship at her magazine and have been connected with her ever since. We had the idea to do a kids show together and she connected me to Nisha who's a mommy friend of hers and Nisha is also the founder of Buzzing Bees! It made sense for three of us to come together..Â
Superna: I think we all brought something to the table to make this exhibition grow so when I connected and brought the three of us together it worked well ! Since Nisha and I are mums to two kids we tell Shaan what's lacking in the market and to what to look out for. It's easier!Â
6. What should we expect for kids at MR?Â
Nisha,Superna and Shaan : To be honest there's not much for kids as it's primarily a mums show. That's why it's on a week day and the reason being we want mums to come and shop! You're most welcome to attend with your kids as Smaaash will have lots of goodies, activities at the venue. But the idea is to shop for the kids in peace.
 Superna Motwane: Editor-in-Chief / publisher of Noblesse India, a fashion and luxe mag and also a columnist for DNA After hrs
Shaan Khanna: Event organizer,foodie and a shopaholic! She is the founder of Spicy Sangria and is on the panel of Araaish in aid of Save the children India.
Nisha Aggarwal: AÂ Pediatric Occupational therapist who has worked with children in India and in New York. In India she is the owner of a popular South Mumbai Summer Camp called Buzzing bees. She has also successfully launched Baby Loves Rock, a concept where families spend their sundays together in a fun way!