When the temperature shoots up, the first thing that comes to mind when we crave for cool summer drinks is fresh lemonade. Lemonade is the perfect combination of acidity and sweetness, making it the go-to refreshment to quench your thirst on a hot summer afternoon. Filled with the goodness of Vitamin C, it is a refreshing drink made with lemon and sugar as the main ingredients but has various versions all over the globe. In India, lemonade is popularly known as Nimbu Pani and can be enjoyed in a lot of interesting ways!
We bring you three variants of lemonade that use traditional Indian food wisdom to give you all the refreshment and energy you need through the hot summer months. This is also a great activity to do with your kids. All kids love playing around in the kitchen and nimbu pani is easy for them to make. Don't forget to check out the KSP Summer Fun Factory for more such fun activities.
Nimbu Pani With Basil Seeds (Serves Two)
Most of us are not even aware of sabja seeds and its medicinal values. Basil or sabja seeds are known for their various health benefits – they're rich in fibre, help with conditions like acidity and are packed with Vitamin A and K. Most importantly, it keeps the body temperature cool. Which is why using it to flavour your nimbu pani is a great idea. Sabja seeds are most nutritious when soaked in water.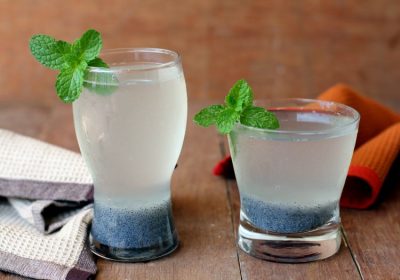 Image source: www.sailusfood.com
Ingredients:
2 Glasses of water
1-2 Lemons
1 Tsp Basil/Sabja seeds
Sugar/ Jaggery as needed
Rock salt as required
1/4 tsp Cumin seeds
1/4 tsp Chaat masala
Mint leaves for garnish
Ice cubes as needed
Method:
Soak the sabja seeds in a bowl of water for half an hour.
In a jug, squeeze the lemon juice and pour water.
Add rock salt, cumin powder and chaat masala.
Add sugar/jaggery as per taste.
Stir all the ingredients well.
Strain the sabja seeds and add a spoonful to each glass.
Garnish it with mint leaves and chat masala.
Your Nimbu Pani with Basil Seeds is ready to be served. Cool and refreshing and easy on  the digestive system.
Nimbu Pani with Fennel Seed Powder (Serves Two)
Fennel seeds are also known for their cooling properties and are a source of Vitamin C, iron and potassium. It's an aromatic herb widely used in India as a post-meal digestion aid. It also aids in curing flatulence. Try this fennel seed version of nimbu pani and enjoy the flavour it adds to your regular nimbu pani.
Image source: www.werecipes.com
Ingredients:
2 Tbsp Fennel Seeds/Saunf (Powdered)
1Tbsp Black Raisins/Kali kishmish
2Â TbspRock Sugar/Khadi Shakkar (Powdered)
1Tsp Lemon Juice
2 Glasses of Water
Method:
Grind the fennel seeds into a fine powder.
Soak the powder in water for 2-3 hours.
Soak the black raisins in a bowl of water for 2-3 hours.
Strain the water with fennel powder using a fine strainer and keep it aside.
Grind the soaked black raisins and strain it well.
Add the black raisin mixture to the fennel water.
Add lemon juice and powdered rock sugar to it and mix well.
Garnish with fennel seeds.
Pink Lemonade (Serves Two)
Rose syrup is extremely popular during the summer. It's a favourite drink with most kids. The combination of lemon and rose syrup is the perfect blend of acidity and sweetness, with mint leaves for an added freshness.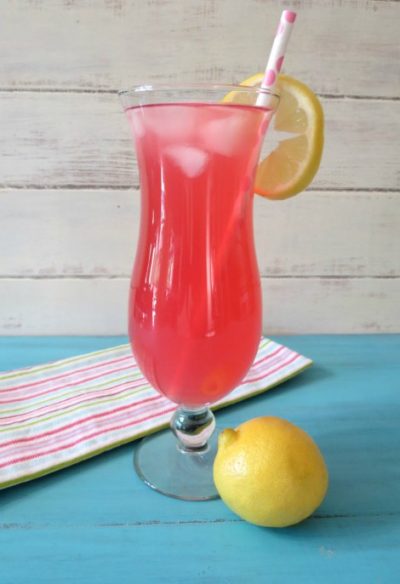 Image source: www.peanutbutterandpeppers.com
Ingredients:
2 tbsp rose syrup
2 1/2 cups chilled soda
1 tbsp mint leaves
2 tbsp lemon juice
Salt to taste
Method:
Lightly crush the mint leaves in a mortar and pestle.
Combine the mint mixture, lemon juice, rose syrup and salt in a jug and mix well.
Add the soda and stir well.
Garnish with mint leaves and serve chilled.