With Diwali right around the corner, I am gearing up for days filled with sweets and snacking. There might not be the big meals and card parties this year, but we can count on mithai and classic Diwali treats to bring festive cheer to our homes.
Since home visiting will be starting soon, I'll be giving little food gifts to my loved ones. Gifts that you can make at home are extra special – who doesn't love a box of ladoos made with love or a beautiful cake?
Here I am sharing some of my favourite, easy recipes for Diwali that you can make for the home or turn into gifts. Either way, I hope they bring you to cheer!
Mawa Cake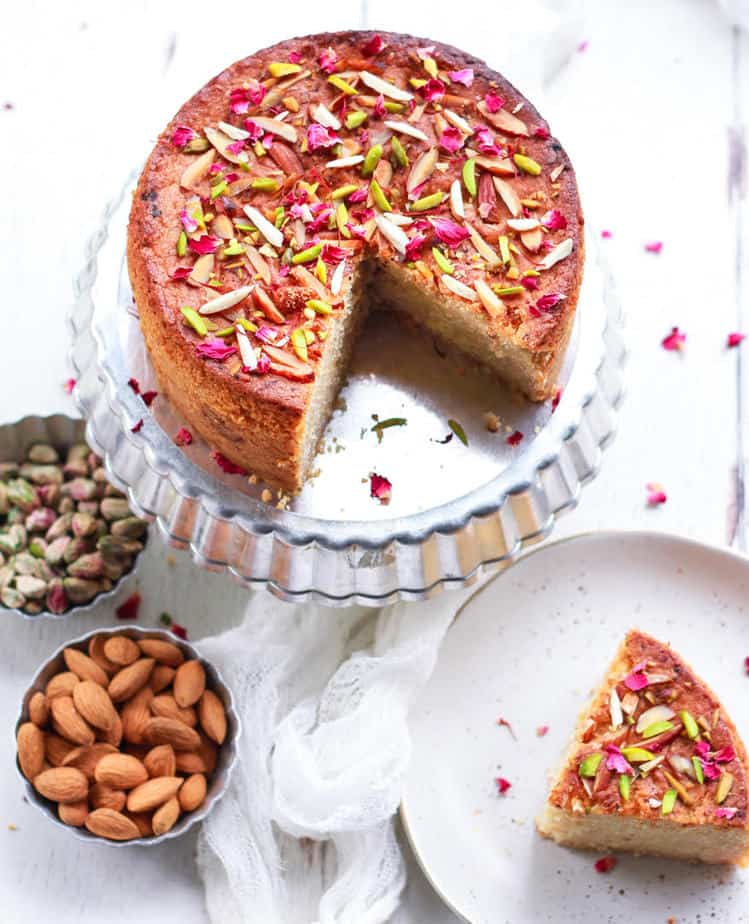 Decadent, delicious and arguably the butteriest delight, this recipe is one that deserves special mention is mawa cake – a sumptuous plateful of calorie-laden indulgence.
Ingredients
1/2 Cup Butter, softened
1/2 Cup Raw Sugar
1 Cup Yogurt, room temperature
1 Cup Whole-wheat Flour
1/2 Cup All-Purpose Flour
1 1/2 Tsp Baking Powder
1/2 Tsp Baking Soda
2 Tbsp Desiccated Coconut Optional
1.5 Tsp Cardamom Powder
1 Tsp Saffron Strands optional
1/2 Cup Crumbled Khoya /Mawa (about 100g)
Pistachio And Almond Slivers for topping
Instructions
Preheat your oven to 180°C. Grease an 8″ cake tin.
In a large bowl, beat together the butter and raw sugar until light and fluffy.
Whisk in the yoghurt.
Sift the flour, baking powder and baking soda in another bowl.
Stir in desiccated coconut, cardamom powder, and saffron.
Fold in the dry ingredients into the butter-sugar mixture. Gently stir in the crumbled khoya.
This is a thick batter. Scrape into the prepared pan and top with pistachio and almond slivers.
Bake for 45-55 minutes, or until a skewer inserted in the centre comes out clean. Let cool in the pan for a few minutes before turning out on a cooling rack.
Serve at room temperature.
You can store the leftover cake in the refrigerator in an airtight container.
Shankarpalli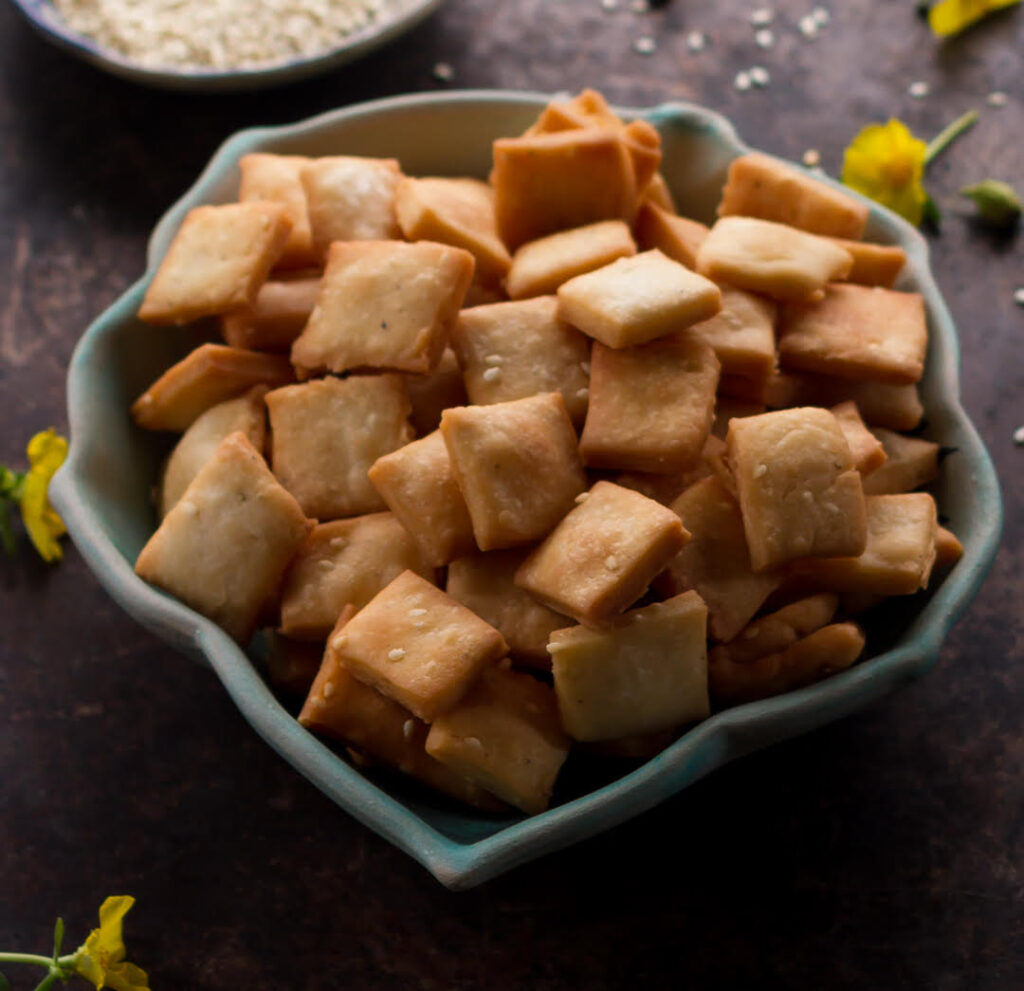 Some call it sweet tukdi. Others know it by shakkarpara. And a few name it shankarpali. It doesn't matter how you recognize these pint-sized, deep-fried munchies.
Ingredients
1.1/2 Cup All-Purpose Flour
1/4 Tsp Salt
2 Tbsp Sesame Seeds
1/4 Cup Icing Sugar
1 Tsp Cardamom Powder
1/4 Cup Ghee, melted
1/4 Cup Water
Oil For Frying
Method
In a large bowl, combine the flour, salt, icing sugar, sesame seeds, and cardamom powder.
Pour over the melted ghee and rub into the dry ingredients until the mixture resembles breadcrumbs. The mixture should sort of clump together when you hold a portion of it in your fist. If it doesn't, add another tablespoon or two of ghee.
Now slowly add the water to knead a soft, smooth dough.
Cover the dough with a damp kitchen towel and let it rest for at least 30 minutes.
Heat oil in a deep pan/ kadai on medium heat.
Divide the dough in half and roll out into a thin circle or a square. Cut into diamond or square shapes.
Drop a small piece in the oil, if it immediately rises to the surface while sizzling, the oil is hot enough.
Drop a few pieces of dough at a tie in the hot oil, fry on medium heat until puffy and golden brown.
Use a slotted spoon to take the shankarpali out. Drain on a plate covered with paper napkins.
Let cool completely before serving. Store in an air-tight jar.