When I first bumped into Vinay, Co – founder of 3H India.com his passion and belief in the product was what got me curious to check out the website as soon as I was back home. Having Kids around at home, we're always careful about cleanliness and hygiene, to ensure a healthy, dust free and safe environment sanitizing every object our child can possibly get hold off. We make sure all our kids' clothes, toys, bed sheets, blankets and other paraphernalia are perfectly sanitized, using all sorts of anti-bacterial sanitizers and disinfectants and vacuum cleaners from time to time, but surprisingly that's not enough. What happens to those germs that are not visible to the naked eye.
Well all I can say is, I truly believe in 'Seeing is Believing', for this service.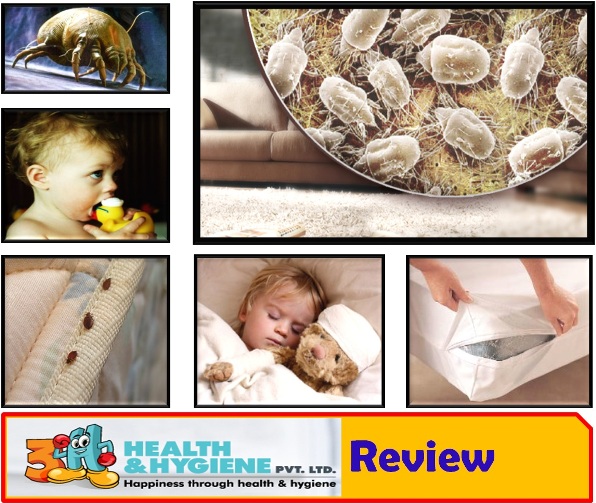 I wondered how 3H could be so different from simply using a vacuum cleaner, a disinfectant or any other measures we normally resort to. However it was only after having witnessed a full fledged demo back at home did it come as a shock to notice the amount of dust that came out of our sofa after having run their specialized and custom made hefa filter high power vacuuming. We then learned that up to 2,500 mites can be found in one gram of house dust, REALLY!!! Let me not start with the kind of illnesses that these mites can cause. By the way love the fact that they are on time and actually 15 mins early. By now you know I am a stickler for service and time so it does need a special mention.
The common myths that you might have which will come in between you and calling 3H for their demo service:
As Indians we always dust our mattresses or keep them in the sun. Of course the sun is a great source of UV light that helps disinfect germs & mites but when was the last time you did it?
We have layers of cloth covering our mattresses and they are washed regularly. Yes of course first the cover then the day sheet. We change sheets in the night too but that means nothing for the dust and dust mites inside the mattress that keeps piling on over months
We vacuum clean our house quite often to pull out all the dust and mites. If this is what you believe in then you should definitely call for the demo because a vacuum cleaner will only treat the surface.
Unlike the normal pest control that we normally resort to for which we often need to drive our kids out of the house due to harmful chemical sprays besides getting our house upside down with moving and packing almost everything at home, 3H is an absolute hassle free process besides the 3H Process does not use any chemicals, detergents or water that could harm infants or children.
What 3H does?
They're process includes 3 comprehensive steps of cleaning and sanitizing to an absolute germ and dust free, healthy home:
Vacuuming:Â Using their unique and specialized micron allergen hepa filter high power vacuum.
UV-C treatment:Â Using the UV-C light, they kill and suck out all the insects and germs from deep within.
Anti-allergen non-toxic natural sanitizing spray:Â This spray makes sure the area is sanitized after having killed the germs. This spray is not harmful to humans or pets.
They draw samples and test the same with Allergen Test Kits to show the level of contamination in your mattress
How's 3H different?
The high power 3H System which uses a Micron Allergen Hepa Filteration system traps over 99% of the Dust / Dust Mites the system pulls and is much more powerful than a normal vacuum cleaner, as far as suction is concerned.
The reach of a 3H high power Vacuum is much more than a vacuum cleaner and sucks out dust and every kind of allergens, germs, contaminants including bedbugs that live in your mattress, from 6-8 inches deep, unlike the superficial reach of a vaccum cleaner which would only treat the surface.
And if you're not convinced yet then the 3H High Power Vacuum also has a UV-C light, which penetrates through thin-walled germs such as viruses and bacteria, and kills 99.9% of them by altering their genetic structures, destroying the problem at source.
Cost:Â Rs 3250 onwards for a single service for a 2BHK apartment.
With an additional charge, the package could also include: Baby cots, Mattresses, Pillows, Dining chairs, soft toys and much more
Contact Details
Call:Â +91-22-26731206Â and 9773434333
Fax:Â +91-22-26731209
Email:Â [email protected]
Address:Â 3H Health & Hygiene Pvt. Ltd. 5/6 Rushabh Complex, Dalia Inds. Estate, Off New Link Road, Andheri West, Mumbai
Psst….Don't forget to mention Kidsstoppress.com when you call them for a FREE demo. Like I said seeing is believing for this one so don't forget to call them.
Also for all our Delhi readers 3H is soon going to be at your service as well.
Disclaimer: Prices are subject to change and Kidsstoppress is not responsible for changes in prices.