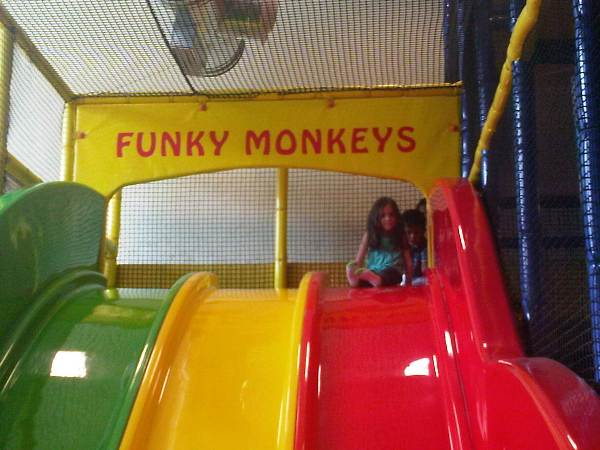 Mumbai gets another indoor play area and while the debate on Indoor vs. Outdoor play remains, we believe that atleast there is play. Mumbai definitely needs some world class facilities like Funky Monkeys to double up as play options during monsoons and weekend getaways for families in a controlled environment. Recommended for children between 6 months to 10 years this Lower Parel facility is a great option to keep your kids busy for about 2 hours. For parents to make note the facility offers free wifi so while the kids are at play the parents can catch up on some reading, work or some me time and sip on some coffee. Spread over 3,000 sq. ft. it offers hands-on discovery and learning through spontaneous play, while incorporating elements of fun and entertainment. We absolutely love the giant size trampoline that the kids can never get enough off. Funky Monkeys offers children unstructured 'Free Play' opportunities. The "Free Play" concept allows kids to explore, experience and develop. Besides coordination and muscular development, "Free Play" also helps develop imagination, enhance creativity and build confidence. The toddler zone is carefully designed giving utmost importance to safety and using simple elements like motion, music and colour as key stimulants.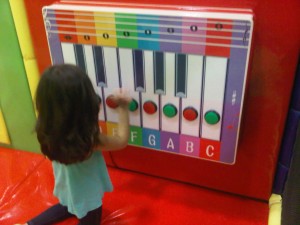 What we absolutely love about this space is abstinence from any computer or electronic video game kind of feel which a lot of play zones for kids offer.
While the play hosts are always on hand to monitor the play areas and assist children in order to facilitate smooth and injury free play what we love is that parents can also be a part of the adventure and be with their kids. Funky Monkeys offers one-hour and two-hour drop-in play sessions as well as Memberships. Funky Monkeys can double up to host play dates, have school group mornings, birthday parties or a special event. Open 7 days a week, Funky Monkeys also has a fully equipped café area over looking the play zones, free WiFi, valet parking, kid friendly bathrooms, a first aid kit on site and adheres to all fire safety regulations. Here is the rate card which is also available on their website: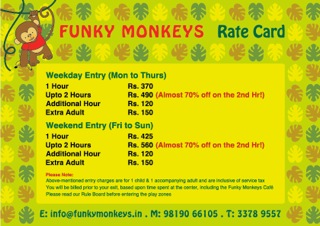 We also have the food options listed for you: The Sides include fries, smiles, chicken Nuggets & Tomato Salsa, Jalapeno Poppers, Hummus and Lavache, Popcorn and some baked Lays Chips (Salted/Cream, Herb & Onion Flavour). The Mac N Cheese & Pizzas are made to please the childrens palette. Hot sandwhiches include cheese & chicken while in the cold options you could choose between Tandoori Paneer, Honey Mustard Chicken, Hummus & Grilled Peppers with Pickles. For those with a sweet tooth please yourself with some Granola & Flavored Yoghurt, Fudgy Chocolate Mousse, Tiramisu, Chocolate & Walnut Brownie and Vanilla Muffin. To charge your energy levels parents can choose from Single Espresso, Double Espresso, Cappuccino, Café Americano, Herbal Teas, Juice, water and some aerated drinks. It will be interesting to see how this new place continues to create a magnetic effect and draw crowds time and again. Watch this space if you would like to receive some FREE passes to Funky Monkeys and Go bananas! P.S. Don't forget to carry socks for the kids and yourself.
Funky Monkeys Play Center Address
Benefice Business House 3rd Floor, Mathuradas Mill Compound Tulsi Pipe Road, Lower Parel Mumbai 400013 Tel: +91 22 3378 9557/58/59/60/61 Mob: +91 98190 66105 Email:
[email protected]
Opens: Mon – Thurs: 10.00 a.m. – 7.30 p.m.
Fri – Sun: 10.00 a.m. – 8.00 p.m.
Website: http://www.funkymonkeys.in