My interaction with Chandini Mehta, founder of jumping genius, child psychologist from Nottingham, ex-teacher of Bombay Scottish, and RIMS international juhu was detailed and interesting. Yeah when its got to do with kids its got to be detailed.
When I first posted about it when it launched I was very keen to to try it out. During my interaction what I loved the most is her level of personalization that she has introduced and how well she has got the parents connected. Read on as I share with you a great new discovery.
Jumping genius was started 2 years ago when she realized not a lot of organized day cares and activity centres exist in the market. There is no one facility that encompasses a holistic learning experience for kids.
Each day care has about 6 – 8 kids and of different age groups so its quite interesting how they interact and at the same time learn qualities of care, affection, get prepared for a sibling and much more. Its like how your second child learns & picks up things much faster than the others.
The younger child also tends to learn much faster looking at the older children and some parents will be surprised at how an 8 mth old may skip crawling and graduate straight to running.T he second child always as you know is the tougher and faster one.
They have various programs beginning with
The Day Care: 8.30 am – 7 pm mon through Sat. Parents can drop off their kids every morning with their milk/food and be rest assured that their children are being raised in a clean and stimulating environment. Children are exposed to various activities through the day and a log book is maintained with all their activities being logged in from what time they ate, pooped, played, napped, etc. The center provides one linen per day per child but incase the parents wish to send some more they can. Even the plates spoons & forks are cleaned and shared among all children incase the parents wish to personalize it they can. The center provides utmost flexibility to parents. There are enough maides to supervise over all the children with baby monitors & cameras instilled in all rooms. Parents are free to come & watch the videos at the centers whenever they wish too. Incase the mothers are unable to provide the food they can request the center manager & it can be arranged. The center is very accommodating and whenever there is a need for them to be available at an earlier or later time they can.
What was really interesting was how the parents are kept connected through BBM Groups. Each centre manager keeps the parents informed by posting atleast 4 – 5 pictures a day and letting the parents know when their child smiled, played, took his first step, etc. I can almost see myself smiling in the middle of a meeting when I receive this. The centre also send a box of all the activities the child has done through the week with the teachers remarks on Friday for the parents to review and file. The box needs to be sent back on Monday morning.
The centre has a lot of activities for the kids to do by teachers who are trained in the ECC course and the Jumping Genius curriculum. Activities vary from Physical : Gym, Animal Yoga, Dance to Creative: Art, Craft, sand play, music, paint, Mind: Flash Cards, Concepts, puzzles, Charts, work sheets, to Social: Story telling, Picture Talk, Role Play & Linguistic: Reading, vocabulary, building, languages & rhymes.
The centre also has a TOY & BOOK Library which is not exhaustive but is reasonable enough for members of the centre. They also have a Home work Cafe, where parents can drop their children off to to complete their home work along with lots of playtime. This may work for parents who find it exhausting to do it with thier children at home.
The gym has a balancing ladder, trampoline, ladder to climb, cross trainers, weight machines and lots more. Being a psychologist Chandini also tries to address that parents may instill in their children like fear of heights. She tries to address this with a cable cart & a climbing ladder.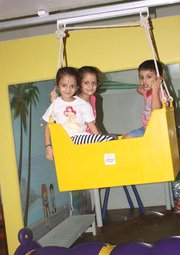 Cable Cars
Cross Tariners
For parents who are not regulars with them and would like to send their children over they also have a lot of Specials on Saturdays like Cooking, Pool Parties, Pajama Parties, Pottery Workshops and many more.
Role Play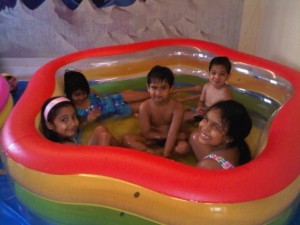 For all those parents who believe this is too good to be true. Here are the costs:
P.S. The rates may differ from centre to centre and are only indicative. We reviewed the centre at Tardeo so please do visit a centre close to you before enrolling into any activities
Day Care: 5000 – 12000 p.m. ( 3 hours a day – full day)
Toddler Programs: 3000 – 6000 p.m.
Mother & Toddler Program: 10500 – 3 months
Mom & Me: 4500 – 3 months
Review: Its a must consider if you are looking for a day care. Chandini is extremely involved and an aware individual. Hygiene levels are excellent.
Locations: Bandra, Juhu, Ashok Towers(Parel for residents only), Prabhadevi & Tardeo.
Contact: 9820751811/9324501501