Every parent has their own diaper story. Some will tell you about how they can identify when their child is crying for a change, yet others will tell you the exact moment when they became familiar with the sights and sounds of their child's diaper. But when it comes to diapers every parent will tell you how fast they can change them and exactly which kind they swear by.
Today, parents are spoilt for choice. Diaper brands are a dime a dozen and come in night dry, cotton top sheet, advanced soaking systems and so much more. But for those of us who are uncomfortable with these diaper brands and prefer to use cloth, what options are there?
Have you heard of Superbottoms?
These are a premier high quality cloth diaper with super quirky desi designs! Created by a mom who saw a need and a niche for such a product in the Indian market. Pallavi is an environmental enthusiast who was obsessed with earth friendly ideas, marketing, and potty management! When her son was born she decided to try cloth diapers as an eco friendly option and quickly fell in love with this non chemical, environment friendly option. While Indian moms do use cloth nappies, she realised that the cloth diapers that were available were very basic and low quality. After trying the Advanced diapering system she was thrilled and knew this was something that had to be brought to India.
What are Superbottoms?Â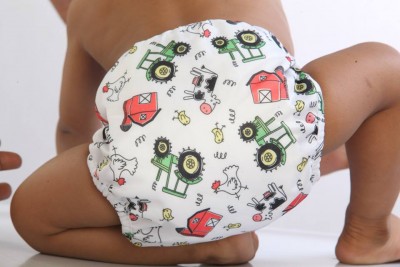 Cloth diapers that are world class quality all while being super soft on your baby's bottom. They soak 4-5 leaks and are therefore very long lasting. Other cloth diapers need to be changed after every leak and that becomes cumbersome.  Superbottoms come in two types – Pocket and Cover Diapers.
Pocket Diapers come with a pocket of the dry-feel fabric in which a soaker or the absorbent pad can be placed. These provide better protection. The Cover Diapers do not have a pocket but have a dry-feel layer attached on the soaker. The soaker is then placed inside the cover.
They have a variety of soakers that parents can experiment with and settle on one that works for their baby. On their website, the founders have detailed instructions on how to use their cloth diapers, how to wash and clean, and just how long one can be used. Basically a step by step guide to using the product.
The best part of Superbottoms? Each diaper can last for the entire diapering phase of a child! Each diaper can last beyond 300 washes. The diapers have snaps to size it so as to fit babies from 3-17 kgs. Superbottoms also has a major quirk factor. While store bought plastic diapers are boring and white, Superbottoms come in designs inspired by the elements of India. Pallavi says, each diaper has "some distinct elements of Indianness in itâ€_x009d_.
Price range:Â
Superbottoms are extremely affordable compared to big brand diapers. A typical diaper with soaker costs between Rs 700-800. And since each diaper can last for the entire diapering phase of a child, this makes them highly cost-effective. But compare this to other cloth diapers available in India and the price difference is almost negligible.
How to buy:Â
Superbottoms are actively sold on Amazon, Flipkart, and on Superbottoms.in. Parents can also place orders through Whatsapp +91 98 203 0 1106. Orders are delivered via COD.
What's next:Â
Superbottoms plans to start selling through Firstcry, Hopscotch, and Babyoye. They also want to start tying up with paediatricians to get their expert opinions and recommendations on what to do next. Though Superbottoms are currently made in China, they intend to bring the manufacturing to India soon.
Website: Superbottoms
Facebook: Superbottoms
Don't forget to follow us on Facebook, Twitter & Instagram or subscribe to our Youtube Channel for more information.