As soon as I posted about Yoga Zoo I was so keen on trying it that I called them immediately and to my luck they have a class on Wednesday at Clay Wellness which is the closest center to me. Withe perfect instructions I reached there a little before 5 dodging the S.V. Road traffic and reached Clay. we removed our shoes and climbed upstairs to a clean, friendly and fun fitness studio. We(sorry when I say we it is me & my lil princess) were greeted by 2 lovely teachers who were playing & entertaining a few children till the class was in full strength. Each child had their own mat & a cover for the mat with the Yoga Zoo logo & a Tag around their neck along with T-shirts.
Before I take you through the class its very important for you to know a little more about why Yoga. Like Ravinder explained to me and I shall let you know. Yoga is not only a physical fitness class but it addresses a lot of issues that kids today face. Anxiety, stress, restlessness, aggression, fear and many more. They are exposed to so many things so soon that its hard for them to concentrate on any one. Leave our children in a room full of toys and I can assure you that they will have a short attention span and move from one toy to the other without exploring the first one in its totality.
And now about the class, we started the trial class with a small prayer and started with the asanas which were free flowing and effortless. The kids did not even realize that they were doing asanas but just playing a fun game. The asanas were woven into rhymes and the kids practiced the asanas in a free flowing manner. They did the snake & the crocodile while was actually bhujangasan, row row your boat …if you see a crocodile dont forget to scream which helped them do sinhasan, the butterfly pose, they all become buzzing bees with bhammar asan, and many more. The asans lasted for about 30 mins and the next 10 mins were spent in story telling about a Grumpy Dragon. The story was a fun story and though not with the best vocabulary but with great expressivenes the teacher held the childrens attention for a good 10 – 15 mins. The children were all intrigued and answered & interacted well with the teacher. After that they had about 5 mins of monkey time where they could do free play and hang upside down from the rods and then they did the cooling down pose and had their prasad looking forward to come back to Yoga Zoo again.
What I loved about the class was how the children were from various backgrounds and age groups. How they learnt to obey and follow instructions and learn to calm down. they have time to breathe and breathe right and not be rushed in and out of class. Ravinder the founder very patiently explained to me how she has been a yoga practitioner for the last 35 years and she believes that it can benefit kids immensely. She has a lot of kids coming to her various classes held across all centers and she is happy that she has helped parents whose kids have specific requirements like juvenile diabetes or low Bone density as well. She believes kids cannot learn yoga through private tuition and it has to be in a fun way with a lot of other kids.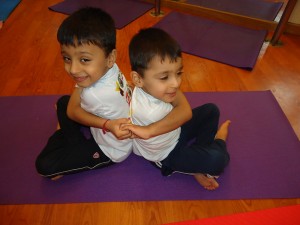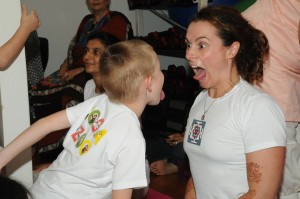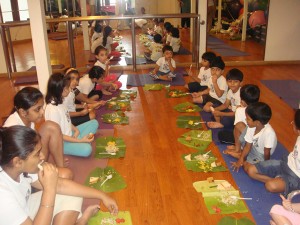 She also took me through the various forms of Yoga and how they have woven this into their curriculum.
1. Bhakti Yoga: Which is through songs and music. While they chant their prayers in every class, they also invite the grandparents of the child once a year to be part of the program where they need to share a song. The class provides them with the musical instruments.
2. Gyan Yoga: This is addressed through moral values & narrating stories which impart knowledge and build the childs value system
3. Krida Yoga: This is addressed through various games and play. Interesting game here which may be you could try at a birthday party or otherwise. You keep 3 different bowls filled with different food and blind fold the child and ask him to pick one & eat it. Ask him to taste it and describe the taste without knowing whether he is right or wrong. It encourages the child to try, try & describe.
4. Hatha Yoga: This is addressed through the asanas
Some interesting activities:
1. Once a year they have a seva class where kids are asked to water the plants, sweep the floors or dust the classroom which is not actually so dirty. This teaches the child seva bhav and shed his ego
2. Quarterly birthday parties: Here the parents need to send only satvik food i.e. no artificial colours, refined flour(maida), or eggs. They ask parents to get eggless cakes, cookies, granola bars, and other home made food. The kids can also call their friends who dont otherwise come to Yoga zoo. Brilliant way of inducing trials.
3. They also have practice different games like the blind fold game, micheal angelos left & right brain game. Here they ask all children to use the limbs opposite to what they are use to e.g. Right handed children are asked to do all activities on that day with their left hand & leg and vice versa. The logic here is that when you work say with your right limbs your left brain gets activated. Predominantly we all are right handed and therefore only one part of our brain is working so its very important to activate the other one and keep it stimulated too. I am extremely intrigued about this lateralization theory and promise to do a post soon.
4. Pyjama Yoga: sounds funny but it snot. They teach all the calming down poses which will help your children sleep well through the night. A lot of children who face night terrors, disturbed sleeping patters may benefit through this. Kids are asked to come in their night suits during this class.
It was a great experience and I was happy to see all the kids being so happy and excited to do something different and challenging. Ravinder & Jasmeet played the perfect 'Spiritual Mothers' as they call themselves.
Review: If you believe in the goodness of yoga, simple living then you will definitely do this for your child. They have a free trial class if you would want to try it.
Age Group: 2 – 12 years
Fees: Rs 1300 p.m. but the fees are taken quarterly
Venue: Visit our earlier post on Yoga Zoo
Contact: 9820224235, 9819919267Â or info@yogazoo.in, yogazoo@rediffmail.com
Hygiene: Excellent. Clean bathrooms available
Parking: I attended the session at Clay Wellness where it wasn't available