The celebration of Rakshabandhan today represents the bond between brother and sister and is one festival that is sacred to everyone. Nowadays, the rakhis available in the markets are a perfect blend of traditional and changing trends. The market is flooded with a variety of Rakhis – from traditional colourful threads, and classy jewelled ones for adults to cartoon characters for kids to choose from.
So while deciding what special treats you should be cooking for Rakhi is important, for all the sisters finding the best-looking Rakhi for their brothers is key. They look for Rakhis that their siblings could love from their favourite characters, colours, blinking lights and size as well.
We've curated a list of Rakhis that are trending this year and you can shop for them right here.
Combo Of Super Se Bhi Upar Bhai And Vaccine Theme- 2 Magnetic Rakhi
Colourful Mandala Bhaiya Bhabhi Rakhi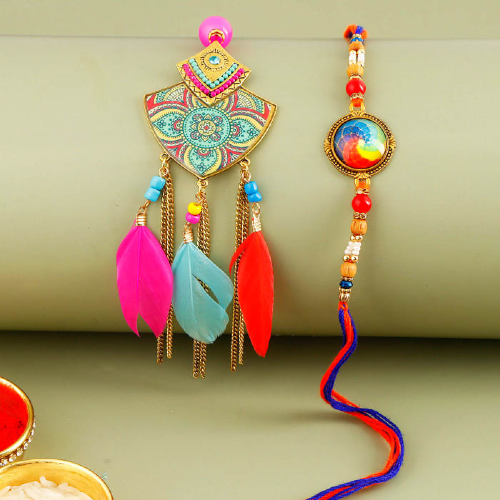 Set of 2 Traditional Handmade Resham Zardozi Peacock Rakhi & Flower Lumba Tassel Rakhi
Chocolate Spread Theme Magnetic Rakhi
Gold Plated Bro On Duty Rakhi By Pipa Bella
Gold Plated Infinity Best Bro Rakhi
Luck and Evil Eye Theme Combo of 2 Rakhi
Dinosaur – Colour Your Own Rakhi
Pretty Ponytails Ganesh & Krishna & Thread Rakhi, Set of 3 Rakhi
Rakhi – Love Brother – Yellow Gold
Peppa Pig 3D Figure with Light and Sound Kids Lumba Rakhi
Rakhi – Chota Bhai – Yellow Gold
Rakhi – Gamer Bhai – Yellow Gold
Bhaiya Bhabhi Rakhi – Evil Eye – Blue – Set Of 2
Rakhi – Drake – Enamel
Boys Yellow Brother of the Year Reward Rakhi
Bro Rakhi Bracelet
Best Brother Theme Magnetic Rakhi
Image source:imagesbazaar.com