Ria was busy playing with her dolls, and Sumit, her younger brother, wanted to join the fun. He added his toys to the game. But Ria was getting irritated with his constant shifting of the toys placed carefully by her. The siblings got into a few scrambles and soon Ria's piercing cry reached Leena, their mother. But instead, their dad, walked up to the children.
Leena could hear a few adult low mumbles, a few childish grumbles, saw hugs and she knew that additional cooling time was given, by her husband. She soon saw the children walking up to the garden wanting to water the plants with their father, completely distracted and long-forgotten their earlier tiff.
The prodding and pulling of the weeds continued and the children were ready for lemonade and a snack. They pottered to the kitchen and took a break. The children were soon ready to read their books and take an afternoon nap. Nothing better to experience on a restful Sunday, sighed Leena, sipping her lemonade. Hmmm! The tanginess was refreshing.
Siblings are peers and children who may be connected by blood, by bond and for sure always in thoughts. Practising negotiations, conflict resolution strategies, responsible decision making, accepting perspectives as well as being problem solvers are incentives that siblings learn from each other.
But diplomacy, adult (authority) cajoling, manoeuvring and many times manipulating are the grey areas of relationship skills learning. You see, little ones are wonderful mental players, they identify and play power games between parents (who to ask what, and when to ask for, which parent to ask) and bid in treats, and favours at beneficial times. The little angels are fast learners and understand the boundary limits of their parents.
The constant factor- Siblings fight, hurt and mend each other, with the safe feeling that the sibling would not disappear.
If instead the similar fights and hurtful accusations were underway between friends and peers, the friend would in most cases move to another friend. The siblings yo-yo between "stuck at -the -hip", and "can't stand each other to can't do without"
Love makes the world go around and sibling rivalry is children's way of fighting for attention and parental love.
Limelight is empowering for all age groups and if name-calling, arguments, loud tones and even punches get a child's undivided limelight from their parents, well then, siblings shall fight. On the other hand, concerns build in parents' minds. Parents worry and feel frustration and stress when their children fight. Constant quarrelling can take its effect on everyone close enough to hear it.
What Is The Solution To Sibling Rivalry?
Effective Communication
The tone of voice, body language and a few simple words are the tonics to steady parenting. A calm, emotionally controlled parent who speaks in a low tone makes a stronger impact on their children's lives and in teaching ways to resolve fights and differences.
Consistency Is Key
Children should always observe a unified parental front and agreements on the basics, such as food timings, sleep and entertainment. It drastically lessens the power games and pushes boundaries. Parental disagreements should be totally avoided in front of the kids.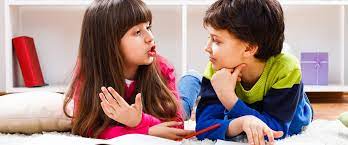 Keep An Eye On The Envy Monster
Attention in many cases leads to sibling rivalries. And if a particular sibling is more often in good graces or favoured, the other sibling/s feels neglected. Distrust, meanness, rudeness and jealousy gallop into the sibling and family equation. Fairness is the way out, always, Same rules apply to siblings, consistently and then the sibling bonds become stronger. After all, many siblings tend to be the first true friends, secret-keeper and advisors.
It Takes Two To Tango
Parenting is an art and asking for help is a 'superpower'. Advice from extended family, books on SEL, building a strong partnership between parents and mutual agreements on sleep-time, eating schedules, and technology time for children, settling most sibling fights can benefit everyone.
Practice makes perfect, and perhaps parents' main role to support social-emotional learning in siblings is to help one sibling understand and accept the opposing point of view a bit more. After all, leadership and success stories weren't made in a day. ; Every dark cloud surely has a silver lining'.
I was lucky to grow up with a sibling, who was three years my junior. My brother taught me to make the perfect snowballs, was and still is the best positive critic I listen to, and I in turn taught him self-awareness of knowing his strengths and converting his weaknesses into goals.
A growth mindset is a collective lesson that is learnt from a mother who sang, baked, and helped them to celebrate often. Self-awareness leads to self-management, which in turn helps one to take responsible decision-making and strong relationship skills. Only then, social awareness becomes a norm and not an exception.