This 37-going-on-20 star who's always made the headline for her impeccable taste in fashion and bold choices, both in her closet and her beliefs, can now add one more title to her belt- Mother. The wait was over and Sonam Kapoor and Anand Ahuja welcomed a baby boy on August 20th.
Her recent interview for Vogue with Faye D'Souza is what every mom, like you and me, would consider and think about during the pregnancy journey. Right from planning it to deciding on a career break and defining the roles in parenting with the spouse- Sonam speaks her heart out in this interview, and we simply loved it!
She talks about the reset of priorities and all the things that had to take a backseat- like her career.
"Priorities do change and I think that the child will become mine." – Sonam Kapoor Ahuja.
If you missed it, here's the link for the Vogue article. Short on time? Don't worry! I have broken down Sonam and Faye's interesting conversation that resonated with me (and surely with all moms) and turned them into short snippets, so you don't miss out on anything. Read away!
Planning The Baby- When Is The Right Time?
Yes, a lot of us plan our parenting life ahead and would like to follow it to the T. But do all plans work out just right? Sonam explains how they had different plans on when to have kids, etc, and how the pandemic made them reconsider their decision.
 " I remember doing the interview for Vogue India's June 2021 issue in April and when my birthday came around in June, I told Anand, "This is it, I don't think we can wait anymore." We'd already done all my check-ups with multiple doctors in Mumbai and London and everything looked fine, so we decided to go for it."
Announcing The Big News Through A Zoom Call!
In the first trimester… moms know what the "tough" part is. But after 30, you need to be more careful. And with the Covid strain, it was the scariest for all moms in their first trimester. Sonam narrates her experiences and the difficulties she had to face during this period. With Anand isolated from her into a different room in their London apartment dude to Covid. She had to tell him the good news through a zoom call! I wouldn't believe this if it was 2019, but this is how grave situations got in the past two years.
"Exactly a month later, I came down with a fever, cough and cold. I was terrified and immediately started googling "What happens if you have Covid when you're pregnant?" It was tough. I was taking progesterone shots in my thighs and stomach- practically everywhere on my body, because I was of advanced maternal age and was constantly throwing up, sick and bedridden. Everyone's so tense about women who get pregnant after 31 or 32. "
Career Or Baby- The Questions Moms Are Often Asked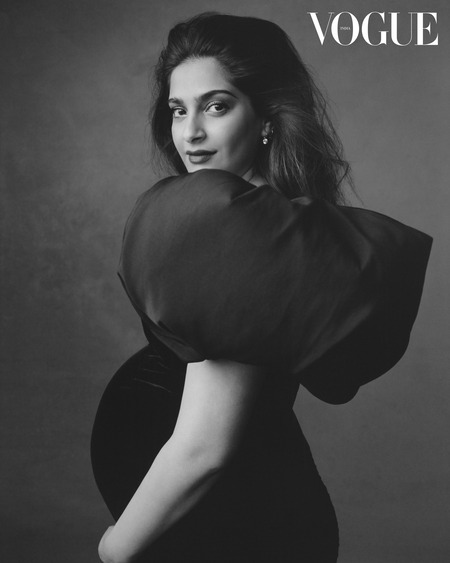 The question that puzzles every working mom- How will you manage work and the baby? We loved how Sonam had a clear-cut answer to this question and she choose to put her career in the backseat for some time.
"I remember having this internal conflict about whether or not I should take time off but then I realised, I have been working since I was 20, so it will be well earned."
On Sharing Parental Responsibilities
Ages ago, the mom was always more involved with the kids and the parenting process. But now times have changed. Paternal leaves, that weren't heard of before, are being taken up by fathers who want to be there and participate in the process equally. Sonam and Anand are also one of those couples who believe in this motto. Sonam shares a sneak peek at who was their inspiration for this decision.
 "It comes from watching the way Dad and Mum brought us up. I remember my mother sending me to the set of Roop Ki Rani Choron Ka Raja (1993) so that my father could look after me because she was handling my brother and sister who were very young at the time. Despite having ample help, their motto was equal parenting."
On Acing The Fashion Scene With A Baby Bump!
Sonam being the fashion icon she is, didn't hold back from her bold style even during pregnancy. Her recent photoshoot and other Instagram pics are proof that she continues to slay in style, even with the baby bump! And as always, some hate came her way, but here's what our sassy queen had to say.
"If I put out something to celebrate my body and my womanhood today, it shouldn't come as a surprise. I have always been the kind of person to publicly discuss issues like dark circles, PCOS, weight gain and stretch marks."