This the season for that bright, orange vegetable – The Pumpkin. yes, available just about everywhere it is time to honour the pumpkin! With the help of Nutritionist Dhvani Shah, KSp has compiled several easy recipes for you to try out using the pumpkin. . Hope up have loads of fun with these healthy easy to make recipes!
PUMPKIN WAFFLE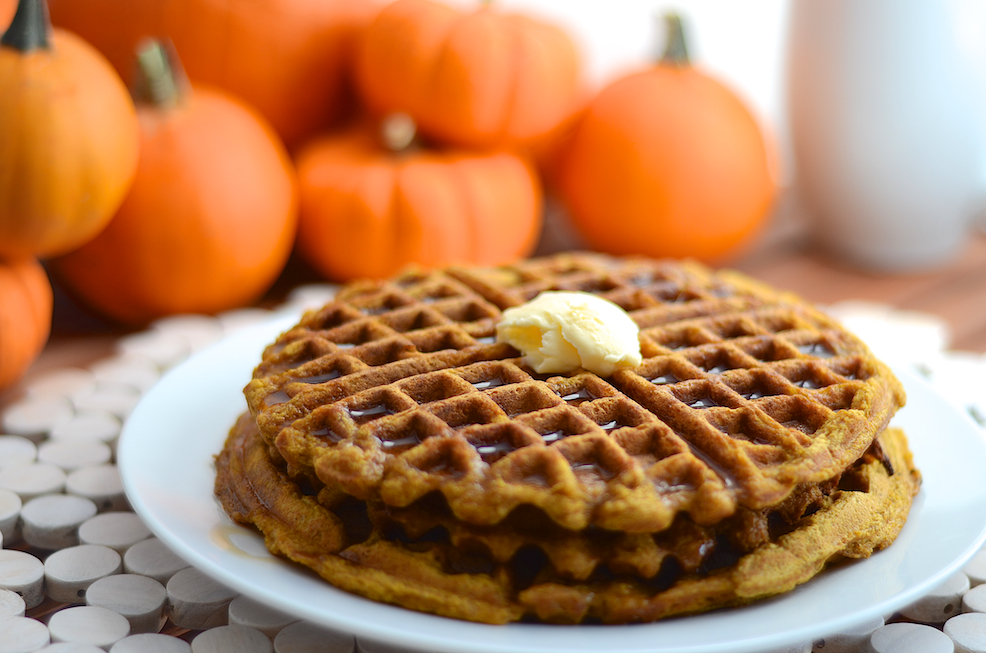 Wet Ingredients:
1 cup Pumpkin

1 ½ cups unsweetened Non-Dairy Milk (I used almond milk)

2 tablespoons Maple Syrup

2 tablespoons Coconut Oil (melted)

2 tablespoons Ground Flax
Dry Ingredients:
2 cups Oat Flour (gluten free)

2 teaspoons

Baking Powder

2 teaspoons

Cinnamon

¼ teaspoon freshly grated

Nutmeg

½ teaspoon dried ground

Ginger

½ teaspoon

Cloves
METHOD
Preheat your waffle iron
Combine the dry ingredients in a medium bowl
Combine the wet ingredients in a separate bowl
Mix the wet ingredients into the dry (it will be thick)
Scoop the appropriate amount of batter into the waffle iron
Cook until crisp (they take a little longer then normal waffles, so be a little patient with them, they will get crispy!)
Smother them with your toppings of choice, and enjoy!
This recipe is taken from girlmakesfood.com
ROASTED PUMPKIN SALAD WITH WARM GORGONZOLA DRESSINGÂ Â
INGREDIENTS
1 lb of pumpkin or butternut squash, cleaned and diced 1-1/2Â_x009d_â€_x009d_
2 tablespoons of extra virgin olive oil
1/2 teaspoon of ground all spice
4 cups of packed, fresh baby spinach
1/2 cup of walnuts toasted in the oven
1 tablespoon of butter
6 each fresh sage leaves
3 cloves of garlic, thinly sliced
8 oz of gorgonzola dolce
2 cups of heavy cream
salt and pepper to taste
METHOD
For the pumpkin:
Preheat oven to 400 degrees F.
Toss pumpkin in olive oil and all spice, season with salt and pepper.
Roast on baking sheet in 400 degree F oven until tender, and caramelized.
For the dressing:
In a sauce pan, melt butter over medium-high heat.
Add garlic and sage and cook until garlic softens.
Add cream and Gorgonzola and bring to a simmer, stirring often.
Reduce cream until thick enough to coat the back of a spoon.
Season with salt and plenty of black pepper, and keep warm.
To serve:
Reheat pumpkin in oven until warm, about 2 minutes.
In a mixing bowl, toss warm pumpkin and spinach. Spinach will wilt slightly.
Divide among 4 small plates.
Drizzle with warm gorgonzola dressing, and top with roasted walnuts.
This recipe is taken from care2.com
PENNE WITH CREAMY PUMPKIN SAUCE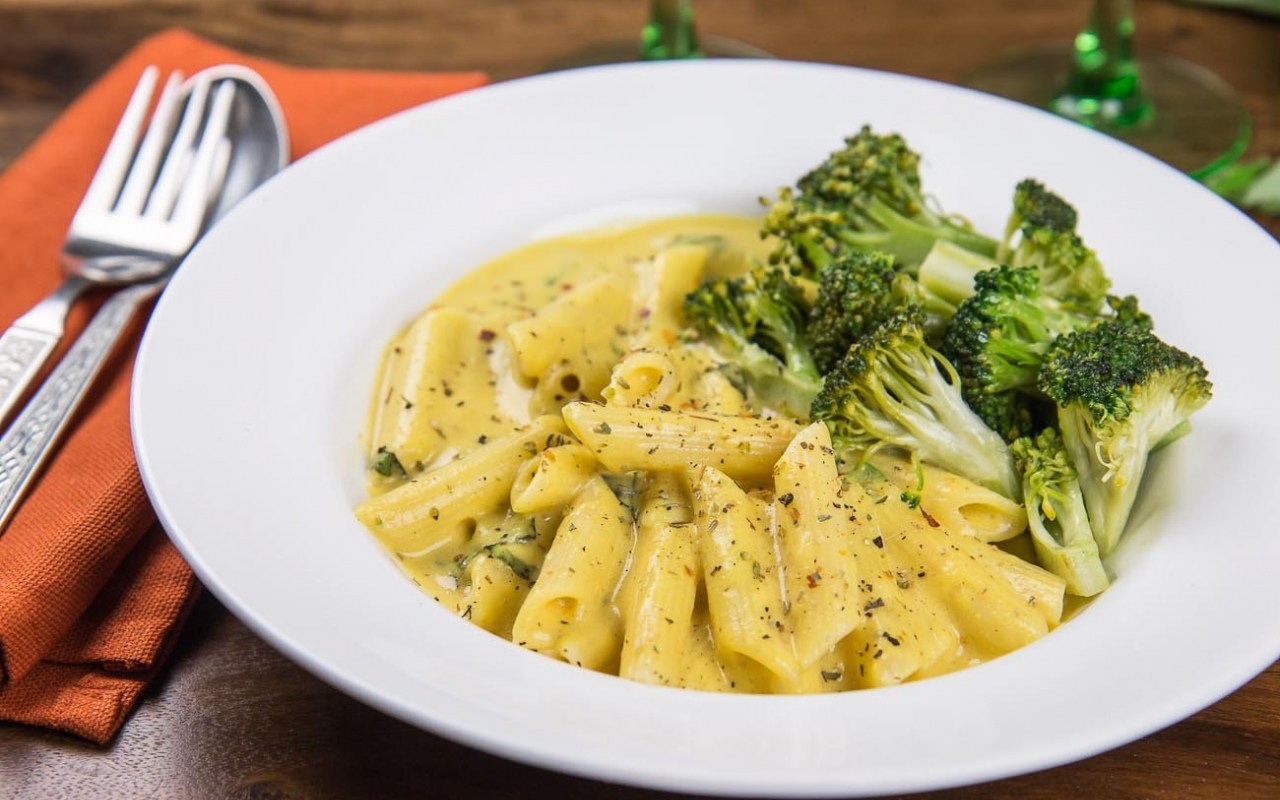 Image Source:Â www.archanaskitchen.com
INGREDIENTS
2 cups penne or other short pasta
Coarse salt
2 tablespoons olive oil
1 tablespoon fresh rosemary
15 ounces pumpkin puree
1 garlic clove, minced
1/2 cup half-and-half
1/3 cup grated Parmesan
1 tablespoon white-wine vinegar
1/4 teaspoon red-pepper flakes, plus more for garnish (optional)
METHOD
Cook pasta in a large pot of boiling salted water until al dente. Reserve 2 cups pasta water; drain pasta and set aside.
In pasta pot, heat oil over medium. Add rosemary and fry, stirring, until starting to brown, 1 to 2 minutes. Using a slotted spoon, transfer rosemary to a paper towel, leaving oil in pot.
Carefully (oil is hot and will spatter) add pumpkin puree, garlic, half-and-half, Parmesan, vinegar, red-pepper flakes, and 1 cup reserved pasta water to pot. Stir sauce until heated through, 2 to 3 minutes.
Add pasta to sauce, and toss to coat. If sauce is too thick, add some reserved pasta water. Season generously with salt. Serve pasta sprinkled with fried rosemary and, if desired, more red-pepper flakes.
PUMPKIN DIP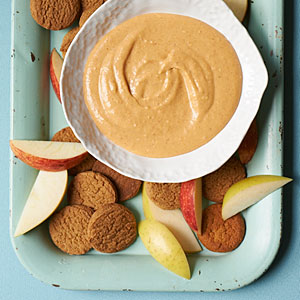 INGREDIENTS
3/4 cup 1/3-less-fat cream cheese
1/2 cup packed brown sugar
1/2 cup canned pumpkin
2 teaspoons maple syrup
1/2 teaspoon ground cinnamon
24 apple slices
METHOD
Place first 3 ingredients in a medium bowl, and beat with a mixer at medium speed until well blended. Add syrup and cinnamon, and beat until smooth. Cover and chill 30 minutes. Serve with apple.
This recipe is taken from health.com
PUMPKIN FRIES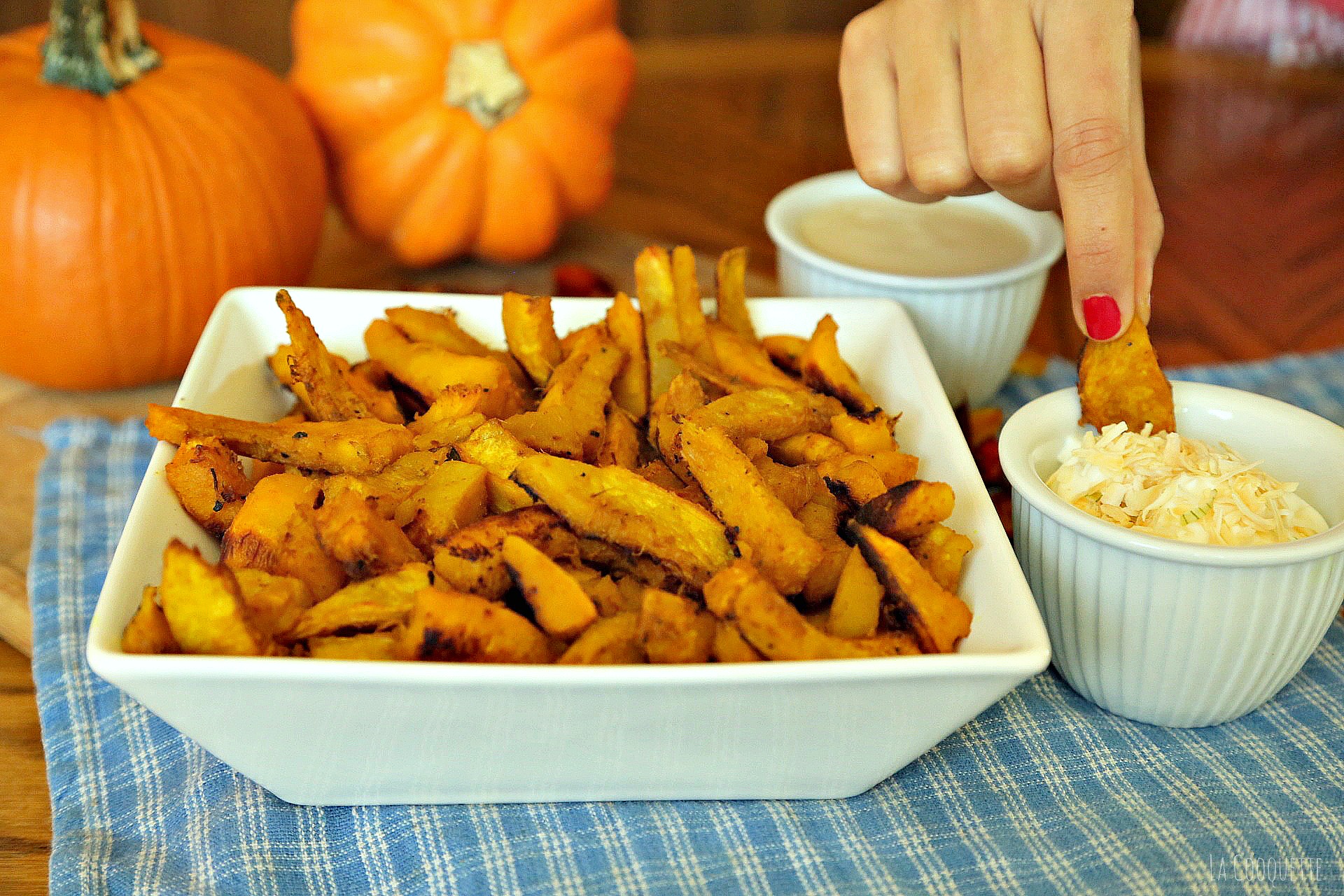 Image Source:Â lacooquette.com
INGREDIENTS
1 pumpkin
2tbsp coconut oil, or olive oil
Spices such as paprika, chilli flakes, cinnamon, garlic power, and cumin
Dried herbs such as basil, thyme, parsley, and sage.
METHOD

Preheat oven to 200°C. Line a baking tray with aluminum foil.
Peel and chop pumpkin into fries – Either 1cm x 1cm thickness, but shoestring would still work as will bigger wedge-style cuts.
In a medium bowl, toss fries with oil.
Sprinkle with selected herbs and spices, tossing to coat.
Place fries on tray in a single layer, and bake in oven until golden and slightly crisp on the outside.
This recipe is taken from indiatimes.com
ROMAN STYLE PUMPKIN SOUP
Image Source:Â editoritalyclassya.wix.com
INGREDIENTS
2 cups red pumpkin (kaddu), peeled and cube
½ cup potatoes, peeled and cut into cubes
½ cup onions, chopped
1 large clove garlic, chopped
1 cup low fat milk
½ tsp dried thyme or mixed herbs
1 tsp ghee
Salt and freshly ground pepper to taste
METHOD
Sauté the onion and garlic in ghee. Add the pumpkin, potatoes, herbs, salt, pepper and pressure cook. Blenderise the mixture.
Transfer to a pot and add milk. Simmer for a few minutes.
Serve hot garnished with mint
PUMPKIN CHILI WITH BLACK BEANS AND GARBANZO BEANSÂ Â
Total time: 40 minutes
INGREDIENTS
1 tablespoon

olive oil

1

large onion, chopped

4

garlic cloves, minced

1 cup

pumpkin puree (from the can or homemade)

1 cup

canned tomatoes

1 cup

vegetable stock or water

1 can

black beans (15 oz, 425 g)

1/2 can

garbanzo beans (7.5 oz, 212 g) or white beans

1 tablespoon

cumin powder (start with half the amount, and add more, to taste)

2 tablespoons

chili powder (start with 1 tablespoon, reduce or add more, depending on your tastes and also on how spicy your chili powder is)

salt and pepper
makes 4 lunch-size servings. You can (and should!) double this recipe, if you plan to serve this for dinner (larger portions) for 4-6 people!
METHOD
In a large pot or skillet, cook chopped onion and minced garlic in olive oil for about 5 minutes on medium heat until soft.
Add pumpkin, canned tomatoes (chop them up into smaller chunks), vegetable stock (or water), black beans and garbanzo beans. Add half the cumin and half the chili powder, stir everything well, and season with salt and pepper. Taste your chili, season some more with salt and pepper if needed. Add the remaining cumin (or more) and remaining chili powder (or more), if desired. Bring to boil, make sure to stir all ingredients well together to combine flavors and spices. Reduce to simmer and cook for 20 minutes on simmer.
Serve in soup bowls, garnished with chopped green onion.
This recipe is taken from juliasalbum.com
PUMPKIN AND FETA MUFFINS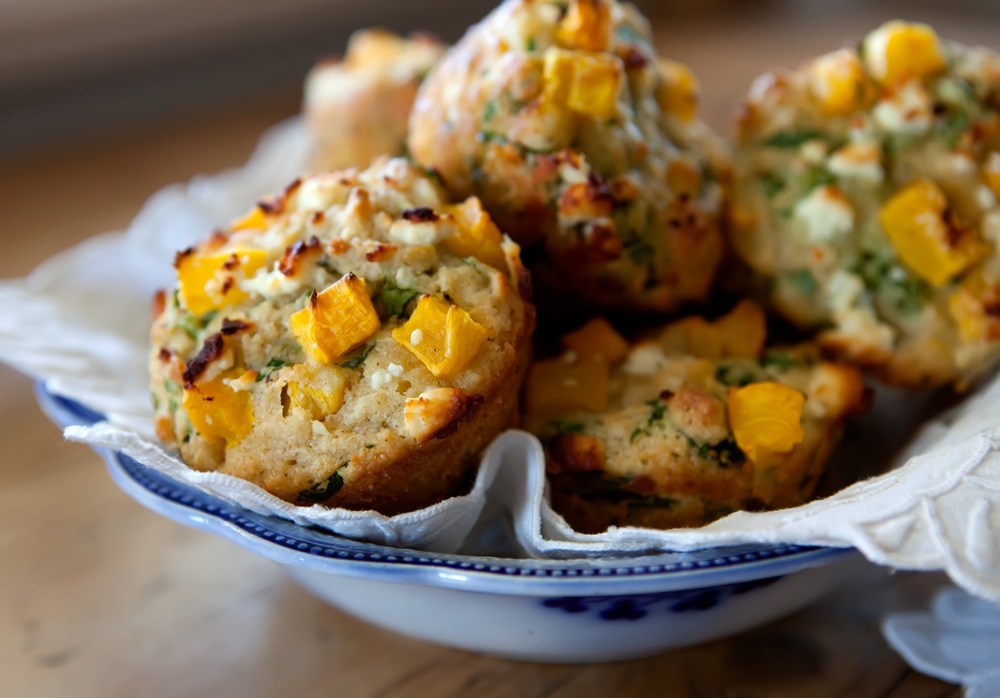 Image Source:Â www.brit.co
INGREDIENTS
   3 tbsp olive oil
   2 cups cubed pumpkin
   Salt and pepper to taste
   1 large handful spinach leaves, chopped
   2 tbsp chopped parsley or coriander
   3 tbsp sunflower seeds
   1 tbsp black til
   30g freshly grated Parmesan
   1/2 cup cubed feta
   2 teaspoons whole-grain mustard
   4 Tbsp condensed milk
   3/4 cup / 180 ml milk
   2 cups flour
   2 tsp baking powder
   2 tsp baking soda
   1 tbsp red wine vinegar/ white vinegar
   Salt to taste
METHOD
Preheat oven to 200 C. Grease a 12-hole muffin pan and set aside.
Sprinkle the olive oil and some salt and pepper over the pumpkin. Toss well and turn onto a baking sheet or roasting pan. Arrange in a single layer and bake for 15 – 25 minutes or until cooked through entirely. Set aside to cool.
Transfer two-thirds of the pumpkin to a large mixing bowl along with the spinach, parsley, sunflower seeds, Parmesan, two-thirds of the feta, and all of the mustard. Put the milk in the bowl.
Sift the flour and baking powder and the soda onto the pumpkin mix, top with the salt and a generous dose of freshly ground black pepper and fold together just until the batter comes together, be careful not to over mix.
Spoon the mixture into the prepared pan, filling each hole 3/4 full, top each muffin with a bit of the remaining squash and feta. Sprinkle the top with black sesame seeds.
Bake for 30 to 35 minutes or until the tops and sides of the muffins are golden, and the muffins have set up completely. Let cool for a couple minutes then turn out onto a cooling rack.
For more information follow us on Facebook, Twitter & Instagram and do subscribe to our Youtube Channel
This post is in association with HP