The journey of giving birth is the most important and beautiful gift for a woman. It's the start of your life as a mother. But there come so many important processes after giving birth to your baby that are as crucial. Nutrition is one of these many important things. Giving your baby the right nutrients at the right time ensures their systematic growth. We have researched and made a chart on the average standard height & weight of babies till they turn 1.
Nutrition Plays An Important Role In This:
We are all new in this journey and a completely blank canvas at the start. Even though there are millions of opinions and advice floating around on the internet and in your family, it is important to find a trusted source of information.
Nutrition is very crucial in the nascent stages. When and what to start giving your baby is important. But don't worry! We've made it simple. With our Infant Meal Plan, you don't need to worry about the food aspect for your baby. With step-by-step guidelines, recipes and meal plan charts, you don't need to worry about anything from 6 months onwards till your baby turns one!
The following chart shows the average standard height and weight in KG for boys and girls in India as per WHO in their first year.
This is just for information purposes, if any doubts please visit your paediatrician.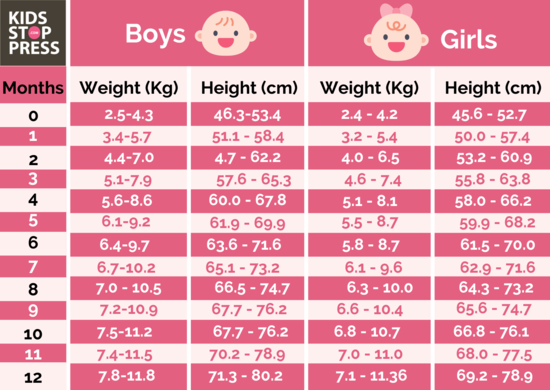 Source: WHO
Share this information with fellow parents too!